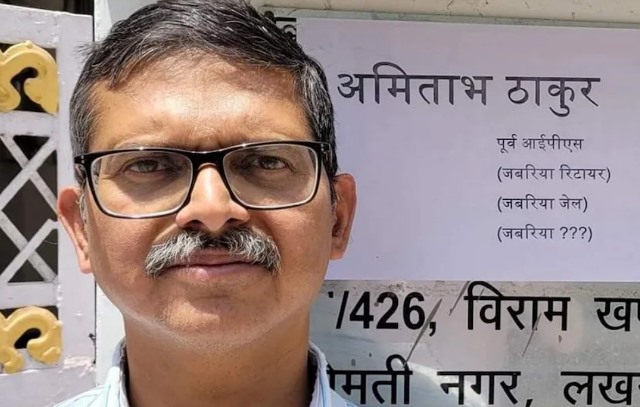 LOK ISSUES
LOK ISSUES
'Udaipur Incident A Result of Policing & Local Intelligence Failure'
Former IPS Amitabh Thakur, while condemning the Udaipur beheading incident, says it shows a complete lack of foresight by local police in taking preventive action
There has been all-round condemnation of the gruesome killing of Kanhaiyalal in Udaipur. There is also anger among people over the ISIS-style beheading and posting of its video on social media. However, the incident should not be used as a pretext to further vitiate the environment. An active role of local administration and state government is of importance. There were severe lapses that resulted in the incident and we must draw lessons from it.
First, there was a clear lack of foresight or judgment on part of local police. If, according to media reports, the criminals had issued a threat some time ago on social media and had also attacked him, why was any action not taken? Were they waiting for something to happen? Media reports indicate that Kanhaiyalal, the victim, was also attacked a few days ago, but instead of acting on his written complaint, the police merely played 'middleman' to sort out and hush up the matter.
Second, there was failure of local intelligence on part of the district administration and Udaipur police. For, one of the perpetrators had visited Pakistan lately and mentioned in a phone call about something spectacular to happen in Udaipur.
Although the police were quick to nab the criminals, this does not omit their incompetency in taking pre-emptive action. Were they sleeping or waiting for the matter to blow out of proportion. Part of policing involves stopping the crime to happen, not just chasing criminals after the unlawful act.
Here, I shall like to point out the swiftness of the Uttar Pradesh Police when it comes to preventing hate crimes. They are hyperactive and watchful on social media to foresee any attempt to poison the atmosphere. I bet you post something communally sensitive and you will find UP Police at your doorstep soon enough to mend your mentality.
Another issue here is religion and social sensitivity. How can a social media post hurt someone's sentiment so much that they will offer a bounty on someone's head! This kind of mind-set and the design to spread hatred and violence in the name of religion are fatal to our country and society. The incident was a challenge to the system as the criminals were so arrogant that they issued death threats to the Prime Minister in a video after the killing.
We Indians are a country-loving community and we should not get carried away with inciting posts. Everyone is standing in support of Kanhaiyalal's family and this is the reflection of our ethics and culture.
There can be no justification for violence in the name of religion and swift legal action must be taken to set a precedent. For this to happen, this matter should be dealt with a fast-track court and verdict must be delivered in under three months. The incident in Rajasthan should act as an eye-opener for the police and the government. They must shore up local intelligence and remain watchful to prevent a repeat incident of this nature.
As told to Rajat Rai