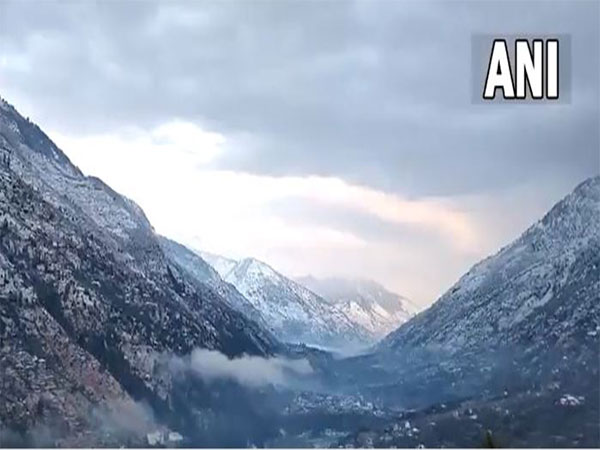 LM NEWS 24
LM NEWS 24
U'khand: Higher Mountain Range In Chamoli, Badrinath Receives Fresh Snowfall
Uttarakhand was covered in a thick blanket of snow on Saturday morning after it received fresh snowfall overnight.
Higher mountain ranges in Joshimath including Chamoli district and the holy shrine of Badrinath in Chamoli district were covered in a blanket of snow received fresh snowfall.
The Regional Meteorological Centre in its weather report predicted "light to moderate rain/snowfall" likely to occur over most places in the state.
The Pandukeshwar area where Badri Nath temple is located was covered in 2 feet of snow, Regional Meteorological Centre marked.
However, the minimum temperature did not slip down to negative degrees. The report stated maximum temperatures remained above "normal" in the hills here.
Meanwhile, several parts of Himachal Pradesh were also covered in a thick blanket of snow.
Trees and houses in Mandhol were covered in white, while locals preferred to remain in the warm confines of their homes amid the heavy snowfall.
According to India Meteorological Department (IMD), the maximum and minimum temperatures in Himachal Pradesh on Saturday were recorded at 6 degrees Celsius and -4 degrees Celsius.
In the state's higher reaches, Narkanda, Manali and the Malana villages in the Kullu district also received snowfall.
Jammu and Kashmir's Doda district also received a fresh round of snow and temperature in the region dipped significantly after the snowfall.
The Regional Meteorological Centre in its weather report stated that with the fresh snowfall on higher reaches and rains in the plains the graph of temperature has once again descended across the Doda region.
"The entire region has been gripped by a cold wave forcing people to wear warm clothes and stay indoors. The rush of people in Doda markets disappeared as people preferred to stay indoors due to the cold wave," the Regional Meteorological Centre stated.
According to India Meteorological Department (IMD), the maximum and minimum temperatures in Jammu and Kashmir on Saturday were recorded at 8 degrees Celsius and 0 degrees Celsius. (ANI)
Read more: http://13.232.95.176/