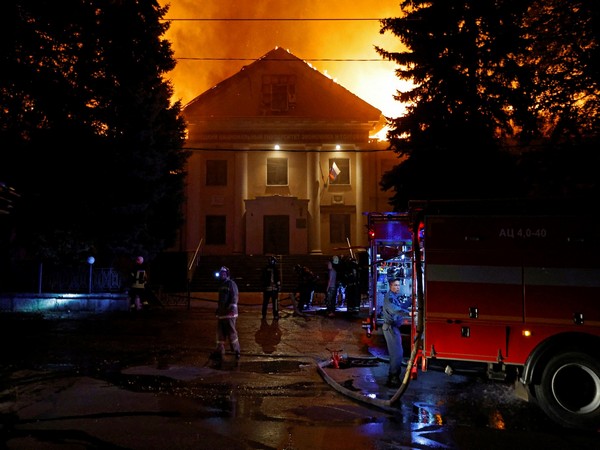 LM NEWS 24
LM NEWS 24
Ukraine: 2 Killed, 5 Injured In Russian Missile Attack
At least two people were killed and five others injured after Russia launched a missile strike on Monday on a Ukraine village, CNN reported citing a senior Ukrainian official.
Andrii Yermak, head of the Ukrainian President's office, said the strike caused an explosion at an oil mill in the village of Hoholeve.
Local officials said search operations and the removal of rubble are ongoing.
Meanwhile, the Russian Defense Ministry told reporters that its Air Defense Troops have foiled Kyiv's attempt to attack Russian territory with an aircraft-type drone and shot it down in the Moscow Region, as per TASS News Agency.
"On August 28, at about 4:30 am Moscow time, the Air Defense Troops foiled another attempt of the Kiev regime to carry out a terrorist attack on Russian territory with an aircraft-type drone. It was destroyed in the air over the territory of the Lyubertsy district of the Moscow Region," the ministry said.
While Moscow's Mayor Sergey Sobyanin on his Telegram channel wrote, "Today the Air Defense Troops destroyed a drone flying towards Moscow in the Lyubertsy area. For the time being, there are no casualties and no destruction. Emergency services are working at the scene of the incident."
Meanwhile, Ukrainian officials on Monday claimed that Russia launched strikes across Ukraine overnight, killing at least one person and damaging homes and infrastructure, CNN reported.
In Kherson, at least one person died and two others were injured after Russian forces shelled residential areas, according to Oleksandr Prokudin, head of the southern region's military administration.
"The enemy carried out 69 shellings over the past 24 hours, launching 395 shells from mortars, artillery, tanks, Grad MLRS, UAVs, and aircraft," Prokudin said on Telegram Monday.
In central Ukraine, Russian strikes hit infrastructure in the Poltava region, said Dmytro Lunin, the head of its regional military administration.
Missile attacks damaged homes in the central city of Kryvyi Rih, while the nearby Nikopol district was shelled, according to Serhii Lysak, head of the Dnipropetrovsk region military administration, according to CNN.
Ukrainian air defences destroyed four cruise missiles over the past day, the military said Monday. (ANI)
Read More: http://13.232.95.176/