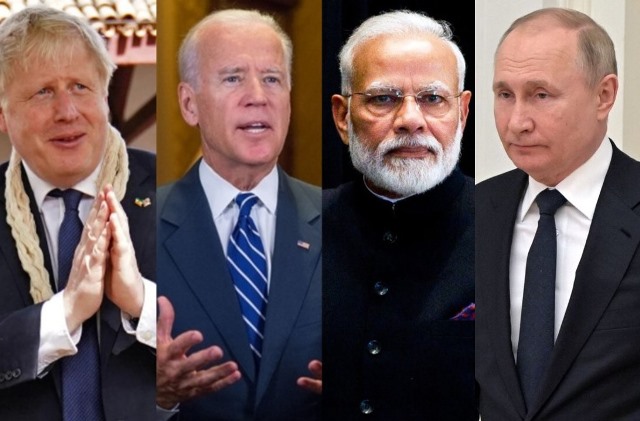 OPINION
OPINION
Ukraine Conflict: India's Global Moment
The present-day complexities are best underscored by the impact, mostly negative, of mood and events back home whenever and wherever a leader goes abroad. The host is also not shielded from domestic developments. This is becoming routine, when even a country's elections can be, and are, influenced by foreign governments and leaders. Ask Hillary Clinton.
When Prime Minister Narendra Modi hosted then United States President Donald Trump in February 2020, Delhi was witnessing unrest in some of its areas and Covid-19 was sweeping in. In April 2022, when Modi received Britain's Boris Johnson – beginning with Ahmedabad, again – sectarian violence marred observation of Hindu religious festivals and the Muslims' holy Ramzan, in many provinces. The civic authorities, allegedly in retaliation, followed up with anti-encroachment drives, demolishing the properties of many alleged trouble-makers.
Despite being welcomed by a million people in Ahmedabad and the political support Modi had extended for the impending American presidential elections, the Trump administration (like predecessor Obama's) was critical of India. Johnson, embroiled in the 'Partygate' scandal back home, was keen to project his twice-postponed India visit as a success. He fobbed off media query if he would raise the demolition issue with Modi by speaking glowingly of India's democratic credentials.
Johnson clinched the free trade agreement (FTA) crucial for a post-Brexit Britain in need of greater trade opportunities. India and Britain are now committed to sign one before this year-end. Big deal, although India recently signed FTAs with Australia and the UAE.
As for Ukraine, Johnson praised Modi, whom he called his "khaas dost", for privately telling off Russia's Vladimir Putin against the latter's military misadventure. He was obviously peppering over India's dogged refusal to condemn Putin's action with Teflon-like posturing, brazenly trading in oil with a sanctioned Russia.
Johnson chose not to needle Modi on Ukraine, rightly sensing that India would not budge from its highly nuanced tight rope ride. He avoided being yet-another European come to lecture India. He remembered that Russian Foreign Minister Sergey Lavrov's India trip was preceded by frantic visits of several Western delegations, including US Deputy National Security Advisor Daleep Singh and his own Foreign Secretary Liz Truss, whose charm offensive persuading India for tougher action on Russia failed. The European Commission Chief Ursula von der Leyen, chief guest for the inaugural session of the 7th edition of the high-profile Raisina Dialogue was patiently heard. Period.
With Johnson, the diplomatic ball was back in Britain. The BBC, still revered as the ultimate in media freedom and objectivity, at least in the former British colonies, belatedly ran four programmes on bulldozers at work in India. The memory of its listeners/viewers is not too short to be reminded of Iraq's invasion in 2003, and/or of the massive build-up blitz each time there has been a conflict in the Gulf region. Is the British Government using BBC to boost its foreign policy goals?
But why single out BBC when governments across the world are doing their worst to control mainstream media, and join the social media discourse that they cannot control? The Indian TV channels (almost 800 of them doing 24×7 news dissemination) have long left the BBC hallow and many go for more-brazen-the-better style of the American Fox. Last week, India's Ministry of Information and Broadcasting felt compelled to issue an 'advisory' to curb sensational coverage of both, the bulldozer drive at home and the war in Ukraine. How the two got clubbed is unclear.
ALSO READ: When BoJo Met NaMo!
This is definitely India's 'global' moment. Modi will be in three world capitals next month. New Delhi has witnessed an unusual flurry of visitors. There has been much talking-to, though no talking-down, to one of the world's largest markets for anything saleable.
Tutorials in diplomacy have covered a wide range from fear of India losing place at the democratic high table to economic sanctions, to sly lessons in international morality to choose-your-friends-for-crises, to direct reminders of threats from diplomatic and on-the-land border with China. India is also told that if you worry only about your neighbours and/or of hallowed past with a now-defunct Soviet Union, then you do not deserve to be on the global high table.
India is not alone in South Asia, but is certainly the most-talked about. Its neighbours have taken their own positions on Ukraine keeping in mind their history, economy and the big-power rivalry playing out. Some have maintained a neutral position, while others have unequivocally opposed Russia.
The one who miscalculated, repeatedly and continues to do so, is Pakistan's Imran Khan. He landed in Moscow at the most inopportune moment when Putin had just launched the Ukraine campaign, and called it "exciting times." He turned America's diplomatic tick-off into a 'foreign conspiracy', using it to escape the domestic fire. He got burnt, both ways, and lost power. Neither Putin, nor the Americans, could have anticipated this.
Foreign policy rarely impacts India's domestic scene. The discussion in Parliament brought forth a broad support for the government from an opposition inevitably critical of most of its domestic policies.
Opposition old-timers have talked of non-alignment, but the government does not, for obvious reasons. It would incense the Westerners who still consider it 'immoral' a la Dulles. Also, using the 'N' word would mean invoking one of its founders, Jawaharlal Nehru, whose name is a no-no.
Of course, to call the current approach non-aligned would be misleading. Away from Ukraine, India is aligned as part of the Quad, is upset with China and always upset with the latter's ally Pakistan. With all that comes the growing rapport with the West and arms from Israel.
While Ukraine lasts, India's role in the BRICS and the Shanghai Cooperation Council remains virtually suspended. But it ensures that should Beijing activate the border, Russia would lean on it.
External Affairs Minister S Jaishankar, perceived as ineffective on Afghanistan when the US evacuated last year, has found his voice, boldly asking the Western critics where were they during that crisis.
Ukraine resonates in a way that divides generations. Many cherish memories of the Soviet Union, but many more think that Moscow, although wrong in invading Ukraine, has been severely wronged by a triumphalist NATO. It's not just nostalgia – there is distrust of the West, too, given its past record of unreliability. There are Russian arms, too, and a strong desire to retain autonomy.
At the other end are those with Western sympathies, what with their wards studying/working in the West. This binary has not been easy to deal with when Indian opinion-makers are almost entirely dependent upon information from the West that also includes war-time propaganda, an inevitable part of the psy-war. Unknown to the news consumer, there is a total blackout of the Russian side of the story. But even an allusion to it is vehemently countered.
The binary may weaken given the way India is moving politically, and make way for a US-led liberal international order. While common strategic interests bind ties between states, cultivating general interest around advancing democracy, protecting universal values, and international norms, these principles require popular support.
India's foreign policy activism under Nehru was ethical, at times criticized as moralistic. But it jelled with the Indian psyche. Nehru moved beyond his beliefs and worldviews and garnered domestic support for commitment to the rule of law and international peace and security.
In the present, radically changed times, can Modi do what Nehru did, and better?
The writer can be reached at mahendraved07@fgmail.com