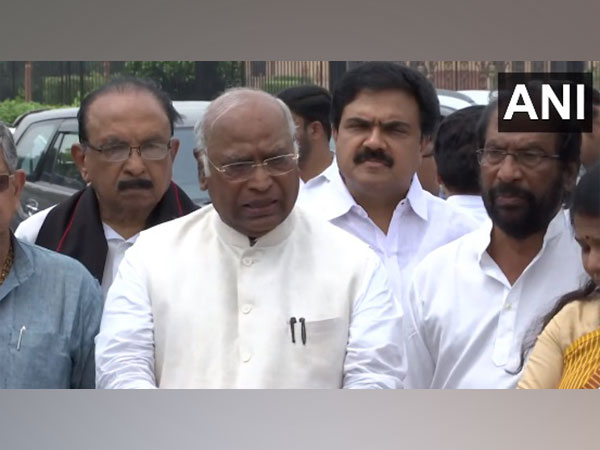 LM NEWS 24
LM NEWS 24
Union, State Govts Must Fulfil Their Duties: Oppn Briefs Murmu On Manipur
Congress national president Mallikarjun Kharge, who led a delegation of Opposition leaders to the Rashtrapati Bhavan on Wednesday, said they briefed President Droupadi Murmu on 'atrocities' on women and the state of relief camps in violence-hit Manipur.
At a press briefing after meeting the President at Rashtrapati Bhavan, the Leader of the Opposition in the Rajya Sabha also called on Prime Minister Narendra Modi to visit Manipur and work towards restoration of peace between all communities, especially the Kukis and Meiteis, inhabiting the state.
He informed further that the President assured that she would consider the demands put forward by the Opposition.
"A 31-member delegation from I.N.D.I.A, including those who visited Manipur recently, met President Murmu and briefed her on the prevailing situation in the state. We submitted a memorandum to the President and briefed her on the atrocities on women, the condition of relief camps or shelters and the overall situation in the state. The key demand that we put forward is that the PM visit Manipur and take steps towards restoration of peace in the state," Kharge told reporters.
The floor leaders from I.N.D.I.A and the visiting delegation of 21 MPs in Manipur sought the intervention of President Murmu in bringing back normality to the state.
The memorandum submitted to the President by the delegation read, "We urgently request your kind intervention to establish peace and harmony in the state without any further delay. Both the Union and state governments must fulfil their duties to provide justice to the affected communities. We implore you to press upon the PM to urgently address the Parliament on the prevailing situation in Manipur, followed by a detailed and comprehensive discussion on the matter."
Kharge informed further that he also briefed the President on the government's unwillingness to discuss the Manipur situation with the President, invoking an incident in the Rajya Sabha where his microphone was switched off after 2 minutes, which he said shows that the government did not want democracy to function.
Kharge added that he also raised concerns over the smuggling of sophisticated weapons into Manipur.
"In the Rajya Sabha, my microphone was switched off after 2 minutes, which shows that they don't want democracy to function in the country. Thousands of sophisticated weapons are coming (to Manipur). Prime Minister Modi should visit Manipur in the interest of restoring peace between the Meitis and Kukis. Merely issuing a brief statement is not the way to address the issue. This government is not allowing any discussion (in Parliament over Manipur) and is also not willing to listen," the Congress leader said.
"Prime Minister Modi should visit Manipur and talk to the people there. He should bring peace to the state and provide relief to people affected by the violence," Kharge said.
The Treasury and Opposition have literally been at war over Manipur since the Parliament convened for the Monsoon Session on July 20.
The continuing war of words resulted in repeated disruptions and adjournments in both Houses. (ANI)
Read More: http://13.232.95.176/