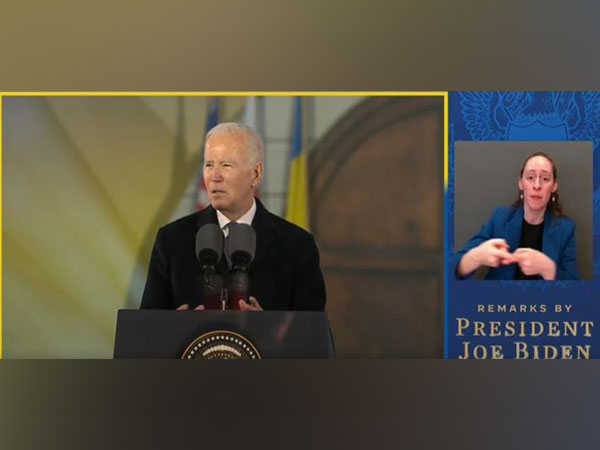 LM NEWS 24
LM NEWS 24
United States Number One Priority, US Visa Officials
United States President Joe Biden, on Tuesday, said that last year while the whole world was bracing for the fall of Ukraine after Russia started its special military operation, Ukraine stood proud, tall and free.
While addressing thousands of people gathered outside the Royal Castle in Warsaw, Biden said, "One year ago, the world was bracing for the fall of Kyiv. Well, I have just come from a visit to Kyiv, and I can report: Kyiv stands strong! Kyiv stands proud. It stands tall. And most important, it stands free."
"When Russia invaded, it wasn't just Ukraine being tested. The whole world faced a test for the ages. Europe was being tested. America was being tested. NATO was being tested. All democracies were being tested. And the questions we faced were as simple as they were profound," he added.
He also stated that when Russia launched its attack on Ukraine, the whole world were don't know how to respond to such a situation but still, Ukraine stood strong.
"One year later, we know the answer. We did respond. We would be strong. We would be united. And the world would not look the other way," he added.
Talking about his meeting with Ukrainian President Volodymyr Zelenskyy, Biden said that he is honoured to stand with Kyiv to declare that the US will keep standing up for these same things no matter what.
He also said that when Russia's President Vladimir Putin ordered his tanks to roll into Ukraine, "he thought we would roll over. He was wrong. The Ukrainian people are too brave. America, Europe, and a coalition of nations from the Atlantic to the Pacific. We were too unified. Democracy was too strong."
Biden stated that Putin predicted and perceived that he will win the war easily but the result was different. He also said that Putin thought that he would get the "Finlandization" of NATO. Instead, he got the "NATOization" of Finland and Sweden.
He thought NATO would fracture and divide. Instead, NATO is more united and more unified than ever — than ever before, US President added.
Biden further said that Putin thought he could weaponize energy to crack your resolve Europe's resolve. Instead, the US and its NATO allies are working together to end Europe's dependence on Russian fossil fuels.
"And then, he met the iron will of America and the nations everywhere that refused to accept a world governed by fear and force. He found himself at war with a nation led by a man whose courage would be forged in fire and steel: President Zelenskyy," Biden said while addressing here.
"President Putin is confronted with something today that he didn't think was possible a year ago. The democracies of the world have grown stronger, not weaker. But the autocrats of the world have grown weaker, not stronger," he added.
"Because in moments of great upheaval and uncertainty, knowing what you stand for is most important, and knowing who stands with you makes all the difference. The people of Poland know that. You know that. In fact, you know — you know it better than anyone here in Poland. Because that's what solidarity means," Biden said. (ANI)
Read More:http://13.232.95.176/