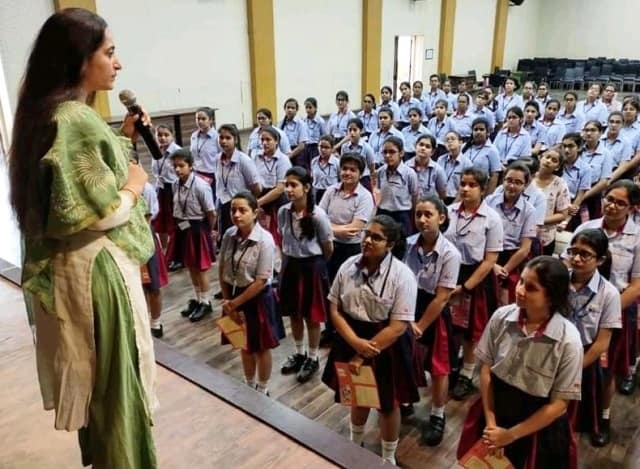 LOK ISSUES
LOK ISSUES
'Unnao Case Shows Our Regression'
Ritu Narang, 45 is a social worker based in Moradabad, Uttar Pradesh, shudders at the trauma faced by the Unnao rape survivor. She feels such cases expose the hollowness of cosmetic campaigns like Beti Bachao Beti Padhao.
The government often gloats about 'Beti Bachao, Beti Padhao' and empowerment of women. It introduces schemes and policies towards these ends. Celebrities endorse the cause. Then a case like the Unnao rape surfaces and shakes us all. And that makes me wonder, if the society has taken one step forward and two steps backwards.
When I think about just how much this teenager from Unnao has suffered over the past two years, I shudder. Her case just proves that in small towns and villages, girls, who show the courage to speak up about sexual harassment, rape etc., are silenced by means direct and indirect. What use are laws if lawmakers themselves twist it and use it against victims? What use are laws if the victim is no more alive to see justice?
The Unnao victim was raped when she went seeking a job. Now, knowing that her father is no more and even her uncle is in jail, I wonder how her family must have survived for the last two years. In small towns, rape isn't just a physical and mental crisis for the victim, it becomes an existential crisis for the entire family, battling stigma and poverty.
If families of rape and abuse victims are supportive, this battle with the rest of the society becomes a little easier. But in my career, I have come up with several cases where the abuse is happening within the family.
As a social worker working extensively towards women empowerment, I come across cases where the girls are being abused by their fathers and are being silenced by their mothers and elder siblings. There are cases, where more than one sibling is being abused. Even if we want to help in such cases, these young girls refuse to speak up or receive any kind of help. Living in fractured families, they find it difficult to trust anyone within their homes. With major trust issues, they do not trust any outsiders (social workers like me, who genuinely want to help) either. I am happy that I have helped these girls open up after working with them over a period of time.
I strongly believe that all students, regardless of gender must be sensitised at school on various topics, which must include sex education. They need to be taught how to communicate well with the opposite gender.
I have met many boys who have no idea how to speak to girls. They feel awkward around girls, even their sisters! Many a times, boys are just randomly beaten up for the mere act of walking with a girl. Is fear the foundation stone, on which a society is built or is it love?
Young boys in small towns and villages often fall victims to sexual harassment. Recently as part of the Balika Suraksha Abhiyan programme, when I went to a small town to make girls aware about women helpline number (1090), the girls asked me why the training was only meant for girls. Why aren't there enough programmes to make men aware about just how their behaviours affect women?
I have suggested principals at various schools to run awareness programmes for both boys and girls, every week. If schools can put so much dedication into preparing for annual day, sports day etc., they can very well earmark a day for social awareness programmes too.