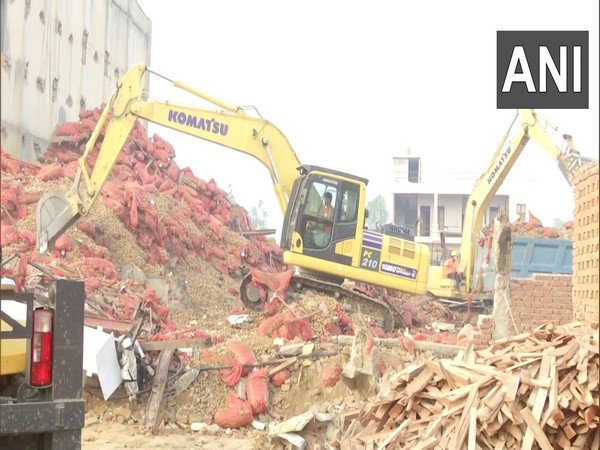 LM NEWS 24
LM NEWS 24
UP: 8 Dead, 11 Rescued After Cold Storage Roof Collapses In Sambhal
A total of eight people were killed while 11 have been rescued so far, after the roof of a potato cold storage collapsed in the Chandausi area of Sambhal in UP, informed officials.
The National Disaster Response Force (NDRF) and State Disaster Response Force (SDRF) teams are carrying out rescue operations.
Moradabad DIG Shalabh Mathur told ANI that eight people have been killed in the incident.
"A total of eight people have died and 11 people have been rescued. Some more people are missing. There is a basement in the building, and we are trying to reach there," he said.
Sambhal DM Manish Bansal said that the officials are using sniffer dogs to search for the people trapped in the debris.
"NDRF is searching for the trapped people with the help of sniffer dogs. We have increased our force for the morning. Other teams of NDRF and SDRF will also come by morning," he said.
Superintendent of Police (SP) Sambhal, Chakresh Mishra said that FIR has been registered against the owner.
"FIR registered against the owner and two others. We have detained four people for questioning. The main accused are absconding and are being searched. We will be able to tell the real reason for the collapse of this building only after the debris is removed," he said.
The incident happened around 11.30 am on Thursday, the officials said.
Earlier, it was reported that the godown was already in a dilapidated condition.
As per the officials, the owners were identified as Ankur Agarwal and Rohit Agarwal.
Moradabad DIG Shalabh Mathur said that the police have booked both the owners.
"An FIR has been registered in the matter. Two accused (Ankur Agarwal and Rohit Agarwal) have been booked under section 304. Both the accused are the property owners where the incident took place," he said.
The DIG further added, "ADM-level inquiry has also been conducted in this matter. The part of the cold storage that has collapsed was constructed some time ago and it was not constructed following the laid down standards". (ANI)
Read More Article: http://13.232.95.176/