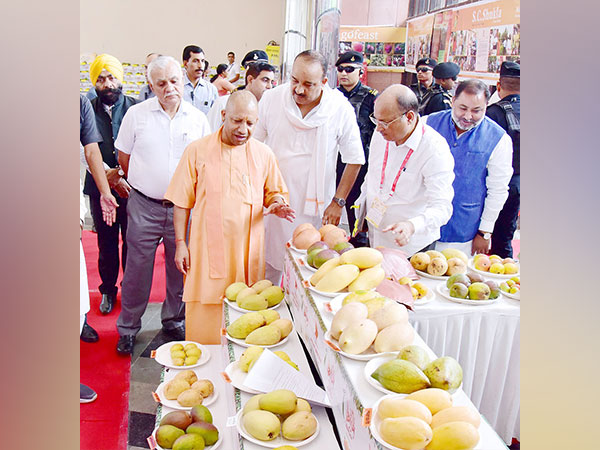 LM NEWS 24
LM NEWS 24
UP Mangoes Market Must Be Expanded Globally: Yogi
Uttar Pradesh Chief Minister Yogi Adityanath emphasized the high demand for UP's mangoes in European markets during the inauguration of the "Uttar Pradesh Mango Festival 2023" at Avadh Shilpgram in Lucknow.
He urged the need to make these mangoes accessible worldwide, stating that the markets of Europe are waiting for the mangoes of UP.
Adityanath said, "The markets of Europe are waiting for the mangoes of Uttar Pradesh. We must take the mangoes from here to every corner of the world."
"In Russia, mangoes are being sold at Rs 800 per kg, but it costs Rs 190 to send mangoes through cargo from here. That means, if a farmer exports mangoes to Russia, he will get a net profit of more than Rs. 600," he added.
Furthermore, he asked the farmers to avoid shortcuts, prioritize quality, and prepare their products in accordance with market demands.
"Our government is working on the 'Beej Se Bazar Tak' approach to increase the income of farmers," he said.
CM Yogi said that the state government sent its teams to numerous nations during the Global Investors Summit.
"We have to explore the global market for horticulture crops, and through Indian Missions Abroad, we should organize exhibitions showcasing agricultural products related to Uttar Pradesh," he said.
Asserting that the mango festival is a platform to increase the income of farmers, the CM said, "As per Prime Minister Narendra Modi's intention, the Uttar Pradesh government is taking all necessary steps in the interest of the farmers."
"Our government has built four-pack houses in the state. Recently, we got the opportunity to send two tonnes of mangoes to Dubai from the packhouse in Varanasi, and we will have to organize similar programs from the Saharanpur, Amroha, and Lucknow Packhouses," he added.
He further stated that agricultural scientists and officers of the Horticulture Department will need to work together in order to bring horticulture crops to the international market.
"Only then we will be able to explore new avenues and give the agricultural and horticultural products of Uttar Pradesh a different identity," he said.
Producers, buyers, sellers, and exporters participated in the mango festival.
On the occasion, Farmers associated with mango production were honoured.
Before the program, CM Yogi observed the exhibition showcasing various products made from mangoes and released the souvenir of the Mango Festival 2023. Additionally, Chief Minister also honoured farmers and traders from various districts of the state who have excelled in the field of mango production.
Jal Shakti Minister Swatantra Dev Singh, Transport Minister Dayashankar Singh, Horticulture Minister Dinesh Pratap Singh, Chief Secretary Durga Shankar Mishra, Agriculture Production Commissioner Manoj Kumar Singh, and mango producing farmers were present during the event. (ANI)
Read More: http://13.232.95.176/