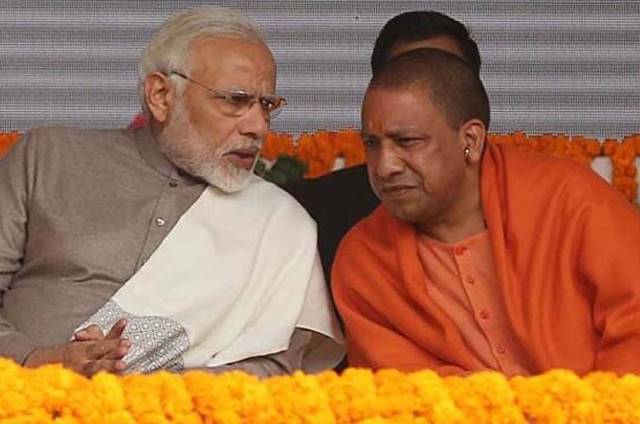 LM NEWS 24
LM NEWS 24
UP Was Once A Den Of Crime, Now It's An Investment Hub: Modi
Uttar Pradesh is gaining fame as 'India's new growth engine' across the country and the globe. The state is continuously advancing towards achieving the target of a one trillion dollar economy, said Prime Minister Narendra Modi praising the development story of UP.
"Under the leadership of CM Yogi, UP has successfully implemented the rule of law and fostered a secure environment. As a result, the state has now transformed into the 'Most Favourable Destination' for investment as well," he said.
Addressing the 'Rozgar Mela' organised in UP, the Prime Minister targeted the anarchy prevailing in various other states across the country, drawing a comparison with Uttar Pradesh's model of development. During the event, PM Modi encouraged others to take inspiration from UP's advancement under the leadership of Yogi Adityanath.
The Prime Minister further highlighted that Uttar Pradesh, which was previously lagging in development and grappling with high crime rates, has now transformed into a phase of establishing law and order which has further led to remarkable progress in development.
The Prime Minister mentioned, "The atmosphere of security and the rule of law are pivotal in accelerating development, and Uttar Pradesh is the best example of this conversion."
PM Modi remarked that Uttar Pradesh is touching new heights of progress, including increased investments. He said that this positive trajectory is attributed to the prevailing sense of security among the people, reduced crime rates, and the emergence of a society devoid of fear. He also mentioned that UP's remarkable progress in development can be directly linked to the enforcement of these principles of law and order.
The Prime Minister further added, "It has to be understood that if you want to attract investment in the state, the first priority has to be given to security, as Uttar Pradesh has given."
Prime Minister also stated that presently, we observe that in states where crime is prominent and a sense of security is lacking among the citizens, despite all efforts, investments remain nil. Additionally, he remarked that other states should take note and derive lessons from Uttar Pradesh.
He added that the state, once known for criminal activities, is currently experiencing remarkable growth in investments and overall progress. He said that this transformation was possible because of the zero tolerance policy of the state government towards crime.
The figures of investment are increasing in Uttar Pradesh, and not the crimes, because the work of establishing a fear-free society is continuously gaining momentum. People are instilling faith in the state, and this positive transformation is the key to the development story of Uttar Pradesh, from which other states can also take advice, the Prime Minister stated. (ANI)
Read More: http://13.232.95.176/