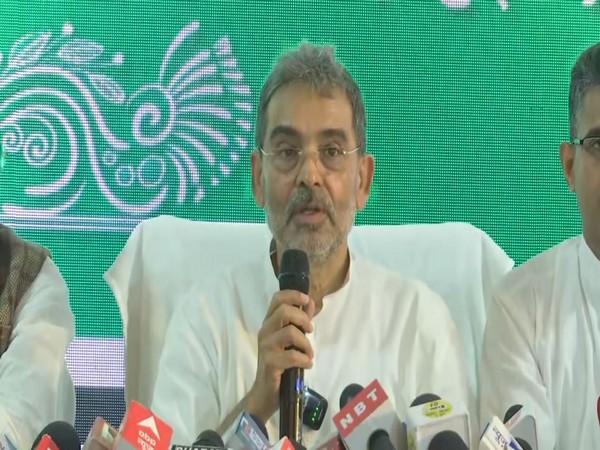 LM NEWS 24
LM NEWS 24
Upendra Kushwaha Quits JDU, Launches New Political Party
In a huge setback for Bihar Chief Nitish Kumar ahead of the 2024 general elections, Upendra Kushwaha on Monday quit Janata Dal (United) and resigned from all party positions and launched a new political party 'Rashtriya Lok Janata Dal'.
This development in Bihar politics comes when Kushwaha has been at loggerheads with Chief Minister Nitish Kumar.
Kushwaha announced the name of his party – Rashtriya Lok Janata Dal and said that he has been made its national president.
The tussle between the two which has been going on for months came to an end today with the announcement, however, Kushwaha attacked Nitish while launching the political party.
"We've decided to form a new party – Rashtriya Lok Janata Dal. This has been decided unanimously. I've been made its national president. The party will take forward the legacy of Karpoori Thakur. We'll work towards rejecting the agreement made with RJD," he said.
He said that when Nitish Kumar became the Chief Minister after years RJD's rule he did well, however, he lost track and the path he opted at the end was "bad for him and the party".
"A new political innings is beginning today. Barring a few, everyone in JD(U) was expressing concern…A meeting was held with elected colleagues and decision was taken…Nitish Kumar did well in the beginning but in the end, the path on which he started walking is bad for him and Bihar, and the party," he said.
Detailing the talks with Nitish Kumar while forging an alliance with the RJD for the second time that took place last year, Kushwaha said that he had asked the party chief to keep the leadership into his own hands to prevent the old situation (during the Lalu Yadav rule) from returning.
"I also accepted the talks of forging a new alliance (with the RJD). Before the alliance, I had asked Nitish Kumar to keep the leadership of the alliance with himself because I knew that if the leadership if out of his hands, the old situation will prevail. I was assured of the same. Days after forging an alliance, Nitish Kumar said that he wants to give the responsibility of Bihar to the RJD leader. He announced the name of an RJD leader as the next chief minister of Bihar, because of which we were worried about the future of Bihar," he said.
Kushwaha alleged that the Chief Minister was not acting on his own volition and acted as per the suggestions of people around him.
"He's unable to act on his own today because he never made an effort to make a successor…Had Nitish Kumar chosen a successor, he needn't have looked at neighbours for one," he said. (ANI)
Read More:http://13.232.95.176/