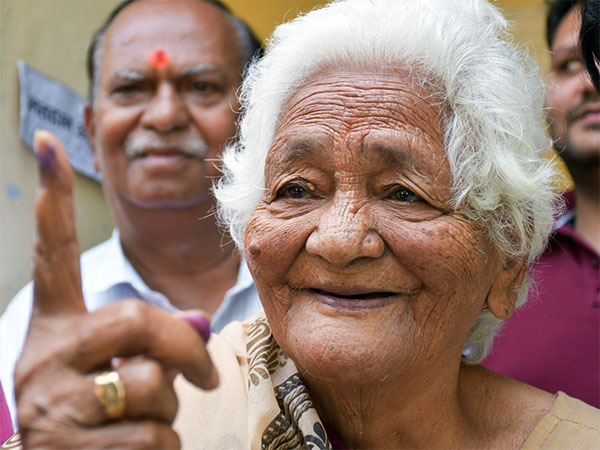 LM NEWS 24
LM NEWS 24
UP's Ghosi Assembly Records 21.57% Polling Till 11 AM, U'khand's Bageshwar At 26.03
Over 20 per cent voter turnout was recorded till 11 am for the Ghosi assembly bye-election in Uttar Pradesh began on Tuesday morning, the Election Commission of India said.
The voting for the bye-elections to the other six assembly constituencies of several states, including Uttarakhand, Kerala, Tripura, West Bengal, and Jharkhand, started on Tuesday at 7 am.
Voting is slated to go on till 5 pm.
Voting for bye-elections is being held for Kerala's Puthupally, Dhupguri seat in West Bengal's Jalpaiguri, Dumri in Jharkhand and Uttarkhand's Bageshwar, and Boxanagar and Dhanpur in Tripura.
In the Bageshwar Assembly by-election, the voter turnout was recorded at 26.03 per cent while in Tripura's Dhanpur, it was recorded at 39.48 per cent, and in West Bengal's Dhupguri, it was at 34.26 per cent.
The Election Commission will release the results of bye-elections on Friday, September 8.
Notably, this is the first election between the Bharatiya Janta Party (BJP)-led National Democratic Alliance (NDA) and the Opposition bloc's newly formed Indian National Developmental Inclusive Alliance (INDIA).
Bypolls in five states were necessitated due to the deaths of the sitting MLAs, while the two other MLAs resigned from their posts. In Uttar Pradesh's Ghosi, Dara Singh Chauhan's reelection as Samajwadi Party (SP) MLA necessitated bypolls. Chauhan joined the BJP after leaving the SP. The BJP has filed Chauhan against SP's Sudhakar Singh for the Ghose byelections.
Bye-election in Tripura's Dhanpur was necessitated after the BJP's Pratima Bhoumik resigned to retain her Lok Sabha seat, leaving the assembly vacant. Bhoumik's brother Bindu Debnath will be fighting for the BJP against Communist Party of India-Marxist (CPI-M) candidate Kaushik Chanda in Dhanpur for the bypolls.
The BJP and CPI (M) will contest against each other in Tripura's Boxanagar seat, which fell vacant after the death of CPI (MK) MLA Samsul Haque.
In Uttarakhand's Bageshwar seat, the battle will be between the SP, Congress, and BJP against each other. A bye-election in Bageshwar was prompted by the death of BJP MLA Chandan Ram Dass.
Congress veteran Oomen Chandy's death necessitated the bypolls in Kerala's Puthupally seat. Congress has fielded Oommen Chandy's son, Chandy Oomen, while the ruling party CPI (M) has fielded Jaick C. Thomas from this constituency.
The by-poll in Jharkhand's Dumri was necessitated after the death of Jharkhand Mukti Morcha (JMM) MLA Jagarnath Mahto. JMM has filed Mahto's wife, Bebi Devi, who is representing the India bloc, against NDA's Yashoda Devu and All India Majlis-e-Ittehadul Muslimeen (AIMIM) Abdul Rizvi.
In West Bengal's Dhupguri, the bye-election was necessary after the death of the BJP's Bishnu Pada Ray. Tapas Ray from the BJP is contesting against Nirma Chandra Roy and CPI (M) candidate Ishwar Chandra Roy. (ANI)
Read More: http://13.232.95.176/