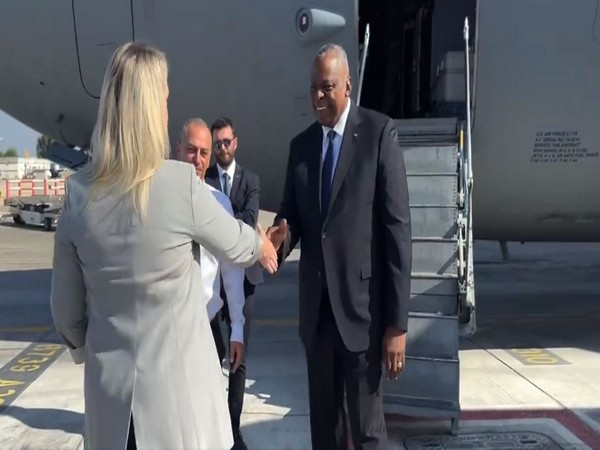 LM NEWS 24
LM NEWS 24
US Def Secy Austin Lands In Tel Aviv
United States Secretary of Defence Lloyd Austin arrived in Tel Aviv on Friday even as high-ranking US officials continued their reachout efforts in the region.
On arrival in Tel Aviv, Lloyd Austin said that US support for Israel was ironclad.
"Just landed in Tel Aviv. Today, I'll meet w/ Prime Minister @netanyahu, Minister @YoavGallant & other senior leaders to demonstrate that America's support for Israel's security is ironclad & talk to them face-to-face about their defence needs. We stand w/ the people of Israel" he posted on X.
According to a statement from the US Department of Defence Austin's visit to Israel underscores the United States' unwavering commitment to support Israel following the recent deadly attacks by Hamas terrorists.
Austin is expected to meet with Israeli Prime Minister Benjamin Netanyahu, Defence Minister Yoav Gallant and members of the Israeli War Cabinet. They will discuss Israel's operational planning and security needs in response to the series of attacks launched by Hamas on October 7.
The Department of Defence press releases quoted a senior Pentagon official as saying "This is sending quite a clear signal of the depth of US commitment to Israel's security. What is quite clear is the commitment of this administration and our Cabinet to support the Israeli people as they work to restore security to their people."
Soon after the Hamas attacks the US increased its military presence in the Eastern Mediterranean Sea by deploying aircraft carrier USS Gerald R. Ford Strike Group. It also increased Air Force fighter presence in the region with the presence of Air Force A-10Thunderbolt II attack aircraft.
The US Department of Defence statement quoting a Pentagon official said, "The United States is unequivocal in its support for the defence of Israel and is sending a warning to any entity that would consider taking advantage of this conflict and this war to escalate violence. One word, quite simply, 'Don't.'"
In addition to increasing its force presence in the region, the US has also begun to send military assistance to Israel.
According to the US Department of Defence Secretary Austin this week convened the 16th meeting of the Ukraine Defence Contact Group and attended a meeting of NATO Defence ministers in Brussels. At the meeting Austin reiterated the United States' commitment to assisting Israel.
Earlier US Secretary of State Antony Blinken had also met with the Israel Prime Minister Netanyahu and followed that up today with meetings with Palestinian Authority head Mahmoud Abbas and Jordan's King Abdullah as America looks to minimise aftereffects of the Israel-Hamas conflict.
Meanwhile, as the Israel-Hamas conflict entered the seventh day the Israel Defence Forces called for an immediate evacuation of Gaza. In a statement, the IDF said that all civilians of Gaza City must move from their homes southwards for their own safety and protection and move to the area south of the Wadi Gaza.
The IDF asked civilians to distance themselves from Hamas terrorists who are using them as human shields. The IDF said they will continue to operate significantly in Gaza City and make extensive efforts to avoid harming civilians. (ANI)
Read More: https://lokmarg.com/