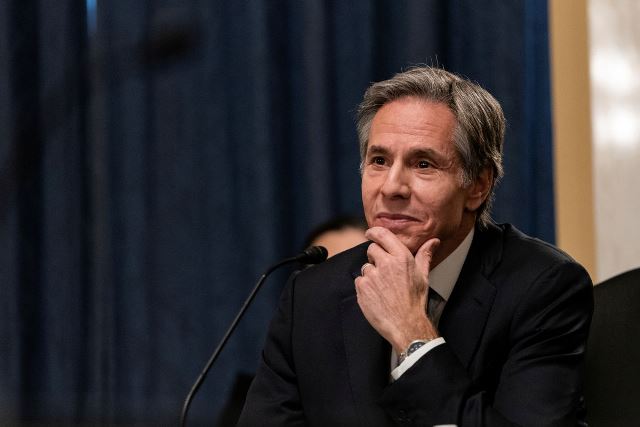 LM NEWS 24
LM NEWS 24
US Secy Of State Blinken To Visit India, Attend Raisina Dialogue
US Secretary of State Antony Blinken will travel to India in early March and the details of his visit are being worked out, sources familiar with the deliberations told ANI.
An official said the State Department is eyeing the first week of March for Blinken's meetings in New Delhi, which would be a run-up to President Joe Biden's meeting with Quadrilateral Security Dialogue (QUAD) leaders.
"Secretary Blinken will be meeting his Indian counterpart and other officials to lay the groundwork for the upcoming Quad leaders summit in May 2023," the source added.
This will be the third annual leaders' summit of Quad members India, Australia, Japan and the US. Tokyo played host to the last summit in May 2022.
"The summit is expected to be held in Sydney and for now, most likely all four leaders will be present in person for the summit. President Joe Biden, Prime Minister Narendra Modi and Japan Prime Minister Fumio Kishida will travel to Sydney to meet Australian Prime Minister Anthony Albanese to further cement the Quad cooperation," another person familiar with the developments told ANI.
While in India, Secretary Blinken will also be attending the Raisina Dialogue, a multilateral conference held in New Delhi on March 2-4.
Blinken is expected to address the Raisina dialogue, a conference held annually on geopolitics and geo-economics that the Observer Research Foundation, an independent think tank, in collaboration with the Ministry of External Affairs of India hosts.
Earlier in November, External Affairs Minister S Jaishankar met US Secretary of State Antony Blinken on the sidelines of the ASEAN-India summit in Cambodia. Jaishankar and Blinken discussed the conflict in Ukraine, the Indo-Pacific region, and bilateral ties between India and US.
US Secretary is also expected to travel to China in early February for continued discussions related to one of America's most complicated and consequential relationships, however, no official announcements have been made as yet. (ANI)
Read more: http://13.232.95.176/