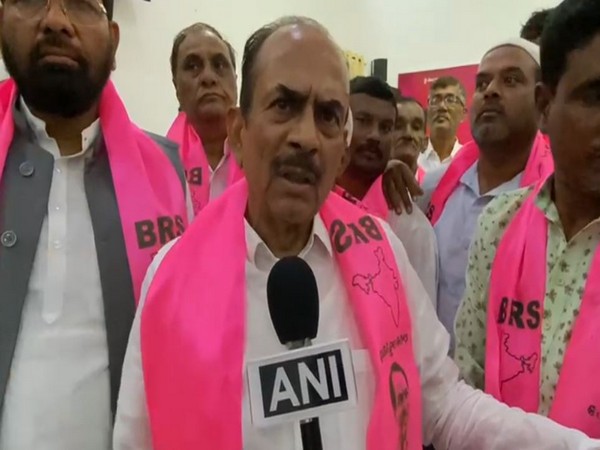 LM NEWS 24
LM NEWS 24
Useless, Manifesto Of Lies: BRS Leader Mahmood On Congress' Poll Guarantees
Telangana Home Minister and Bharat Rashtra Samithi (BRS) leader Mohd Mahmood Ali on Friday said that the Congress party's manifesto for the November 30 polls is 'useless and full of lies'.
This came after Congress president Mallikarjun Khrage released its manifesto, titled 'Abhaya Hastham' (the hand that protects), for this month's Assembly elections in Telangana, promising six guarantees.
"You can compare the work we (the BRS government) have done in the past 9 years and 4 months and Congress' work in the last 50 years. KCR is a great leader with a vision. What vision does the Congress have? Their manifesto is a manifesto of lies," he told ANI.
The Telangana Home Minister said that Congress, under its Minorities Declaration, is promising an increase in the state annual minority welfare budget to Rs 4,000 crore, but it is the only party responsible for the poor economic condition of Muslims. "They made Muslims poor and never provided them an education," he said.
The BRS leader said that the Chief Minister KCR-led government has deposited Rs 306 crore into the bank accounts of Imam and Mouzzan, while the grand old party has not spent even a rupee.
"Anyone can promise anything while in opposition. They cannot come to power. They can only promise. They are misleading people by making false promises. They have declared Rs 4000 crore. In Congress-ruled Rajasthan, there are 25 lakh Muslims, and they have earmarked just Rs 1900 crore for them," he added.
Meanwhile, the Congress party, under the 'Mahalakshmi' scheme, has promised to give Rs 2,500 monthly financial assistance to women. Gas Cylinders at Rs 500 and free travel for women in TSRTC buses across the state.
The party said it will also provide financial assistance of Rs 15,000 per acre to farmers, and tenant farmers; Rs 12,000 to agricultural labour will be provided every year; a bonus of Rs 500 for paddy per quintal will be provided under 'Rythu Bharosa'.
The party will provide 200 units of free electricity for all households under 'Gruha Jyothi' if it comes to power in the state, as per the election manifesto.
Under the 'Indiramma Indlu' scheme, the party promises to provide a house site for families not owning a house and Rs 5 lakh financial assistance towards the construction of the house.
Under 'Yuva Vikasam' a financial assistance card worth Rs 5 lakh, will be provided to students which can be used in payment of college fees, read the Congress manifesto.
All Telangana movement fighters will be provided with a 250 sq yards house site, as per the Congress election manifesto.
And under the 'Cheyutha', a monthly pension of Rs 4,000 will be provided to senior citizens, widows, disabled, beedi workers, single women, today tappers, weavers, AIDS and Filaria patients and kidney patients undergoing dialysis.
The party said health insurance of Rs 10 lakh will be provided.
The manifesto was launched amid the polling in Madhya Pradesh where voting for the 230-member assembly is underway.
Assembly elections in Telangana will be held on November 30. The counting of votes for the Telangana Assembly will be held along with those of four other poll-bound states on December 3.
In the previous Assembly election in 2018, the Bharat Rashtra Samithi (BRS), previously known as Telangana Rashtra Samithi (TRS), won 88 of the 119 seats, hogging 47.4 per cent of the total vote share. The Congress came in a distant second with just 19 seats. (ANI)
For more details visit us: https://lokmarg.com/