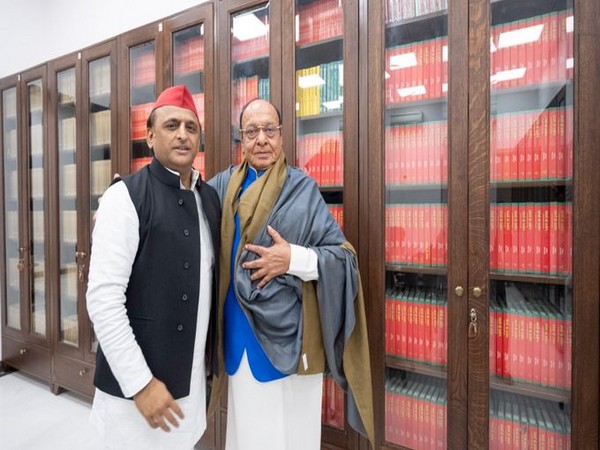 LM NEWS 24
LM NEWS 24
Vaghela Meets Akhilesh Amid Efforts At Oppo Unity For 2024 LS Polls
Amid efforts at opposition unity for the 2024 Lok Sabha polls, former Gujarat Chief Minister Shankersinh Vaghela, who had campaigned for the Congress in the assembly polls in the state last year, met Samajwadi Party leader Akhilesh Yadav on Wednesday.
Both Samajwadi Party and Vaghela, a former Congress legislative party leader in Gujarat, described it "courtesy meeting".
"I have come here on a courtesy call…If there is any political talk, information will be shared," Vaghela told ANI.
Asked about Prime Minister Narendra Modi's remarks on Uniform Civil Code, Vaghela said, "It is their marketing-nothing else…"
Akhilesh Yadav was part of the mega conclave of opposition parties in Patna last month that was aimed at fostering unity for the 2024 Lok Sabha polls.
Bihar Chief Minister Nitish Kumar had said after the meeting that they will fight the elections together and the discussions will be carried forward in another meeting of opposition parties in July.
There have been suggestions in the opposition camp that the largest and strongest party should lead the battle in a state.
Uttar Pradesh is among the states where opposition parties including the Samajwadi Party, Bahujan Samaj Party, and Congress have clashing ambitions. Samajwadi Party appears keen to get the support of other national parties in its aim to win maximum Lok Sabha seats from the state.
It remains to be seen how many seats Congress would agree to fight if there is an understanding with Samajwadi Party for the Lok Sabha polls. The state has significance for the national ambitions of Congress while SP is also keen to emerge as a key player.
BSP leader Mayawati had taken a dig at the meeting of opposition parties in Patna and had referred to Uttar Pradesh which sends 80 MPs to Lok Sabha. She had said that it does not seem from the attitude of opposition parties that they are serious about their objective in Uttar Pradesh.
Vaghela's meeting with Yadav,a former Uttar Pradesh Chief Minister, is being seen as politically significant.
Vaghela had experimented with a third force in Gujarat and formed Rashtriya Janata Party and Jan Vikalp Morcha and Praja Shakti Democratic Party. The octogenarian leader was the Leader of Opposition in the Gujarat assembly and resigned from the Congress in 2017. His son had joined the Congress ahead of the last assembly polls in Gujarat. Vaghela had broken away from BJP and became Chief Minister for almost a year in 1996. He also served as a union minister in the Manmohan Singh government. (ANI)
Read More: http://13.232.95.176/