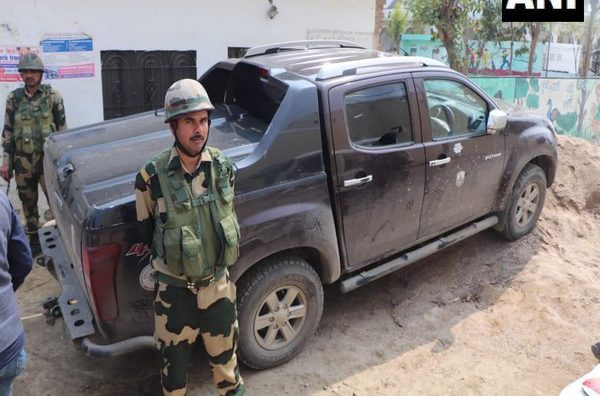 LM NEWS 24
LM NEWS 24
Vehicle Used By Amritpal, Ammunition Seized: Police
The vehicle used by 'Waris Punjab De' chief Amritpal Singh for his escape was seized by Punjab Police on Sunday, along with several other vehicles and ammunition.
The police said that seven aides of Amritpal Singh have been arrested, and efforts are underway to nab the pro-Khalistan leader as well. SSP Jalandhar Rural, Swarndeep Singh said that the seized vehicle was found abandoned.
"One car used in Amritpal Singh's convoy has been seized. One Kirpan and a .315 bore weapon with 57 live cartridges have also been recovered from it. The car was abandoned after use," he said.
He also said that those spreading rumours will be dealt with strictly.
"The law and order situation is normal in Jalandhar and the state. The police are committed to the safety of the public. We will take strict action against those who take law and order into their hands. Those found spreading rumours will be dealt with strictly," the SSP added.
SSP Rural Amritsar, Satinder Singh confirmed that the actions have been taken in connection with Ajnala FIR.
"We took this action in connection with the Ajnala FIR. Amritpal Singh escaped from the spot but his seven aides were arrested. An FIR under Arms Act has been registered against them and Amritpal Singh is the main accused in the FIR. Six 12-bore weapons and cartridges were recovered from them and they all are illegal. The accused were arrested from near Mehatpur yesterday," he said.
He said that the accused have been identified as Ajay Pal, Gurveer Singh, Baljinder Singh, Harwinder Singh, Gurlal Singh, Amandeep and Savrit Singh.
"Out of the seven arrested, one accused Harwinder Singh was having a license but he was having 139 bullets of 312 bores, which is more than the prescribed limit. On the behest of Amritpal, one Gurpesh gave him these bullets. All these have been recovered. An illegal 315 bore has also be recovered. Amritpal escaped from the spot and our efforts are underway to nab him," the SSP added.
Jalandhar Commissioner of Police (CP) KS Chahal said that the 'Waris De Punjab' managed to escape, but will be nabbed soon.
"He was chased by police for about 20-25 kms but he managed to escape. We have recovered a number of weapons and two cars have also been seized. Search is underway and we will arrest him soon. Law and order will be maintained," he said.
He further added, "Investigation has been done on the recovered weapons. This flag march has been conducted in the Model Town area by the Punjab Police and Rapid Action Force".
The Bathinda Police also conducted flag marches at various places today, to instil confidence among the public.
"The purpose of the flag march is to instil confidence among people and the situation is under control. Action has been taken as per law and we have also arrested some people. We will take legal action if anyone tries to take the law into their hands," SSP Bathinda Gulneet Singh Kurana said.
Earlier in the day, the suspension of mobile internet and SMS services, in the territorial jurisdiction of Punjab, was extended till March 20 (12:00 hours).
"All mobile internet services, all SMS services (except banking & mobile recharge) and all dongle services provided on mobile networks, except the voice call, in the territorial jurisdiction of Punjab are suspended till March 20 (12:00 hours) in the interest of public safety", said Dept of Home Affairs and Justice, Government of Punjab on Sunday.
Earlier the mobile internet and SMS services were in place till today (12:00 hours).
Previously the central agency sources informed that Daljeet Singh Kalsi alias Sarabjeet Singh Kalsi, who is an alleged advisor and financer of Amritpal Singh, was arrested by the authorities on Sunday.
Punjab Police on Saturday launched a massive crackdown against the 'Waris De Punjab' chief.
A heavy police force has been deployed outside Amritpal Singh's residence in Jallupur Khera village in Amritsar. The security has also been enhanced across the state as the Khalistani sympathiser outfit chief is currently on the run, as per the police.
Jalandhar Commissioner Kuldeep Singh Chahal, on Saturday late evening, confirmed that the radical leader had been declared a "fugitive".
The police action came almost over three weeks after Amritpal's supporters clashed with uniformed personnel at the Ajnala police station on the outskirts of Amritsar last month, demanding the release of one of Amritpal's close aides, Lovepreet Toofan.
On February 23, thousands of his supporters stormed the Ajnala police station, flashing swords and high-calibre firearms and threatening the police with dire consequences if they did not release Lovepreet Toofan, who was arrested for allegedly assaulting and abducting a man. (ANI)
Read More Article: https://lokmarg.com/