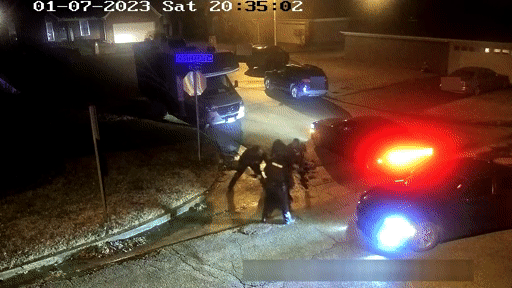 LM NEWS 24
LM NEWS 24
Videos Of Fatal Police Beating Up Man In US Released
Protests could erupt in cities across the United States after horrifying video footage was released on Friday of US police beating Tyre Nichols in Memphis earlier this month, leading to injuries from which he later died.
The city of Memphis on Friday (local time) released four videos that show police officers kicking and beating Nichols, a 29-year-old, Black man, The New York Times reported.
Memphis civic leaders and the family of Nichols have asked people to protest peacefully, as per The New York Times report. US President Joe Biden joined their call in a statement on Thursday afternoon. The police department in New York City in a statement said that officials were preparing for the possibility of protests.
Calling for "justice" for her son, RowVaughn Wells, Mr. Nichols's mother, said Friday that the five officers had "disgraced" their families, but that she would also pray for them, the New York Times reported.
Nichols, who was pulled out of his car by officers, can be heard saying, "I'm just trying to go home," and at one point he repeatedly screams, "Mom, Mom, Mom."
Nichols, a 29-year-old Black man, was hospitalized after the arrest on January 7 and died three days due to injuries, according to police.
Five officers have been charged with murder in the death of Tyre Nichols, according to The New York Times.
Video taken from a remotely controlled camera mounted on a utility pole in the area shows Memphis police officers hitting Nichols at least nine times without visible provocation, as per CNN. An officer is shown shoving Nichols hard to the pavement with a knee or leg when the camera turns towards the incident site.
According to CNN, Nichols is pulled by his shoulders and then kicked in the face. He was then pulled into a sitting position. The video shows Nichols being hit in the back with what seems to be a baton. After being pulled to his knees, Nichols was again beaten.
After being pulled to his feet, the officers hit Nichols in the face multiple times while his hands were kept behind his body after which he falls to his knees, according to CNN. In the video, an officer then appears to kick Nichols. More than three minutes after the encounter is seen on camera, officers let go of Nichols, and he rolls onto his back.
After one minute, Nichols was dragged along the pavement and propped up in a sitting position against the side of a car. After ten minutes, a person who seems to be a paramedic finally attends to Nichols. According to the video released by the city of Memphis, Tyre Nichols during his initial confrontation with police was heard telling officers that he is "just trying to go home," as per the news report.
The video released by Shelby County District Attorney's office showed the medical response to Tyre Nichols moments after he was beaten. About two minutes after paramedics started attending to Nichols, he is seen falling over to the side and seeming to hit his head against a piece of equipment. As per the CNN report, no one appears to help Nichols as he tries to sit up. After a minute, officers were seen crowding around Nichols.
The pole camera showed that 23 minutes pass from the time Nichols appears to be subdued and on his back on the ground before a stretcher arrived at the site, as per the news report. After two minutes, an ambulance arrived at the site of the incident. (ANI)
Read more: http://13.232.95.176/