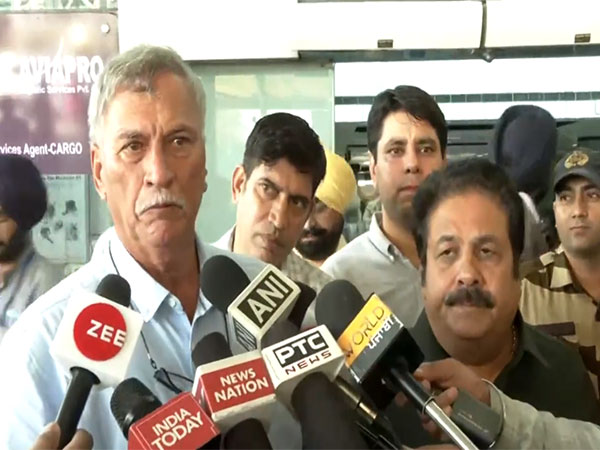 LM NEWS 24
LM NEWS 24
Visit To Pak Purely For Cricket: Rajeev Shukla
The Board of Control for Cricket in India (BCCI) President Roger Binny and Vice-President Rajeev Shukla arrived at Punjab's Amritsar airport as they embark on a visit to Pakistan for Asia Cup 2023 on Monday. They are likely to be present in the Gadaffi stadium for Tuesday's match.
Binny and Shukla are travelling to Pakistan after an invitation was extended to the members of the Asian Cricket Council (ACC) and other cricket boards by the Pakistan Cricket Board (PCB) to attend the mega event.
Shukla made it clear that their two-day visit is not for political reasons but purely cricket.
"This two-day visit is purely from the point of view of cricket, nothing political, a dinner has been hosted and three teams will be there – Pakistan, Afghanistan and Bangladesh."
While Binny, who is making his first visit to Pakistan since 2006 is looking forward to it and said, "I am looking forward to my visit since we've been to Colombo to see matches in Sri Lanka."
When asked about why the Indian team did not tour Pakistan for the tournament and the future possibility of such a tour, Rajeev Shukla said " We will go by the advice of the government, whatever the government will decide we will do that."
The 2023 Asia Cup is being held in Pakistan and Sri Lanka between August 30 and September 17.
Pakistan are in Group A alongside Nepal and India. Meanwhile, Bangladesh, Afghanistan and Sri Lanka are in Group B.
Pakistan cricket team will play the tournament's opener against Nepal, who will be playing their first Asia Cup, on August 30 in Multan.
The Board of Control for Cricket in India (BCCI) secretary and Asian Cricket Council (ACC) president, Jay Shah, on July 19 announced the schedule for the Asia Cup 2023.
The tournament kicked off on August 30, the arch-rivals India and Pakistan have already faced each other once on September 2, with India posting a total of 266 on the board in the first innings. However, the game was washed out completely due to rain in Kandy and both teams walked out with a point each.
India will play their final group match on Monday against Nepal in the Pallekele International Cricket Stadium. (ANI)
Read More: http://13.232.95.176/