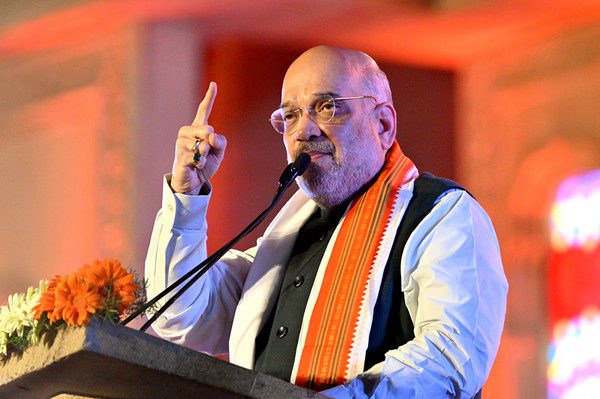 LM NEWS 24
LM NEWS 24
Vizag Is Den Of Anti-Social Elements Under Jagan: Amit Shah
Union Home Minister Amit Shah on Sunday came out heavily against the Jagan Mohan Reddy-led Andhra Pradesh government alleging that the money sent by Centre to the state was "looted" by the cadre of YSRCP.
He also urged the people of the state to send more than 20 MPs in the Lok Sabha in the upcoming 2024 general elections.
Addressing a public meeting in Vishakhapatnam, organised to mark the completion of 9 years of the BJP-led central government under PM Modi, the Union Home Minister said, "In the last five years, PM Modi had sent 5 lakh crore for Andhra Pradesh. But did the state got developed? Where did that money go? It went to the corrupt cadre of CM Jagan."
Shah further alleged that the state has become a "den of anti-social elements" under the YSRCP rule.
"This Vizag has become a den of anti-social elements under the rule of Jagan Mohan Reddy. The people from the ruling party are involved in many anti-social activities. The ruling party is involved in all kinds of scams, be it land scam, mining scam and even supply of illegal pharmaceutical drugs," he said.
Shah added, "CM Jagan has stopped so low that he is putting his photos on rice meant for the poor. It is PM Modi who has been providing rice to AP's poor. The government is claiming to be pro-farmer. However, Andhra Pradesh ranks number three in the suicides of farmers. Jagan Mohan Reddy should be ashamed of this".
He further urged the people of Andhra Pradesh to elect more than 20 BJP MPs from the state.
"PM Modi has initiated the construction of a grand Vizag railway station at a cost of Rs 450 crores. The operation of Kurnool airport has also started. We want that in 2024, Modi Ji should become Prime minister again with the support of more than 20 BJP MPs from Andhra Pradesh," Shah said. (ANI)
Read More: http://13.232.95.176/