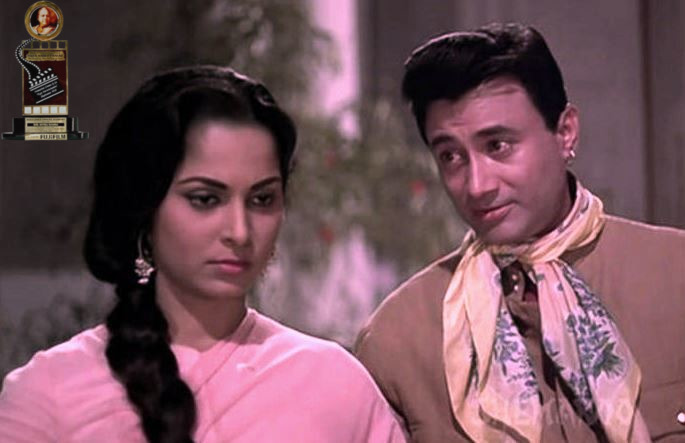 OPINION
OPINION
Waheeda And Dev Anand – A Reunion of Sorts
If time can be measured in terms of the past merging with the present, it occurred with the honouring of two 'timeless' personalities last week. Whether anyone in the government planned it or not, the coincidence was too delicious to be missed.
The announcement of the Dadasaheb Phalke Award to Waheeda Rehman on Dev Anand's birth centenary is a fitting tribute to two of the Indian cinema's most enduring personalities. She was before the camera, yet again, to express her happiness at this.
It is also significant for both. Waheeda began her Hindi cinema career with C.I.D. one of Dev Anand's landmark, albeit under-rated films. Of their six other films together, Kala Bazar had a perfect mix of romance and social commentary, a recurring theme in their cinematic journey. Arguably though, Waheeda is the most significant of Dev's co-stars from among the numerous heroines, from Suraiya to Tina Munim.
Like Guru Dutt whose find she was, Waheeda also inspired confidence in Dev. She almost didn't do Guide as director Vijay Anand felt she was unsuitable. Only Dev's perseverance made her part of the film that all three were proud of. "Guide is not just my most iconic film. It is also Dev's most celebrated work," Waheeda has aptly said.
Mostly S D Burman-composed, songs linked Dev and Waheeda and are sung even today. Both set fashion trends till a globalised India emerged at the turn of the century.
Guide remains a landmark for Indian cinema. Dev transformed from a swashbuckling tourist guide to a 'feminist' who stands by a married woman in trouble before actually falling in love. He is her promoter who becomes insecure as she takes charge of her life. And finally, he is an accidental philosopher who personifies the Bhagwad Geeta's message.
Given his self-created Westernised image, none among his fans and critics expected Dev to pull off the last part the way he did. It was as much brother Vijay's triumph considering he bounced back to directing Shammi Kapoor, a role that Dev almost bagged, in Teesri Manzil the next year.
No matter what novelist R K Narayan, thought of his literary creation on celluloid (he called it "Misguided Guide"), the theme and its treatment by the Anand brothers were well ahead of their time. Waheeda performs with grace the difficult role of a married woman fulfilling her life's ambition using another man's support but does not stand by him when he falters. That 'Rosie/Nalini' got the Filmfare Award that year over 'Debjani' in Mamata played by another stalwart, Suchitra Sen, is also significant.
As it happens, be it in personal life or professional, the two lost touch in Dev's last years. But she kept track of Dev's compulsive latter-day film-making, most of which flopped being an exercise in self-indulgence. When he died in 2011, Waheeda said: "Without meaning any disrespect to him, I'd like to say that as the years went by Dev's script sense went more and more haywire. I think he got too involved with himself. Dev was a very good producer. But he needed to look out for better scripts."
ALSO READ: Sahir – The Poet of The Underdog
If personal asides be forgiven, I began my writing career by converting 'points' furnished by Waheeda's PR man into a readable piece. She telephoned and I earned my editor's first pat on the back. The present is her moment at the Phalke Award. When Dev received it, although reporting on a 'routine' event, unusually earned me a by-line at the Times of India.
The most appropriate film clip to go with the award ceremony was of Mein Zindagi Ka Saath Nibhata Chala Gaya. It was thought of by then Information Minister Ravi Shankar Prasad. These hope-as-heaven-and-hell lines written by Sahir Ludhianvi and composed by Jaidev remain relevant for all times to come.
To touch upon the trivia that matters, Dev not only acted and behaved young – remarkably, he looked young for long years when camera techniques and de-ageing processes did not exist. An American journalist meeting him on the sets called him "what Indians call fair complexioned". Given the Indian fetish for fair complexion, Waheeda required a different layer of make-up than her north Indian counterparts. It was the same as Raj Kapoor with Vyjayanthimala or Padmini. Today, not that Indians have changed their preferences, but these techniques have largely ended this apartheid.
Waheeda was conscious that she had acting and dancing skills, but not the glamour to sustain her in films. She switched to purposeful roles quite early in her career. For Satyajit Ray's Abhijaan, she waived her fees and committed to an uninterrupted shooting schedule.
She partnered with top men of her time impacting their careers as well as hers. She was the underdog, a fallen woman, to a well-heeled Mala Sinha in Pyasa. Saheb Bibi Aur Ghulam was as much her film as it was Meena Kumari's. For all the thematic and technical wizardry and their brilliant performances, Kagaz Ke Phool, a landmark in Guru Dutt's career, flopped. She contributed to recovery with Chaudahvin Ka Chand. She was definitely his muse and leaving behind the talk of her role in his family life, it is not difficult to guess how her career would have evolved had Guru Dutt lived longer.
Besides Dev, she was the perfect foil to Dilip Kumar in Dil Diya Dard Liya, Ram aur Shyam and Aadmi. With Raj Kapoor she shone in a multi-layered role in Teesri Kasam and Sunil Dutt in Reshma Aur Shera and Mujhe Jeene Do. With Raaj Kumar, it was Neelkamal and she outshone Rajesh Khanna in Khamoshi. No matter the age these roles placed her in, she was the compassionate figure that Indian audiences adored.
As young India grows older, nostalgia is gripping the minds of young and old. To borrow a paragraph from what celebrated writer Santosh Desai observed when Dev Anand passed away in 2011: "Old legends can carry the past gracefully, or become its embarrassment; Dev Anand's unique ability was to speak of the past as if it were present and to act in the present as if it were the past. He spoke of his latest film Chargesheet with the same enthusiasm as he did of a film like Guide; to him, they were both accounts of a present — separated by a few decades."
When Zeenat Aman, 71, is busy giving interviews, it is nice to see Waheeda, 85 and Vyjayanthimala, 90, amidst us.
The writer may be contacted at mahendraved07@gmail.com