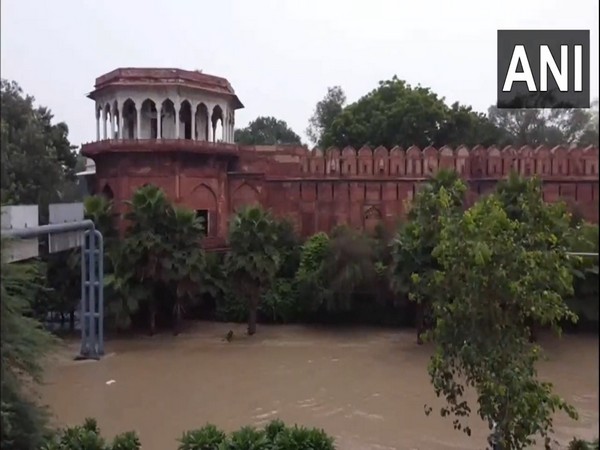 LM NEWS 24
LM NEWS 24
Water Reaches Red Fort As Yamuna Overflows
Water reached on the Ring Road at the backside of the Red Fort on Thursday as the Yamuna river continued to flow above danger level, and all the shops around Kashmere Gate here will remain closed until Sunday due to the flood situation.
Due to the rise in the water level of Yamuna and resultant inundation of low-lying areas, traffic movement has been impaired on Mahatma Gandhi Marg (Ring Road) between IP Flyover and Chandgi Ram Akhara, Mahatma Gandhi Marg between Kalighat Mandir and Delhi Secretariat and Outer Ring Road between Wazirabad Bridge and Chandgi Ram Akhara, while the area near Nigam Bodh Ghat was also flooded.
Traffic on the GT Karnal Road in the national capital was also thrown out of gear as the Yamuna waters breached the warning mark.
Meanwhile, a police van was seen stuck in flood water near Delhi's Kashmere Gate on Thursday as the Yamuna River overflowed and Chandgi Ram Akhada Chowk area of Delhi witnessed severe flooding.
Several areas of the city are reeling under flood or flood-like situations due to the rise in the water level of River Yamuna.
The water level at 1 pm was recorded as 208.62 metres, it was found to be the same even at 2 pm.
In a tweet, Delhi Metro Rail Corporation (DMRC) said that trains are passing through all four Metro bridges on the river (Yamuna) with a restricted speed as a precautionary measure.
"Due to rising water levels of the Yamuna, trains are passing through all four Metro bridges on the river with a restricted speed of 30 kmph as a precautionary measure. Normal services on all corridors", DMRC said in a tweet.
MD of Sushruta Trauma Centre, Government of Delhi at Metcalf Road, Dr Suresh Kumar told ANI that 40 patients were shifted to LNJP hospital as flood water entered the trauma centre.
"Flood water enters Sushruta Trauma Centre at Metcalf Road in Delhi. 40 patients admitted here, including three on ventilators, are being shifted to LNJP hospital", Dr Kumar to ANI.
Requesting Delhiites, residing in flood-affected areas, to not leave their houses if not essential, Chief Minister Arvind Kejriwal said the Yamuna River's water level will reach its peak by 3-4 pm Thursday and then it will start receding.
"I would like to request people to not step out if it is not essential and resort to Working from Home. We have closed the schools in affected areas. We are also trying to provide all facilities at the relief camps…As per the CWC (Central Water Commission) prediction, the peak (of river Yamuna's water level) will reach by 3-4 pm today and it will then start going down," Kejriwal told ANI.
Amid the rising water level of River Yamuna, the Delhi government banned entry of heavy goods vehicles from the Singhu Border, Badarpur Border, Loni Border and Chilla Border. Interstate buses from Haryana, Himachal Pradesh, Chandigarh, J&K, and Uttarakhand terminating at ISBT Kashmere Gate will terminate at the Singhu border.
However, all Delhi schools and colleges will remain closed till Sunday and government offices, except those providing essential services, will resort to working from home, Kejriwal said.
Talking to ANI after the Delhi Disaster Management Authority (DDMA) meeting with Lieutenant Governor VK Saxena on the unprecedented flood situation in the national capital, Kejriwal said, "We had a DDMA meeting. Several important decisions were taken. Schools, colleges & universities will remain closed till Sunday. All government offices, except those providing essential services, will have Work from Home till Sunday. Advisory is being issued for private offices to do the same."
Pictures and videos of commuters wading through knee-deep water flooded social media platforms, raising concerns about the efficiency of the city's drainage infrastructure.
Bharatiya Janata Party (BJP) MP and former cricketer Gautam Gambhir took a dig at the administration over the flood situation in the capital and said, "Wake up Delhiites. Delhi has become a gutter. Nothing is for free, this is the PRICE!!"
Considering the situation, Delhi Traffic Police kept updating Delhiites about traffic affected parts of the city through its Twitter account by uploading pictures of the waterlogged areas.
In a recent alert through one such tweet, the Delhi Traffic Police mentioned, "Traffic is affected in the carriageway from Kalindi Kunj towards Okhla and vice-versa due to waterlogging and breakdown of vehicles at Okhla underpass. Commuters are advised to avoid these stretches". (ANI)
Read More: http://13.232.95.176/