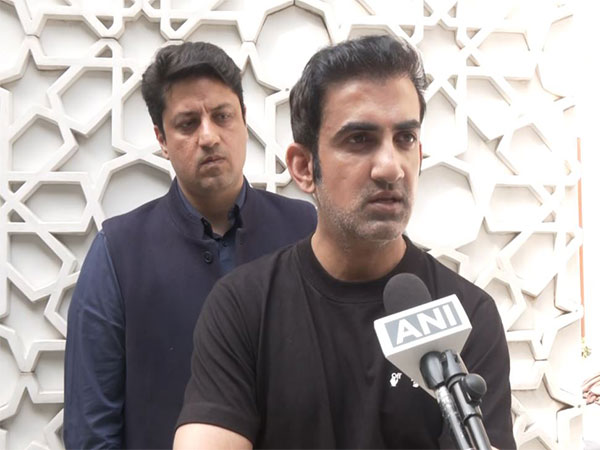 LM NEWS 24
LM NEWS 24
We Haven't Credited Yuvraj Enough for 2011 World Cup: Gambhir
Not known to shy away from speaking his mind, former India captain and opener Gautam Gambhir didn't hold back when asked if he ever looks back and feels he should have got that elusive hundred instead of being dismissed for 97 in the 2011 World Cup final and if missing the century bothers him.
Weighing in on India's glorious campaign, the southpaw claimed that talismanic all-rounder Yuvraj Singh, Zaheer Khan, Suresh Raina, and Munaf Patel, among others, were crucial to the team lifting the title.
Gambhir said he isn't bothered about whether his exploits in Indian colours are remembered or celebrated, as all that matters to him is that India became the world champions after 1983.
"It just doesn't matter if I go the hundred or not. All that matters is if India wins the World Cup. We don't play an individual sport. It is a team sport and individual achievements are only important if they come of use to the team. This innings is far more important to me because it helped India win the final," Gautam Gambhir told Revsportz.
It is no secret that Gambhir and Dhoni's invaluable partnership during the final against Sri Lanka in April, 2011 helped the team win the World Cup after 28 years.
"Do we celebrate Yuvraj Singh enough for what he did in the 2011 World Cup with all the health concerns he had? Do we celebrate Zaheer Khan's opening spell enough? To start off a World Cup final with 4 maiden overs is incredible and yet he isn't given enough credit. We haven't credited Yuvraj enough for the 2011 World Cup. Do we celebrate Sachin Tendulkar's efforts enough? Yes, we celebrate him and the win but how many remember he was the highest scorer in the World Cup with two hundreds to his name?" Gambhir said.
"I will tell you one thing straight. If I got out for a low score and India won I would be as happy. But If I got the 100 and India lost, the 100 would be of no value whatsoever to me. We are far too obsessed with individual milestones in India and in doing so the focus on occasions moves from the larger goal. The bigger picture of how your team has done is lost on occasions. That's the only thing that is important in team sport," the former India opener added.
"Do we celebrate Harbhajan Singh's spell against Pakistan in Mohali or Suresh Raina's innings against Australia in Ahmedabad and Pakistan in Mohali? Both these innings were match-winning efforts," he added.
Gambhir claimed further that Yuvraj Singh was not given enough credit for taking the Men in Blue to the World Cup final as the media was more preoccupied with MS Dhoni's title-winning six.
"While we celebrate MS Dhoni's innings in the final, we should celebrate these other efforts as much. No one's innings could win India the trophy. It was a collective effort and should be celebrated as such. It is because of social media that we don't do it. Social media is biased and we all know that. But social media doesn't make it the truth. There is always a tendency on social media to celebrate individuals more than the team. In doing so what happens is we
don't celebrate key performers who had as much a part to play. And that's an issue for sure. All I will say is we should celebrate the entire team. While we celebrate Dhoni, we should also celebrate the others who all played very important roles in the Indian win," the former India opener said.
Speaking on pressure, he said, "Playing the World Cup final was not pressure. I had runs behind me and I was doing something I liked doing and I was confident of doing well. In fact, even when we lost two wickets, I did not have a single negative thought. All I was focused on was playing the next ball. That's what it is about. Just play the next ball and don't look too far ahead. If you do, that's when you build pressure on yourself. If you just play the next ball, you know you are in control. And that's what I did in the 2011 final. Honestly, I did not feel
pressure and nor did I have negative thoughts when we were two down."
"In fact, the only time I felt pressure was in 2014 when I got 3 consecutive ducks for KKR in Dubai as captain. That's when I felt pressure. I then got 1 in the fourth inning and was ashamed of my efforts. That was pressure. You feel the pressure when things don't go well for you. Not when things are right and you are on a roll. In the fourth match, I asked Manish Pandey to open the innings and batted at number 3 myself. Manish was scoring and I did this because I was scared. I have no hesitation in accepting I was insecure and scared," he added.
"However, Manish was out without scoring and I got out for 1. I told Manish I would never
again do this and decided to take things head-on. I was feeling the pressure. I was nervous. But then that's what mental strength and courage is all about. You need to face up to the toughest challenges. In our next game, I opened the batting and smashed the first ball from Kane Richardson for four. Perhaps the most important four of my IPL career. That's when things changed again," the former India skipper said.
Terming the 2011 World Cup win as the most important of his career, Gambhir added, "The 2011 World Cup win was the most important win of my career. I had missed out on playing the 2007 WC and I still feel it was wrong that I was left out. I still don't know why I was left out despite doing well and the 2011 World Cup was the only 50-over tournament that I played. So I have the unique distinction of winning the only 50-over that I participated in. In
2007 the T20 format wasn't the format of choice. Yes, we won but it was not the format we all excelled at."
"The 50-over World Cup was different. On home soil, the 2011 World Cup was the tournament that all of India was looking forward to. We had not won a 50-over tournament for 28 years and in every sense, it was a very special occasion. To be able to do well for my team was a very satisfying thing for me and will surely rank as one of the highest points in my career," he added. (ANI)
Read More: http://13.232.95.176/