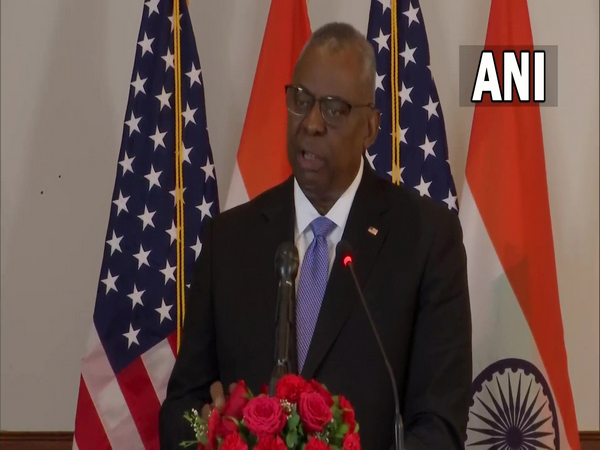 LM NEWS 24
LM NEWS 24
We See Bullying, Coercion From China: US Defence Secy
Visiting United States Secretary of Defence Lloyd Austin on Monday said that the world is witnessing bullying and coercion from China which was seeking to "redraw borders by force" and also threaten the national sovereignty of countries.
Addressing a press conference after holding a bilateral meeting with Defence Minister Rajnath Singh, the US Defence Secretary said, "We face a rapidly changing world. We see bullying and coercion from China, Russian aggression against Ukraine that seeks to redraw borders by force and threatens national sovereignty, as well as transnational challenges, such as terrorism and climate change."
The US Defence Secretary highlighted the importance of joint military exercises between India and the US.
"So democracies must now rally together around not just our common interest, but also our shared values. Preserving and protecting the freedoms that are essential to peace and prosperity will require vigorous leadership from the United States and India. And so we still have a lot of work to do, but I am confident that the US-India Partnership will help to secure an open and prosperous future for the Indo-Pacific and the wider world," he added.
Austin, who arrived in India a day ago today concluded a roadmap for Defence Industrial Cooperation with Rajnath Singh. The roadmap for the next few years will identify opportunities between the two countries for the co-development of new technologies and co-production of existing and new systems as well as facilitate increased collaboration between defence start-up ecosystems.
Just recently in his address at the Shangri-La Security Summit in Singapore, Austin had warned that the conflict in Taiwan Strait would be a devastating one, criticising China for its actions in the region. "Our policy is constant and firm. It has held true across U.S. administrations. And we will continue to categorically oppose unilateral changes to the status quo from either side. I'd also highlight that conflict is neither imminent or inevitable. Deterrence is strong today–and it's our job to keep it that way," Austin said at the Shangri-La Security Summit in Singapore on Saturday.
"You know, the whole world has a stake in maintaining peace and stability in the Taiwan Strait–the whole world. The security of commercial shipping lanes and global supply chains depends on it. And so does freedom of navigation world-wide.But make no mistake: conflict in the Taiwan Strait would be devastating," he said in his remarks 'A Shared Vision for the Indo-Pacific' in Singapore.
Earlier today, Austin stated that India and US global strategic partnership has continued to rapidly grow. India-US partnership is the cornerstone of a free and open Indo-Pacific. Both nations have established an ambitious roadmap for US-India defence industrial cooperation.
Talking about the meeting with the Defence Minister, he stated that they discussed an important new initiative, INDUS-X, that aims to jumpstart partnerships between the US and Indian defence innovation sectors.
A statement released by the Defence Ministry stated that Austin and Singh explored ways of building resilient supply chains.
Both sides decided "to identify opportunities for the co-development of new technologies and co-production of existing and new systems and facilitate increased collaboration between defence start-up ecosystems of the two countries".
They also discussed regional security issues given their shared interest in maintaining peace and stability in the Indo-Pacific, the ministry said.
Meanwhile, addressing a press conference today, Austin responding to a query on the ongoing Russian Ukaraine conflict said, "It's been widely reported that Russia has constructed defences along the border of the occupied territory. And those defences, in many cases, are defences in depth. So we see several lines of fortifications, ditches, dragon's teeth prepared positions, those kinds of things."
"In some cases, it's a fairly significant preparation there, but I would say that they have to defend against a pretty significant across a pretty significant area. So they probably can't be strong in every place. So it's incumbent upon the Ukrainians to find those points of advantage that they can leverage and exploit. So we'll see what happens."
During their meeting, Rajnath Singh and Lloyd Austin reviewed the "robust and multifaceted" bilateral defence cooperation activities and agreed to maintain the momentum of engagement.
After the meeting, Rajnath Singh said on Twitter that the talks revolved around enhancing defence cooperation in several areas including convergence of strategic interests and enhanced security cooperation.
"India-US partnership is critical for ensuring a free, open and rules-bound Indo-Pacific region. We look forward to closely work with the US across the domains for capacity building and further consolidating our strategic partnership," Singh tweeted.
The two leaders welcomed the inaugural talks held recently focusing on defence artificial intelligence and defence space. Singh and Austin discussed the regional security issues considering their shared interest in maintaining peace and stability in the Indo-Pacific region.
The meeting was attended by senior officials from the Ministry of Defence, including Chief of Defence Staff General Anil Chauhan, Defence Secretary Giridhar Aramane and Secretary, Department of Defence R&D and Chairman Defence Research and Development Organisation (DRDO) Dr Samir V Kamat.
Earlier today, Austin who arrived in Delhi on Sunday from Singapore inspected a Tri-Services Guard of Honour in the presence of the Defence Minister at the Manekshaw Centre in Delhi. This is Austin's second visit to India. Previously, Lloyd Austin visited India in March 2021. (ANI)
Read More: lokmarg.com