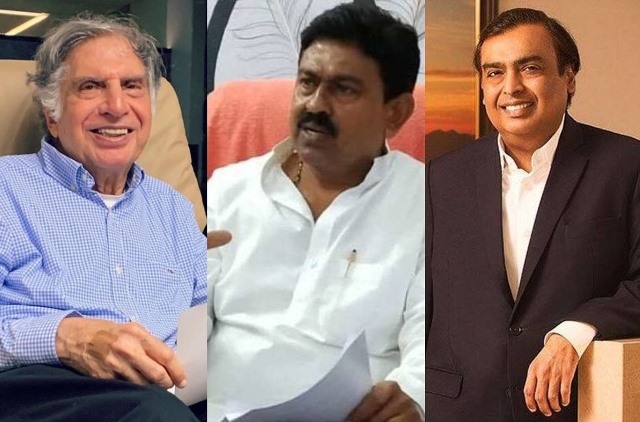 THEBUZZ
THEBUZZ
Weekly Update: Air India Boomerang, A Neta's Privilege & Richer Ambani
The one thing Air India has become good at is going around the world and at each stop collecting debts. Daily it clocks up $3 million loss for the Indian taxpayer. Now it has decided to go back to base and stop this addiction. That is it has gone back to the point when it first started conflating financial loss with nationalism. It is back home now with the Tatas where it was cocooned and spent its growing years. After a 68-year spree of carefree 'awaragardi' it is going to become a responsible airline.
JRD Tata started the airline back in the 1932 and named it Air India in 1948. It was a good airline with growing reputation under the Tata family business. However another family owned business, the Congress Party, probably fancied the name Air India and wanted the brand under it. Although not having enough money, the Congress Party had the power of the State in its hand. So it nationalised Air India in 1953. A lot of good and well working industries, institutions, banks and political entities were nationalised by Nehru's family over the years with disastrous results.
Air India started well as a national carrier for a while but then started working like the Government. It became a creaky machine, haemorrhaging money and rewarding privilege. The losses started to nose dive into a bottomless pit.
The BJP Government under Narendra Modi, not yet run by a family, saw no advantage in burdening the nation further. The accumulated debt is already some ₹70,000 crore which is nearly $8 Billion, no mean sum. Moreover the family run party has lost both power and financial muscle, so Air India could be freed from serfdom.
Tata Sons as Talace Private Ltd have bought it back from the Government for $2.7 billion. They are happy they have their baby back after it was wrestled away, adopted and abused by the State. Question now is whether Tatas will be able to nurture it back to a responsible, financially viable healthy grown up airline able to compete with the best. Tatas have shown they can both manage and grow world brands, as they have done with Jaguar Land Rover, once a crown jewel in Britain's manufacturing. With that record, if anyone can resuscitate Air India's battered, bruised, tortured financial life back into some meaning, the Tata group can.
The Neta Privilege
People saw him. He has allegedly been videoed on site. He has been named by victims and witnesses as the driver or the instigator of the most heinous yet stupid turn of events in the long running farmer's dispute. Yet Ashish Mishra, the son of Union Minister of State for Home, Ajay Mishra, says he wasn't there.
Even with videos flying around the world showing cars ploughing in and eight people dead, the Uttar Pradesh government's response to the black and white crime was, 'we will set up an enquiry'. Inquiry is a convenient tool learnt from Colonial times to stifle proper police investigation and even throw the issue into an abyss of 'political do nothing'.
It was the Chief Justice of India who intervened suo moto, meaning that the Supreme Court initiated a case itself. CJI NV Ramana, and Justices Surya Kant and Hema Kohli form the bench. The SC sent notice to Uttar Pradesh Government for an update on the FIR. It was also not impressed by the 'Special Investigative Team' as all the personnel were from Uttar Pradesh and obviously under that government. A day later the SC enquired why the chief suspect had not been arrested.
The Neta's son did not attend the first summons by the police. A second summon was sent and realising that he would have to be arrested now that the SC was involved, the son went to the police. How many crime suspects have the luxury of 'walking' at will into a police station?
Despite a team of experienced interrogators, Ashish Mishra (the Neta's son) failed to answer questions. So they put him under arrest. The arrest is not for 'suspected act of terror' not even 'suspected murder' but merely for not answering questions!
Meanwhile, the Neta himself has been busy making excuses for his son. First that he was not at the scene saying, 'He would have been killed if he were there!' Then he said son was at a family-sponsored function in the village. And explaining the failure to attend the first summons, that the son was ill.
The incident witnessed by many, if not hundreds, was that Netaji's son's four wheeler deliberately ploughed into peaceful demonstrators walking home. Four farmers were killed. The crowd then turned onto the vehicle and its owners. The driver and two BJP members were beaten to death by the crowd. Eye witnesses say that Ashish Mishra was either driving or forced his driver to drive into the crowd. Mishra himself escaped.
The incident has put a spotlight on the BJP government and the PM himself. Will he stand by his promise not to be like Congress Family Raj and sack the junior minister as well as allow the wheels of justice to act unhindered or will be protect the 'extended BJP family' as Congress used to do? Prime Minister Modi's integrity is on line as well.
And Ambani Joins Bezos
While more people are becoming poor in India especially due to the pandemic, there is some good news. Mukesh Ambani has become richer by $23.8 Billion last year. He now joins the very select group of people in the world with over $100 Billion assets, such as Jeff Bezos and Elon Musk.
This will be welcome news to many people in India sleeping rough on the streets and who are still waiting for a decent roof over their head, access to clean water and a decent meal a day. Or they may not notice any change in their lives.