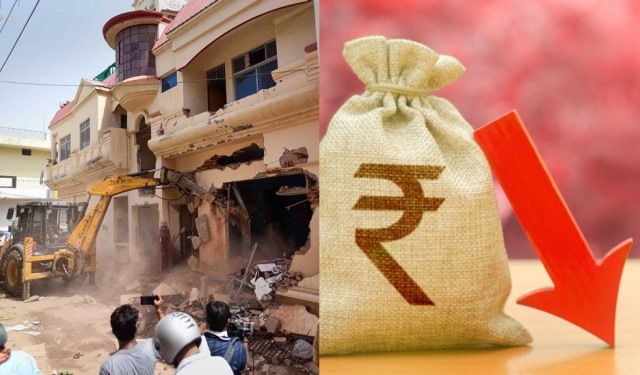 THEBUZZ
THEBUZZ
Weekly Update: Barbarian Politics of Bulldozers; Rupee in Free Fall
In India's socio-political lexicon, lamentably, a new phrase has made an entry: bulldozer politics. In Uttar Pradesh, where the hardline Hindu chief minister Yogi Adityanath has been in power for more than five years, communal tension and violence between Hindus and Muslims has been countered by his government by the use of bulldozers to raze the homes and settlements of so-called criminals allegedly responsible for rioting and other acts of violence. No prizes for guessing the religious community that is predominantly targeted by the bulldozers.
There is a certain barbaric aspect to the sort of action the Uttar Pradesh government has sponsored. Bulldozers are routinely used in India to take down illegal construction. That procedure is usually legal. Official orders are obtained from the authorities such as courts and demolitions are carried out. Nothing wrong with that. However, what is fast becoming a trend, particularly in Uttar Pradesh, is extra-judicial and should be considered illegal: where the targets of demolition are owned or inhabited by criminals, rioters or other accused persons.
The point is a simple one. If a person is accused of a crime, he has the right to be tried within the judicial system and the framework of the laws of the land. Is it legal for a government to raze settlements because alleged criminals inhabit them? But even as the debate rages about the bulldozer action initiated by the Uttar Pradesh government, it has emerged as a political tool. Last week the chief minister instructed officials to continue with bulldozer action ostensibly to quell the waves of violence that have erupted in parts of his state, notably in the Lucknow area.
But bulldozer action is one of the many consequences of the deeply dangerous brand of politics that has been unleashed by the Bharatiya Janata Party led governments in various parts of India. Since the party came topower at the Centre and began winning mandates in many other states, minority communities, particularly Muslims, have never felt more insecure. What was in the past latent majoritarianism now seems to be legitimised. And when mobs attack minorities and riots break out, authorities even at the highest levels turn a blind eye. And often when action is taken, the targeted "miscreants" belong to–you guessed right–the minority community.
Is India turning into a Hindu state? Many believe it already has. In growing parts of the country, discrimination and violence against minority communities have become routine. People have no option but to live with it. In some cases, such as in Uttar Pradesh, this has obviously and inevitably led to a backlash where the minority community strikes back. Whether these acts are perpetrated by criminals or not, the action that is adopted–of bulldozing areas–reeks of an uncivilised era, primitive, barbaric, and illegal.
Why is Rupee Continuing to Lose Value?
Since January, in barely six months, the Indian rupee has dropped 5%. That is a sharp fall. One US dollar is equivalent now to nearly 80 rupees. Many expect the rate to worsen. What is going on?
The main reason for the rupee's decline is the rise in prices of oil. India buys 85% of the oil it needs through imports. And for a variety of reasons, including the Russian attacks against Ukraine, the crude oil barrel price has risen to US$120. As recently as in March it was $90. When fuel prices soar, for India the demand for dollars increases and consequently, the rupee's value declines.
But there are other reasons too for the rupee's fall. Global funds and investors are faced with a sentiment that urges them to reduce risks and withdraw investments in emerging markets such as India. Outflow of dollars has been constant since the beginning of this year. Since January, according to official estimates, as much as $24 billion has flowed out of India.
Besides this, there is the worrying trend in the US economy where retail inflation has been rising (as it has in Europe) and other developed markets. The US Fed Reserve (the central bank) is expected to hike interest rates in a monetary policy strategy to limit spending and curb inflation. This means returns on dollar assets will be higher than returns on, say, investments in financial assets in India. This means the outflow of funds will increase further. In money markets, anticipation of moves such as the one expected from the Fed is what turns the sentiment. And right now that anticipation is driving the value of the rupee down.
Global commodity prices have been rising steadily and even sharply. This means for India, its import bills go up and the deficit widens. To finance the deficit, India has to buy dollars and this puts further pressure on the rupee.
So it is a number of factors that have combined to make the rupee weaker. For the ordinary citizen it means that his money doesn't stretch as much as it did before as prices rise and the economy bears the brunt of rising oil prices and the exodus of dollars. In plain terms, it is bad news.