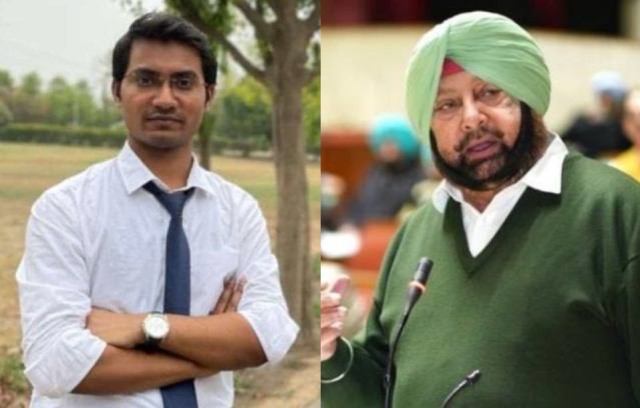 THEBUZZ
THEBUZZ
Weekly Update: Corporate-Civil Service Divide; Captain Deserts, Cong At Sea
Grit and determination are what helped Shubham Kumar, this year's topper in the Union Public Service Commission (UPSC) examination, realise his ambitions. It was his third attempt this year. Last year, when Kumar took the exam, he was selected but his rank was 268. Kumar wanted to realise his ambition to do much better. So he took the exam again. This time, he topped.
Kumar, 24, comes from Kumhari village in the Kadwa block of Katihar district in Bihar. It is in a zone that is chronically ravaged by floods. The son of a rural bank's branch manager, Kumar, a graduate of IIT-Mumbai, has always been determined about pursuing success single-mindedly. And, from a very young age, he wanted to become an IAS officer, a dream that has now come true.
The examinations conducted by the UPSC are for aspiring candidates who want to join the elite bureaucratic cadres in India–including the Indian Administrative Service (IAS), the Indian Foreign Service (IFS) and the Indian Police Service (IPS), among others. Every year, as many as a million candidates register for the examination and of them,about half actually complete the exams. But the number of positions that they compete for is less than 1,000. So the percentage of candidates selected from all of those who take the tests is 0.2%. There are very few competitive exams in the world that are as difficult to crack as the UPSC examination.
Kumar is emblematic of the drive that UPSC toppers demonstrate. Last year's topper, Pradeep Singh, son of a village sarpanch from Tewari village in Haryana's Sonipat district, made it to the top rank in his second attempt. Kumar and Singh are also examples of how, increasingly, aiming high in the UPSC exams has become more an objective of, often less privileged, rural Indian youth rather than their more well-heeled urban counterparts.
Although accurate statistics are not easy to come by, it is estimated that the majority of the candidates that get selected for UPSC's elite cadres each year come from the two states of Uttar Pradesh and Bihar. Of course, these two states are among India's most populous ones–UP has over 200 million people, of which 77% live in villages; and Bihar has a population of 104 million, of which 88% live in villages. In UP, there is a tiny village named Madhopatti in the Sirkoni block of Jaunpur district, where just 75 households live and, it is believed, that each of these households has at least one member of the family in one of the elite UPSC services. It is even known as the Officer's Village of India.
Why do rural youths seem to aspire more to join the UPSC cadres more than urban youths do? Is it because the cachet attached to those services appears to be valued more highly in India's villages and small towns than in its cities? Is it a truism that India's urban youths eye careers in the corporate world, and aspire more for an MBA tag than that of an IAS, IFS, or IAS? Questions such as those require sociological probes.
Is there a divide between India's youth? Are India's urban youngsters more westernised, corporatised and lured by wealth and material acquisitions? An MBA from even a low-tier business school could expect a starting salary of Rs 1lakh plus a month, which is roughly double of what a freshly-minted IAS officer makes. But a job in the corporate sector has none of the responsibility, commitment and dedication to nation building or administration that comes with the job of being a civil servant. Half of India's 1.36 billion people are below the age of 25. With such a huge proportion of youth among its population, questions such as the ones just posited require to be addressed.
Captain Ejects
One month is a long time in politics. The latest example of this truism is the Punjab unit of the Grand Old Party. At the beginning of September, it seemed Captain Amarinder Singh was firmly in the saddle, despite a bitter faceoff with newly-appointed Pradesh Congress head Navjot Singh Sidhu. The party seemed to be in pole position for the next Assembly election due early next year. Captain had made the right noises amid raging protests against central farm laws and this was not lost on the state electorate. The second week of September saw Sidhu garnering support of state legislators who were miffed with the Chief Minister, and there were quite a few of them.
Interestingly, Captain had more support from Congress leaders active in Delhi than in Punjab. However, Gandhis seemed tilted in favour of Navjot Sidhu who paraded about three dozen MLAs to buttress his claims in public view. Before the end of third week, Amarinder Singh put in a one-line resignation to the state governor. The wounded tiger minced no words in raising questions on Sidhu leadership. The acrimony did its damage to the Congress party.
The Congress went into a huddle to pick up the next chief minister, months ahead of elections. When they picked up Charanjit Singh Channi, a Dalit Sikh, for a state which has about 30% Dalit voters, some viewed it as a masterstroke to resurrect the turbulent jet. Barely had it gained balance, just a week after the Captain had deserted the ship, when the mercurial Sidhu rocked the boat once again. Citing some 'unexplained' principles, Sidhu quit as the PCC chief, making himself as the shortest PCC chief in the party's recent history. Captain was grinning from ear to ear, with a told-you-so look on his face. His exit from the party, with a vow to defeat Sidhu in next election, brought the unwashed linen in public.
Central leaders like Manish Tiwari and Kapil Sibal, dubbed as members of G-23 band of party 'rebels', found an apt opportunity to question the party leadership in handling the matter. From the numero uno status in the beginning of month, the state Congress unit had egg on its face just before the flip of the calendar leaf. The electorate must also be thinking: if a party cannot manage its domestic affairs, how will it rule a border state effectively?