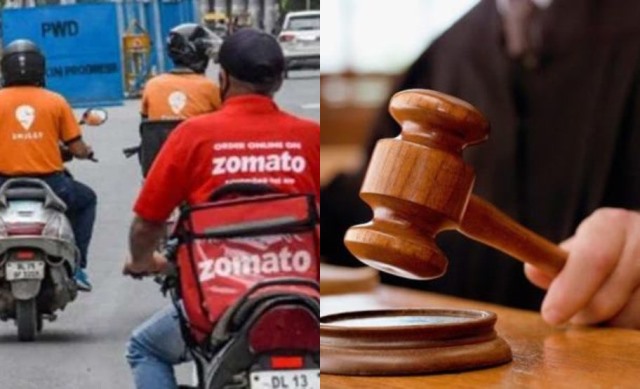 THEBUZZ
THEBUZZ
Weekly Update: High-risk Lives of Food Delivery Men; Where Are All The Judges?
Last weekend, in north Delhi, a food delivery man zipping on his motorcycle to meet a deadline crashed into a car. The gory accident led to at least three deaths. Anyone who has been commuting or driving on the roads in India's big cities would have seen the sheer number of food delivery people on their bikes, weaving in and out of traffic, often breaking traffic rules, in their quest to deliver food from restaurants and other outlets to consumers. They operate on tight schedules, and what they earn depends largely on the number of deliveries they can complete each day.
On paper, in India, where the per capita income per month is a measly ₹1,025, a delivery person for the more popular app-based food delivery platforms can earn up to ₹50,000 a month. In addition, many of them can get cash incentives linked to their performance. But all of these come at a cost. It is hard work, involving bike rides through India's notoriously frenetic traffic and carrying huge loads on their backs.
Besides the risks of driving against tight deadlines and carrying loads, delivery persons for services such as Zomato and Swiggy often have to put in 12-14 hours a day in order to earn enough to make ends meet. Last year, a couple of them took to social media anonymously to talk about the conditions under which they work. One of them compared their status to that of slaves.
India's urban middle class and richer strata of households have got used to the convenience of ordering food that can be delivered to their homes, sometimes even round-the-clock. But behind the ease of clicking an app and getting what you want–the platform has also led to a mushrooming for food outlets in most cities–is the darker reality of the risks that those who work in food delivery face. The north Delhi incident took place soon after a leading food delivery company offered deliveries within 10 minutes after a customer placed an order. The market has turned competitive and companies are pushing the limits to offer an edge over their rivals.
The employment opportunities that such Business-to-Consumer (B2C) services offer to India's burgeoning youth is certainly welcome but it is also necessary for the players in the business to ensure that basic safety, health and other work-related conditions are protected. Delivery persons are usually not employees; they work on contracts that provide little in terms of health insurance or other safety nets; and often the pressure on them can force them to take risks as happened when the delivery person in Delhi lost his life.
Where Are All The Judges?
India's chief justice N.V. Ramana recently revealed that there are more than 40 million cases pending in lower courts. That is a mind-boggling number that could take decades, if not longer to be disposed of.
What that huge backlog signifies is the acute shortage of judges in the Indian judicial system. Take the situation in high courts alone. In India's 25 high courts, the number of total judges sanctioned is 1,104 of which 833 judges are permanent and remaining 271 sanctioned for additional judges. But as on date, 35% of these posts are vacant because there are no candidates available. In lower courts, the situation is worse.
India's judicial system is hugely inadequate when it comes to judges. India's ratio of judges to population is ridiculously low. For every million people there are just 20 judges. In the US it is 107; and in the UK, 51.
At the same time the volume of litigation is on the rise in India. Delays are commonplace and legal relief, particularly for the poor, is often fraught with years of waiting and incurring high costs. If India has to reduce the backlog of pending cases, the crucial thing would be to attract more judges to the judicial system. For obvious reasons, legal professionals prefer to work as advocates and lawyers rather than as judges. Judges in India, particularly in the lower courts, get salaries that are low compared to what a lawyer can earn. The starting basic salary of a district judge is ₹26,000. This has meant that in lower courts it is difficult to attract competent judges to fill posts.
It is time for a major reform of the judicial system. And if India has to tackle the growing backlog of legal cases that are pending, it must start by attracting more judges to head its courts.