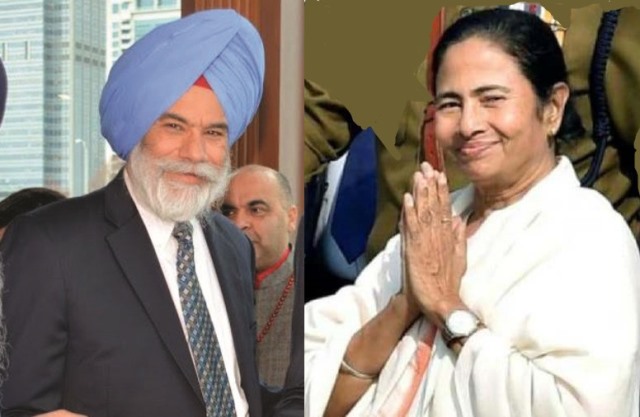 THEBUZZ
THEBUZZ
Weekly Update: India Insults NRI Philanthropist; Mamata Sets Sight On Goa
India should invite Indian-American Dhaliwal back
It took a while for the Indian media to get on to the story of how an Indian-American Sikh billionaire and philanthropist was denied entry into the country despite having all the required papers and being an Overseas Indian Citizen. Darshan Singh Dhaliwal, 71, who built his fortune by acquiring a chain of hundreds of petrol stations, is an immigrant to the US from Punjab. He is also a generous philanthropist who has donated millions, mainly to Indian beneficiaries. In 2004 when a devastating tsunami hit the southern state of Tamil Nadu, Dhaliwal booked an entire train of relief material and food to be shipped across to the affected region.
In Milwaukee, where he is based, he has donated to the University of Wisconsin where a there is a chair in the name of his father, the late Subedar Kartar Singh, a second World War veteran, and also installed a memorial to Mahatma Gandhi in a local court.
More recently, Dhaliwal's focus has been on farmers in Punjab who have been agitating for months against the Indian government's new rules for pricing and selling of agricultural produce. Sometime in late 2020 Dhaliwal watched the news about the protests on television and decided that he would do his bit for them. As a Sikh, he organized and funded an ongoing langar for the protestors. That's probably where the trouble for him began.
Dhaliwal, a frequent visitor to his home country, couldn't get into the country on his most recent trip. In late October, the immigration authorities at Delhi airport debarred him from entering the country although he had all his papers in order and his valid OIC status. The authorities wouldn't give him a reason except telling him cryptically that the orders had come from "above". On earlier occasions too, after he had organized the langar and visited India, he was often questioned at the airport about his links to the farmers' protests, which he says are nothing more than the langar that he organizes. But on those occasions, he was allowed in. This time, Dhaliwal, who claims to be apolitical, was not allowed to enter and was sent back after a 5-6 hour wait at the airport.
No one still knows why Dhaliwal, a businessman who has family in Punjab—one of his brothers is a former minister in the Akali Dal government in the state—was summarily sent back. No one knows who the orders from "above" came from. But a good guess is that it could be authorities close to the central government of India. If that is the case, it is a shame. Already, the former chief minister of Punjab, Parkash Singh Badal, has written to Prime Minister Narendra Modi seeking his intervention in the matter. And in Amritsar, the Shiromani Gurdwara Prabandhak Committee (SGPC) president, Bibi Jagir Kaur, has condemned the government accusing it of discrimination against Sikhs.
Incidents such as these contribute to India's growing image globally as being ruled by an intolerable regime. Prime Minister Modi's party, the Bharatiya Janata Party, is perceived by the world at large to have espoused a particularly hostile version of Hindutva or "Hindu-ness", which in its wake has spawned widespread instances of intolerance and majoritarianism where non-Hindus and other minorities are constantly targeted either by violence or by other discriminatory measures.
We do not know whether the veteran Punjab politician Badal's plea to Modi will be heeded. Or whether the so-called powers from "above" will take note of what happened to Dhaliwal. One of the suggestions that Badal has made is asking Modi to personally invite Dhaliwal to the country as a "goodwill gesture which will send a positive signal to NRIs". If he does so, it could also signal to the outside world that his regime is not what growing public perception thinks it is.
Mamata heads to Goa, promising the state a "new dawn"
Going from Bengal to Goa is not a natural move for a political party that is so deeply-rooted in West Bengal as the All-India Trinamool Congress (AITMC) is but its head honcho and the state's chief minister, Mamata Banerjee, has kicked off her campaign in the coastal state before Goa heads for assembly elections in 2022. Banerjee who recently won a third term as chief minister in her home state, now wants her party to join the fray in Goa. Her campaign is titled Goenchi Navi Sakal (which translated from Konkani means Goa's New Dawn).
Regardless of how her party will fare in the coming elections in that state, the move enter Goa is part of the AITMC's plan to expand outside Bengal. Besides identifying Tripura, Assam, Meghalaya and Uttar Pradesh, the party has also identified Goa as a political arena where it would like to spread its wings. Goa has 40 Assembly seats and is a fairly small region where electoral campaigning would need relatively less resources. Banerjee's nephew, Abhishek Banerjee, who is her party's national general secretary, is spearheading the expansion outside of Bengal.
The move to grow out of being a regional party confined to one state is part of a larger strategy to project Mamata Banerjee as a national leader and, many think, position her as an alternative to Prime Minister Modi in 2024 when India goes for parliamentary elections. Banerjee's critics might question her credentials in national politics. Some may even consider the move to take on Modi a pipedream, but the fact is that she has launched a comprehensive strategy to evolve from being a state politician to a national leader. Few regional party leaders in India have done that.