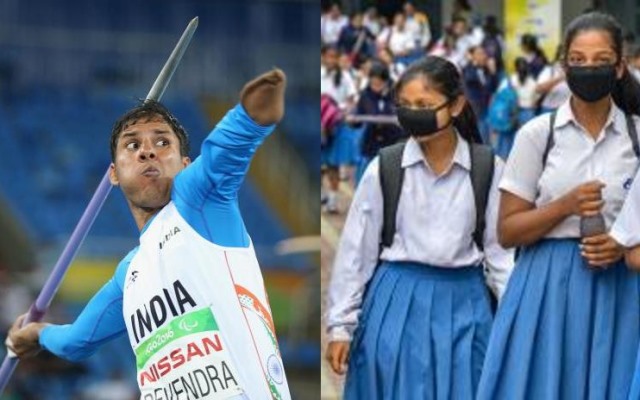 THEBUZZ
THEBUZZ
Weekly Update: India's Paralympics Winners; Schools Reopen Again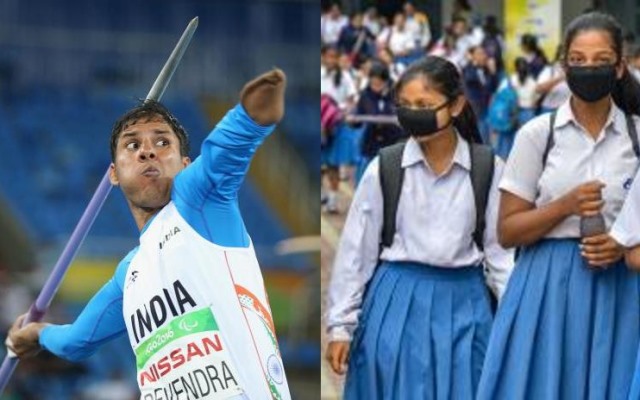 Four golds; seven silvers; six bronzes. That was India's tally this weekend at the Paralympics in Tokyo. For the record, one of the golds was won by javelinist Sumit Antil who matched the achievement of his compatriot, Neeraj Chopra, in the recently concluded regular Olympics. Paralympics are a series of international contests for athletes with disabilities that are associated with and held following the summer and winter Olympic Games. And India's showing this year has been notable. Besides Antil, Avani Lekhara, Manish Narwal and Pramod Bhagat also won golds in shooting events.
Of course, given the size of its population (also considering that India's population consists mainly of young people), India has been faring modestly at the Paralympics (which were still ongoing at the time of writing). India's tally of medals got it a ranking of 26 with countries like Azerbaizan, Belarus, and Uzbekistan securing positions higher than that. But it is still a cause for celebration because winning at international events, if they don't happen to be connected to cricket (a game that is not exactly universally played) is not an occurrence that recurs for India's athletes and sportsmen.
This year, at the regular Olympics, India ranked at 48 with one gold and while the gold medallist (javelinist Chopra) was feted and bestowed with rewards and accolades, it brought home the hard fact that India needs to do much more to nurture sporting talent. In particular, the focus and efforts to nurture disabled sports persons need to be increased. As has happened this time, in the previous Paralympics in Rio, the Indian team of athletes fared better than their compatriots who competed in the regular Olympics. And that was notwithstanding the fact that disabled athletes get a raw deal compared to their able-bodied counterparts.
For instance, in the past television channels have given short shrift to the Paralympics because they felt it was not commercially viable. Many disabled athletes have to train without coaches. Some come from households that are underprivileged and their access to proper equipment, nutrition, and other facilities are constrained. Things have improved in recent years with funding, sponsorships, and state assistance increasing but the divide between India's athletes and para-athletes is still quite wide. Perhaps the Indian contingent's performance in Tokyo this year will bring the focus back on them.
Schools Reopen But Things Aren't Normal Yet
Many schools in India's bigger cities have been allowed to reopen and conduct regular in-person classes. When the second wave of Covid had ravaged India, schools were ordered to be shut down and classes could only be held online. While many schoolchildren have spent months at home (schools did reopen before the second wave but had to be closed down because of spikes in infections) learning online instead of in their classrooms, the reopening of schools now has led to mixed reactions.
Many parents as well as teachers have welcomed the move as online classes, especially for younger schoolchildren, are not really a substitute for classroom teaching. Besides, in India millions of children don't have access to the internet. And while there is little researched statistics on this, the school shutdowns, particularly in rural areas with low internet penetration, might have led to many children dropping out of school involuntarily. The reopening could see many of them get back to school and resume their education.
What is significant, however, is that many parents are unwilling to send their children back to school again for fear of them getting infected by Covid. India's vaccination rate is still low (a little less than 28% are fully vaccinated) and very few in the 12-18 age group have received full vaccination. Some parents are apprehensive about sending their kids to school if every child attending classes is not vaccinated. In some schools, attendance in classes is as low as 60%.
The government, on its part, is trying to roll out vaccination for children faster but innoculating 470 million (that is the estimated number going to school) is going to be hard. Moreover, as the Covid virus mutates and new variants are found to infect even those who are vaccinated, the fears of parents are not completely unfounded.
What then is the solution? If every child cannot be vaccinated quickly; and if new variants of the virus can be carried and spread by those who are asymptomatic, school authorities, parents and their communities would likely have to ensure protocols to minimise the possible spread of the virus. While that may not be an easy task, innovative solutions to protect children even as they get the opportunity to attend school have to be evolved. Living with Covid is now a reality for everyone. In a country with a predominantly young population that would mean devising ways in which schoolchildren can continue their education and yet be protected against the pandemic. That has to be the focus of the government, society, and India's educational system.