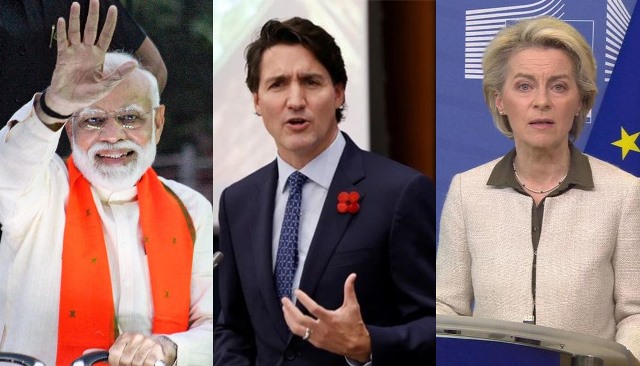 THEBUZZ
THEBUZZ
Weekly Update: Modi's Bypass Fear, Trudeau's Wilting Ideals, EU's Dual Standards
Bypass Still Haunts Modi: Ever since the very very close miss with death at the Punjab Bypass where Modiji was stuck for 30 minutes, as open target for all of India's enemies and Modi's enemies, the Indian Prime Minister has been having foreboding hauntings.
The Bypass drama has confused almost everyone except the BJP. No one can identify what the threat to Modiji's life was on that fateful Bypass where he got stuck due to his own security decision. It was one of this notebandi type spur of moment decisions. An avid fan of helicopters, he decided to go by road only to get stuck when there was 'rasta roko' by farmers. He got stuck on the top end of a bypass and since then has been haunted by ideas of conspiracies.
Although no one has come forward to say, 'array mauka gwah diya' (Oh! We lost an opportunity to get him). But Modiji is still convinced that it was a conspiracy, even if it was of his own making.
So last week in UP, Modiji, nervously convinced of conspiracies, again bellowed out that despite others wishing him dead, he is still here. This time he wasn't stuck on a Bypass. In fact he was only stuck in front of his chosen audience at a rally in Uttar Pradesh elections.
So what was the conspiracy that was threatening him? According to Modiji, there is a great conspiracy. And he was able to point to the evidence. According to him, 'People are praying for his death!' As a yogi, he probably fears prayers. Except…
The main rival of BJP in UP, Akhilesh Yadav, had made fun of Modi's frequent visits to his constituency (Varanasi) and gesticulated why he was doing that, 'People spend their last days in Varanasi.' Yadav was suggesting that Modi was frequently coming to Varanasi as these were the last days of BJP in power in the state.
But hypersensitive Modiji sees more than a conspiracy in these words. Emotionally he said, 'They are praying for my death!' It is said people do go to ask for wishes in Varanasi and take a dip in the Ganga. But to make a connection from Yadav's political pun to 'prayers for my death' seems a rainbow bridge even the mythology might find difficult to build.
I wish Modiji long life, but sometime morning sadhna can take you into different realms of inferring reality and simple jokes. That Bypass has been a traumatic experience.
The Messiah's Ideals Wilter
Canada's Trudeau likes to give sermons to the rest of the world on human rights, morality and conduct. Currently he is busy telling Putin how to behave. In 2020, he and members of his Government publicly lectured Prime Minister Modi on the need to respect peaceful protests. This was when the farmers had peacefully besieged Delhi with tractors, langar and chai pakoras to save their farms. They were there protesting peacefully. The Indian Government fearing that pakoras could win the aam admi, decided to send the crack police forces to break up the protest.
The right to peaceful protest is enshrined in international human rights law as Trudeau lectured from Ottawa. India at the time hit back and said that Canada was one of the main reasons that the laws were being introduced as Canada had been objecting to MSP (Minimum Support Price) for crops at the WTO. Having been exposed as the cause of Punjab farmers' dilemma, Trudeau, his Government, his party and all the Sikh Canadian MPs shut up like Trappist monks.
Now the issue of protests has boomeranged. Thousands of Canadians decided to protest peacefully in the capital city and outside the Canadian Parliament. They are anti-vaxers and do not like a law to force truckdrivers to vaccinate against Covid or lose their jobs.
Two very different protests but similar principles. The Farmers of Punjab were fighting for their livelihoods. Modi government got concerned about the growing discomfort around the world at his heavy handed attempts to break peaceful protests and decided to 'respect the right to protest'. The Messiah Trudeau was right to point out India's obligation to permit peaceful protests, even though he was lighting the fire that caused the protests in the first place. Some messiahs play God by being the cause and the adjudicators of how people react to the mischief.
Until it happens to them. The gods (not God) get quite angry when some one tests them for the principles they pontificate to others. Some messiahs do that. Little gods, messiahs and rest of mortals live in different dimensions.
So as the anti-vax Truckers were refusing to move, making the life of 'hard working' elite politicians a bit difficult as they tried to go into Parliament. The Truckers' right to protest became a subject of little god's law. The messiah Trudeau, suspended their accounts, and sent in the riot police, beating quite a few of the truckers and violently detain many. The peaceful protests of the truckers were ended by the violent methods of a messiah preaching human rights and peace to others.
However the wonder of all this is, Indian politicians and media didn't remind Trudeau of his sermons to India! Nor did UN Human Rights bodies. Perhaps the right to peaceful protest, like many other things, is only when it doesn't affect the framers of these rights. Or perhaps western messiahs like all mythical gods are in their own league. People don't expect them to follow what they preach to mere mortals.
And Freedom of Expression Is…
The west is further confirming that what it preaches is not what others should expect it to follow. One of the strongest pillars of human rights and freedoms is the right of expression and free speech. The west promotes it everywhere and monitors it. African countries, China, India and even the Taliban all get constant lessons on why freedom of speech is a fundamental right from the 'enlightened Europeans'.
I totally agree, Freedom of Expression is fundamental and it should never be compromised. Nor should the media ever be penalised, banned or censored by authorities simply because the State does not like what it says. It is a 'universal right' applicable universally except where universal principles are developed.
Am I talking about the Godi media? Sadly not. I am drawing attention to the very champions of free expression and free media. Europe.
In its desperate efforts at supporting the Ukraine Government to fight against Russian invasion or 'special operation' depending on who is defining it, the EU has decided that it is going to ban Russian TV (RT) and Sputnik. The EU says that both are spreading 'propaganda'!
It is difficult to convey the double standards. Nearly all media in the west including the self-certifying acclaimer of balanced reporting, the state owned BBC, have a political position. Reporting and programmes are heavily biased either to the left or the right, or to some other politics or the national narrative on foreign policy. There is no such thing as an objective balanced media in the west.
As would be expected, RT and Sputnik, report news with a Russian State bias. As Russian media, they naturally try and contest western interpretations of events on the ground.
The freedom loving democratic Europeans find the critique of their own reporting a little uncomfortable. For instance RT concentrates on statements by Russia and its friends such as China or others on need to address security concerns of Russia around NATO expansion if there is to be meaningful discussions to end the Ukraine conflict. European media has promoted the war as efforts of a deranged dictator (Putin) trying to restore the Soviet Union. It is almost quite on issue of NATO expansion and hasn't to date explained why NATO wants a base in Ukraine.
Clearly the two explanations are at odds and in a genuine environment of freedom, both sides can blast their versions loudly and allow people to make their own minds.
Not in freedom loving, 'independent media' Europe. Unfortunately for them a lot of people are watching RT to get the other side of the story. Ordinary people are always a bit suspicious when their leaders start calling other deranged etc. They want to hear both sides of the story.
So the alter of free speech, France and rest of Europe, are banning RT! European States do not trust their own citizens to not fall to RT 'Propaganda' as they call it and are taking steps to prevent their citizens' exposure to 'vile fake propaganda' as they label RT! Germany was among the first to ban RT. Poland followed suit and rest of EU is on track.
However, in oppressive, dictatorial, tyrannical Russia under a madman as Guardian, BBC and EU media would like us to believe, CNN and BBC can freely transmit. Not only that, they have been able to interview many war dissenters, including politicians and families of Russian soldiers.
In Europe, including UK, politicians are scared of going on RT. The ex Scottish politician, Alex Salmond, who did a regular feature has been hounded by the British free media and has exited from RT. Europe says the war in Ukraine is about protecting 'our liberal' values. Whereas in Russia, one of the dissenters is the daughter of the spokesperson of Putin! She still goes shopping in Moscow without being harassed and her dad is still in the job in the office of the so called 'tyrant' of Russia! Even chaos theory cannot explain the logic of these facts.
Seems we are in a different world of reality now. It's a bit confusing what freedom of media exactly means and what democracy and liberal values mean. Suddenly our cranial synapses are having to readjust to different explanations of liberalism. Or may be we already have a saying, 'Pandey says. Do as I preach, not as I do'.