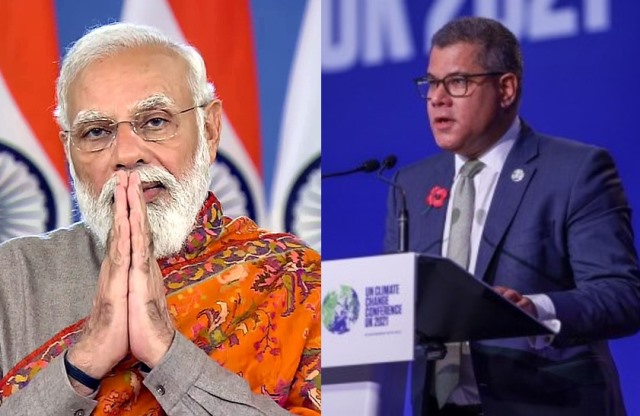 THEBUZZ
THEBUZZ
Weekly Update: Modi's U-Turn And India COPped
The surprise announcement by Prime Minister Narendra Modi on 19th November 2021 on Guru Nanak Birthday (Janam Ustav) to take back all Farm Laws was another of those highly classified declarations made without a single leak or suggestion beforehand. He gave his reasons, that he has not been able to convince the farmers, although the laws were in the best interest of farmers. So PM will repeal the laws, set up a committee and then chart out a way forward to reform agriculture. 'Please go home', he said to the farmers. He has done his U turn. He is expecting their tractors to do their U Turn.
Others don't quite see the PM's statement in that unidimensional way. The farmers themselves of course see it as a victory of their long struggle. Through rain, cold, heat and disease they showed Delhi what a struggle is like. They played it smart. They kept politicians away and took on the Government with its armoured cars, jeeps and what not with their tractors. They still don't trust the PM and want the repeal in law before they will take their tractors back home. They distributed laddoos saying that tractor power defeated Modi.
The Media, depending in which side it is, sees Modi weakened and wounded. The strong man has done a U-Turn. Invincibility shattered. That U turns are common in democratic politics, is not mentioned in their narratives. But they also say, BJP got scared of losing election in UP so took farm laws back as damage limitation.
The Godi media says it shows sensitivity and compassion. Modiji has shown that he listens. It seems that you have to Gherao Delhi with thousands of tractors sound-blasters for a year before Modiji's ears will let the sound of NO, NOT ACCEPTABLE, through tons of selective ear wax. After a year and thurh thurh tractor noises, even the best wax defence has to crumble and let the words in.
Opposition parties have been even more creative. Rahul Gandhi, staked claim to be a political soothsayer. 'I told you so. I said at the beginning that he (Modi) will have to take the laws back'. He probably has family history in mind knowing that great grandmother had to take back the Emergency as 80,000 Sikhs filled the jails in India opposing it relentlessly. And then the sequence of events after 1984 attack on Golden Temple made the family realise not to disturb Punjab. But predicting a result doesn't win elections; so difficult to see how this will transfer into votes for him. He can write the daily political horoscope for 'Congress Times'.
The Akali Dal was jumping up and down with triumphalism and claimed to have busted the Modi myth. All except senior Badal, who can hardly get out of the chair these days without four people holding him. He just shook his body up and down doing armchair bhangra.
But Akali Dal was in Modi government when decision on the laws was made. Most people in Punjab think the Badals gave their assent. Akalis remained in until the farmers in Punjab rose in rebellion. Suddenly, amnesia set in the Akali Dal with a speed that the Indian medical profession has never witnessed before. Harsimran who can outtalk anyone with a monotonous verbosity paced to outrun any high-speed train Modiji wants to bring in and with pendulous head movements to compete with Swiss clocks, became PTC (family owned) star boom-buster on Modi. Was she kept in the dark when the laws were considered? The Food Processing Minister? Who knows?
Kejriwal, not to be left behind, took a shot at Modi too and claimed to have supported farmers throughout. To be fair he did support the protests to annoy the 'sarkar'. But he has still not found the money to persuade farmers not to burn stubble to prevent smog in Delhi.
Many a Sikh Media is full of self-bravado. 'Modi nu Sikh ne sabak sakhaata' meaning Modi has been taught a lesson. Conveniently forgetting that Punjab farmers were packing their bags to go home after the govt stopped water and toilets for 48 hours. It was Rakesh Tikait who rose to the challenge and showed leadership then. Still victory is sweet, rewritten and profitable.
Not as profitable as the Khalistani Referendum Movement. The Economic Times and a few other section of media has suggested that the Centre took back laws because of fear of cross-border based secessionist movement rising up again exploiting the protest. According to this media the movement has been revived by Sikh for Justice (SFJ) organisation's Referendum for Khalistan. It was rising security threat in the border state that influenced a sudden U-Turn. SFJ, naturally, is milking it. 'Modi nu Daraata' Modi has been scared off! Who can argue?
The BJP has another narrative. Compassionate, wise, sensitive Modiji, has decided not to hurt the babies, children elderly women and men and others suffering in the protest. He would rather take back laws, be humiliated, than see them suffer. Clever. After nearly 700 deaths and many suffering financial and emotional injury, it is a bit of a tall take to believe.
There are many guessotronics of why Modi did U-Turn and farmers came out victorious. I bet on one of those midnight 'Eureka' moments that Modiji gets after Modi shakti yoga, such as Note Bandi etc. But in the end, it's about Tractor power against the most modern coercive techniques. All the night visions, water cannons, kettling in, infiltration, name calling, hate campaigns, media control, trolling 24/7, OCI card confiscations and violent ambush attacks simply had no effect. So watch it China, you can make the most impressive missiles, but will you be able to take on the tractors when they arrive at the border!
INDIA COPPED
On the last day of COP26, the Indian origin British Minister, Alok Sharma burdened with the presidency, broke down, but recovered holding back tears. To the world it appeared obvious that he saw India as the problem in finalising an agreement that held some hope for humanity's survival. Eventually it appeared that he and others had to agree to the demand from India that coal 'phase out' be changed to 'phase down'. India was the pariah who messed it up for the small Islands and rest of the world that wanted end using coal as fuel.
In reality it was China, India, Venezuela, Indonesia and Australia among other countries holding out. Deftly China pushed India to the front to take the blame. Australia remained moot or protected by friends. And while it is usual for the President, that is the British Minister, Alok Sharma in this case, to read out the diluted amendment, he too handed the baton to India. Environment Minister Bhupinder Yadav read the statement.
Yadav and his team may have thought they were helping the COP 26 process to conclude. They thought that they were being sensitive to the small Island group who had asked the word phase out as compromise to the opposition to words, 'phase down'. It was obvious in the room that China and others were simply not interested in King Coal being taken out.
But the media honed in on Yadav and made him the fall guy! Alok Sharma must have sensed that the person or country who announces that will be the headline. Perhaps he had instruction from Downing Street to pass the baton.
India and China were furious that the west was singling out coal and refusing to commit the carbon fuel they use most, namely gas and oil to the sacrifice. India and China wanted all in the text. Small Islands wanted some commitment. And the conference was getting tired. Instead of holding out, the Indian willingness to be helpful took over.
Alok Sharma probably knew that had he announced the watered down text, it would have appeared he was a weak President whose negotiating skills had failed to deliver and make Britain look ineffectual. The media had built a narrative around coal as the fossil fuel to ditch. However free the western media pretends to be, it bides the interests of its masters who keep the political establishment happy. Gas and oil as hot topic was generally kept out of western media reports. As soon as India made the statement of 'compromise' to please small Islands and Alok shed a tear, the small Islands spoke of victimhood and their displeasure at the conference. India was made to look the culprit. So much for helping.
Was Alok Sharma's tears because he felt the conference had let the small Islands down, or were they because he knew that to keep his job at the Cabinet, he had thrown his spiritual country, India, to the wolves. We will never know. But all the explanations by Indian officials afterwards were too late. The media moves on and India got COPPED at COP26 by the Presidency, United Kingdom. China played the smartest. Politics.