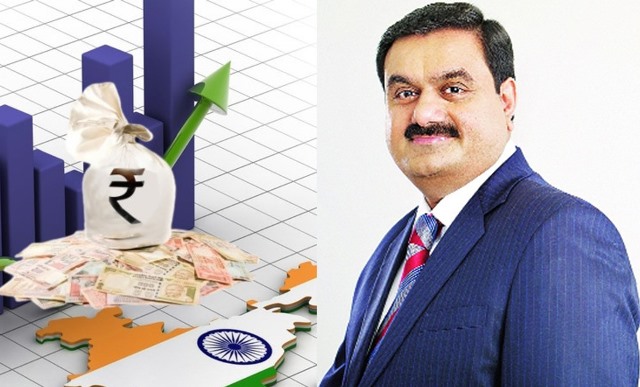 THEBUZZ
THEBUZZ
Weekly Update: Silver Lining in Indian Economy? And Explosive Rise of Adani
It is easy to find negative things to discuss about India. About how the pandemic wreaked havoc in a country with a population of 1.4 billion, killing anywhere between 5 to 9 million people, displacing millions of migrant workers, and dealing a body blow to its economy. It is easy also to focus on a regime of intolerance against minority communities, particularly Muslims who have probably never felt as insecure and apprehensive about their lives in a country whose Constitution, in its Preamble, declares India to be a sovereign, socialist, secular and democratic republic.
It is easy also to find fault with the way crony capitalism continues to be nurtured in India and with the unfettered and often monopolistic dominance by a handful of business conglomerates over vast swathes of industry. And, on a more mundane level it is easy to find fault with India's chaotic cities, its inability to check air pollution, which in some metropolises reaches poisonous levels, and scores of other things.
But it is also possible to seek out the positives, however, small those may be. The Economist, in a recent leader titled, "The Indian economy is being rewired. The opportunity is immense", attempted to do just that. It listed out several things that hold good tidings for India. Foremost among them is the emphasis on and the spurt of activities on the technology front. India has rolled out what The Economist calls a national "tech stack", which attempts to make life easier for Indians to connect digitally their social identity, tax records, bank accounts, and so on. In the past three years, because of the adoption of technology there have been slow but steady steps towards moving from a cash-driven, informal economy towards a more modern, digital system.
The Economist also notes that India could attract investment in the manufacturing sector as well–partly because of big global firms looking for alternatives to China but also because of incentives and simplifications in Indian policies for the sector. But that could still be some distance away. India has not been able to match the pace of manufacturing that economies such as China or Korea have been able to achieve. And the gap between them and India is still vast.
What has happened in India, however, is the tech-driven spurt in services, particularly in the business-to-consumer (B2C) area. In Indian cities, app-driven services have proliferated. You can order food from restaurants, groceries, and almost anything else. Covid-related isolation and social distancing have provided a boost to these services, which deliver what you need straight to your door and in no time. One service actually allows you to order and receive items of daily use in 10 minutes. Another offers you the service of a motorcycle courier who can deliver anything you want to anyone in your city.
Elsewhere, India has taken quiet strides in green energy and has already emerged as the third biggest installer of solar energy systems. That, coupled with the app-led services, including taxi and autorickshaw services has led to paradigm shifts in the way people shop, commute, or lead their daily lives.
Such non-conventional businesses have created jobs in sizeable numbers, albeit jobs that are low-end and low-paid. Thus, these are in no way comparable to the sort of jobs that a manufacturing boom can create such as they did in China or Korea. There lies the crux, really. If India wants to create jobs that can ease the pressure on its overcrowded and less productive farm sector and its burgeoning population of youth (the average age of an Indian was 29 compared to 37 in China; and 65% of Indians are below the age of 35), it will have to count on massive doses of investment in sectors that create jobs in millions. Will that become a reality? India's policy makers have to look for an answer.
Breathtaking Rise of Adani's Fortunes
In the upper echelons of India's corporate world, there have always been instances of competitive rivalry. In the early decades after Independence, the Tatas and Birlas were often pitted against each other, sometimes when it came to getting big contracts or licences or at other times when it came to acquiring other companies. The intense corporate rivalry between the late founder of the Reliance group, Dhirubhai Ambani and Bombay Dyeing's Nusli Wadia provided fodder for many a business journalist in the 1990s.
More recently it is a rivalry of a different kind that has pitted Dhirubhai's son, Mukesh Ambani, 65, against another industrialist, Gautam Adani, 60. According to a recent column in Business Standard by Bloomberg's Andy Mukherjee, "Adani, the world's sixth-richest person, has added almost $30 billion to his wealth this year, more than any other billionaire. His net worth of $106 billion is only about half of Tesla Inc. co-founder Elon Musk's, but $10 billion more than Ambani's."
Adani's rise has been breathtaking. Started around 30 years ago, his group based in Ahmedabad has interests across a sprawling range of businesses–power, ports, roads, construction, green energy, and food products to mention just a few. A few weeks back, Adani bought a majority stake in two of India's biggest cement companies, ACC and Ambuja Cement.
Adani has been embroiled in controversy too. Some years ago, when he got the permission to mine coal in Australia, activists opposed the move and, for a while, it seemed that the deal would get scuttled. But as of last December, his project, which includes mining and a rail system, seemed to be back on track.
Many link Adani's rise to his close proximity with Prime Minister Narendra Modi, with whom he has had a rapport since Modi was chief minister of Gujarat. Others speculate about how Adani manages to raise huge amounts of funds to finance his rapidfire acquisitions. But the fact is that in India's corporate scene, he is the man in the spotlight, outshining all the other big names.