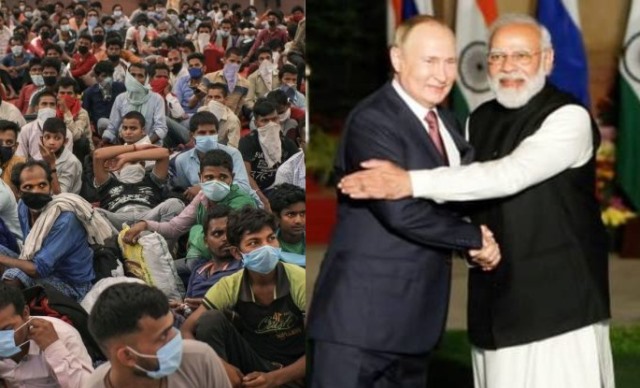 THEBUZZ
THEBUZZ
Weekly Update: Why Our Post-Covid Lives Must Change; India's Russian Dilemma
A compelling visual that has stuck in my mind is what I saw on one of Gurgaon's traffic packed streets one recent weekday afternoon. One of the modes of road transport on that city's crowded roads is something called an auto taxi. It's bigger than a regular auto rickshaw and can pack 10 or even more people, sitting huddled together, squeezed as in a tin of sardines, only worse. This particular afternoon I was in a cab and next to us was one of those smoke-spewing modes of transport, packed to the gills with workers on their commute. Everyone was wearing a mask but, also, everyone was stuck so close to each other that, mask or not, the pernicious Covid virus, which is still at large, could easily be transmitted among the commuters.
Shortly after India's Covid infection rate declined, people have thrown caution to the wind. You see crowds gathering at malls; bars and restaurants are full once again; and people are moving around as if everything is normal. In big cities such as Delhi and Mumbai, most restrictions imposed during the height of the pandemic's consecutive phases have been lifted. And, in fact, it is true that the number of Covid infections being reported has plummeted. As recently as on January 20, the number of daily cases officially reported was nearly 350,000. On April 2, it was 1,260.
Yet, that does not mean things are back to normal. After each of the three main phases of Covid, including the deadly second wave, caution has usually been abandoned, restrictions quickly lifted, and people have tried to go back to normal life as quickly as they can. This could be a mistake with serious consequences.
India is among the countries that were hit by Covid hardest: 43 million cases; and more than 521,000 deaths were officially reported. Many believe the real numbers are much higher. India is socio-economically diverse and high levels of poverty, low levels of education and awareness, and systemic inadequacies plague the processes for collection of accurate statistics. High density of population–most of the 1.4 billion Indians live and work in close proximity with each other, which makes the fast spread of viruses such as Covid easier. 
The simple truth is that Covid is not over. While the dynamics and causes of the virus are still being researched at a preliminary level, early findings suggest that mutations will continue and the virus could be resurgent for a very long time–no one really knows how long.
So what does this mean for India? Does it imply that the country should go back into lockdown and halt normal life like it did a couple of years ago? Or does it mean we wait for another wave and then decide what to do? The answer lies somewhere in between. The tendency thus far among people in India as well as among various government authorities is to swing back into "normal" life the moment the spread of the virus is perceived to be abating. India cannot wish away its large population and its density. Neither can it be in denial about the fact that most Indians work to earn daily wages. And often such work requires them to be in close proximity with others. And, already there are indications that another wave of Covid could emerge as early as in June.
In such circumstances, prolonged strict restrictions on movement, on businesses, and on normal life can be unrealistic and have serious economic and other consequences. The solution could be to find a sensible norm or code for living. For instance, restrictions should be relaxed only gradually. Take gatherings of people for public events. In such cases, it may be prudent to start by restricting the number of people that can attend such events. Take the use of masks. Masks have been proven to protect against the transmission of the virus. The current rules in many Indian cities is that the wearing of masks is a recommendation and not a rule. Perhaps it is too early to lift the stipulation for wearing masks. For now, at least, the use of masks should remain compulsory.
But the bigger issue is one that is voluntary. It is in human nature to forget past events, however immediate they might have been. One of the social learnings from the Covid pandemic is probably all about how people lead their lives. Crowded gatherings; sprawling religious and political rallies; overcrowded marketplaces and shopping areas…. These are all part of the average Indian's life. Unfortunately, they are also not compatible with life in a post-Covid world. Every citizen needs to be aware that this is a virus that is still a work-in-progress. It can erupt and spread anytime. The need of the hour, therefore, is to have a new code for how we lead our daily lives: how we commute; how we work; how we entertain ourselves; and so on.
In a vast country like India, this is easier said than done. But as the recent past has shown, if the pandemic has taught us a lesson it is this: Our lifestyles and what we knew as normal life must change. Perhaps forever.
Why India needs Russia
The western world has been intrigued by India's official silence about the Russian attack in Ukraine. While the west has been vociferous in its condemnation of the attack, orchestrated by Vladimir Putin, India has remained a fence-sitter on the issue. Why? That is a question that the west seems to ask of India.
There are a few reasons for that but chiefly they are economic. The Russian foreign minister who visited India recently called India a friend of Russia and pledged his country's commitment to relations with India. Mainly it is all about selling oil at a discount to India and bypassing any west-sponsored sanctions to continue trade between the two countries.
India's relations with Russia have a long history, going back to the Soviet era when Indian power plants, other heavy industries, and defence equipment were created using Russian help. Russia was India's largest supplier of arms in both 2012-16 and 2017-21. Much of India's defence equipment needs Russian knowhow for servicing and maintenance. India imports more than 80% of its oil requirement but only 2% of those imports are from Russia. Now with an easier rouble-rupee trade system that is being discussed, that volume can be ramped up.
When Russia attacked Ukraine, alarm bells rang in the western world because it was seen as an aggression towards Europe. Geographically, it is an arena that is remote for India. Unlike in the west, anxiety about the Ukraine attack has not spread to India. The problem is whether India can find the balance between a stand on humanitarian grounds (such as Russia's attacks on civilian areas and cities in Ukraine and the exodus of people) and its own economic interests (trade with Russia and dependence on weapons). But, in fact, the two issues are not connected. Or, at least they shouldn't be. If India wants to secure its position as a major player on the international diplomatic arena, it must look beyond its own interests and assume a more statesmanlike approach on wars and violence. It is not easy to do that but it is necessary.