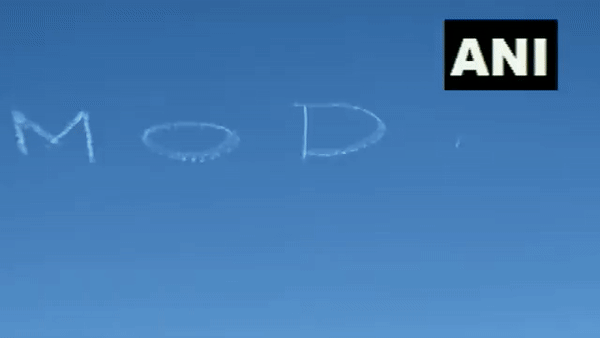 LM NEWS 24
LM NEWS 24
'Welcome Modi' Message In Sydney Ahead Of Big Diaspora Event
'Welcome Modi' spelt by a recreational aircraft's contrails posed a mesmerising sight in the clear blue sky over Sydney ahead of the community event organised to greet Prime Minister Narendra Modi in Australia.
https://twitter.com/ANI/status/1660880739708309504
A video of the skywriting has since then gone viral on social media.
PM Modi arrived in Sydney on Monday as a guest of the Australian government and the visit builds on the Australia-India Annual Leaders' Summit in New Delhi in March and discussions at the G7 Summit and Quad Leaders' meeting in Hiroshima, Japan over the weekend.
PM Modi and Australian PM Anthony Albanese will attend a community event later today in Sydney to celebrate Australia's dynamic and diverse Indian diaspora, which according to the Australian government is "a core part" of its multicultural community.
"As friends and partners, the relationship between our countries has never been closer. I look forward to celebrating Australia's vibrant Indian community with Prime Minister Modi in Sydney," the Australian PM said ahead of the event to be held in Qudos Bank Arena.
Thousands of expatriate Indians have gathered at the country's largest entertainment and sporting arena in Sydney to welcome PM Modi, who is visiting the country after a gap of nine years. He last visited Australia in 2014.
Shashi Prabha who had arrived to attend the event said "All of us are excited for PM Modi to arrive. That is the most important thing for us at the moment."
On his arrival in Sydney after visiting Japan and Papua New Guinea, PM Modi received a resounding welcome from the Indian community.
People had arrived in charted flight "Modi Airways" from Melbourne and had taken the "Modi Express" coach from Canberra and Brisbrane.
Among those who had gathered to greet PM Modi included 91-year-old Dr Navamani Chandra Bose who journeyed from Melbourne to meet the Indian prime minister in Sydney, according to The Australia Today.
She was full of energy and passion and very happy to travel by "Modi Airways." "Very happy today and it's going to be a great event," said the nonagenarian who arrived by the 'Modi Airways,' a special charted flight that took off from Melbourne Tullamarine Airport.
The plane full of Indians from across Australia arrived this morning for the diaspora event.
Visuals from Melbourne Airport tweeted on the Indian Australian Diaspora Foundation, which is organising the event in Sydney showed passengers waving the tricolour and dancing.
According to a report in The Australia Today, 177 people had booked to be part of the special "Modi Airways" flight from Melbourne to Sydney.
Among the passengers on the flight was 91-year-old Navamani Chandra Bose. She was accompanied by her daughter who said that Dr Navamani is the wife of NS Chandra Bose who was the President of the Indian Medical Association from 1991 to 1992 and had served as the President of the Tamil Nadu State Bharatiya Janata Party from 1995 to 1997.
"I'm the daughter and this is the wife of Dr Chandra Bose who was the state President of Tamil Nadu's BJP from 1995-1997," she said.
PM Modi is on a three-day visit to Australia, with whom India signed a historic trade deal last year.
He kickstarted his Australian visit by meeting with CEOs of several companies.
During his visit PM Modi will hold a bilateral meeting with his Australian counterpart Anthony Albanese. At their bilateral meeting, the leaders will discuss trade and investment, including efforts to boost trade between the two countries through a Comprehensive Economic Cooperation Agreement.
The Australia visit is on the last and final leg of PM Modi's three-nation tour.
Ahead of Modi's arrival, Prime Minister Albanese said in a statement, "I am honoured to host Prime Minister Modi for an official visit to Australia, after receiving an extremely warm welcome in India earlier this year." (ANI)
Read More: lokmarg.com