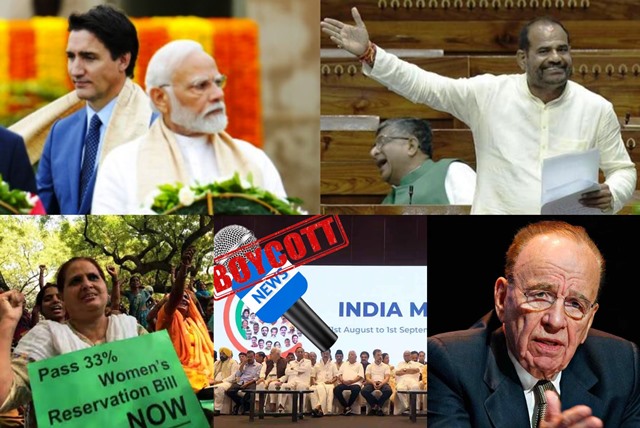 THEBUZZ
THEBUZZ
What India and Canada's Diplomatic Spat Means
India and Canada's diplomatic war began on September 20 when Canada's Prime Minister Justin Trudeau accused India of having potential links to the killing in June of a Sikh separatist leader, Hardeep Singh Nijjar, in Surrey in Canada's British Columbia province.
Nijjar was a supporter of the Khalistan movement for creation of a separate and independent Sikh nation in the Indian state of Punjab. Nijjar, like several other Indian-origin Sikhs living in Canada, was alleged to be involved in terrorist activities in India and was designated as a terrorist by the Indian government.
The Canadian prime minister said he had credible allegations of India's involvement in Nijjar's killing and that he had also raised the issue with the Indian Prime Minister Narendra Modi when he had met him at the G20 summit in New Delhi recently. Triedeau said he wanted India to cooperate with Canada's investigation of the matter as any foreign government involvement in Canada's sovereignty was unacceptable.
On its part, India has outright rejected Trudeau's allegations as "absurd and motivated" and countered him by accusing Canada of harbouring Khalistani terrorists and extremists who pose a threat to India's security and integrity. India said Trudeau's remarks were aimed at shifting the focus away from separatist groups working against Indian interests on Canada's soil. In a tit-for-tat action, after Canada expelled a senior Indian diplomat from the country, India retaliated by expelling a Canadian diplomat.
Interestingly, India's allegation that Canada harbours anti-India separatists was echoed across the Indian political spectrum. Shashi Tharoor, an opposition leader belonging to the Congress said in an interview to a news agency: "…We are now seeing a new phenomenon where immigrants to Canada have become Canadian citizens but are not doing anything in Canadian politics. They're focusing on how to actually do damage to their country of origin. To my mind, that is a very dangerous development. And, Canada really has to examine its own approach to these people. It's all very well to claim outrage that a citizen has been killed in Canada. In any case, there is, as far as I'm aware, no evidence that any Indian government body had anything to do with it because we know that, unfortunately, this fringe terrorist group has a number of factions…"
The diplomatic row has, meanwhile, sparked outrage and condemnation from both sides, as well as from the Sikh community in Canada, which is one of the largest communities of India's diaspora. More than 770,000 Sikhs from India live in Canada. Pro-Khalistan elements, however, are believed to be only a minuscule proportion of this. Yet, at least two Sikh groups in Canada have urged the Canadian government to suspend all cooperation with India and called for protecting the rights and safety of Canadian Sikhs.
Canada is part of the Five Eyes alliance, a group of five countries that share intelligence and cooperate on security matters. The five countries are: Australia, Canada, New Zealand, the United Kingdom, and the United States. Canada has said that it has consulted the members of the alliance and at least one of them has corroborated its accusations against India. However, no official response has as yet come from any of these allies.
TheCanada-India spat is unprecedented and has raised concerns over the future of bilateral relations between the two countries, which are both key partners of the United States and have shared interests in trade, security, and regional stability. Experts say the falling out could put other major Western countries in an uncomfortable position and could have implications for global issues such as climate change, terrorism, and human rights.
BJP Needs to Expel Ramesh Bidhuri Now
Last week, in an ugly incident during a debate in Parliament, an MP from the ruling Bharatiya Janata Party (BJP), Ramesh Bidhuri, made angry, hate-fuelled remarks against an Opposition MP, the Bahujan Samaj Party's (BSP) Danish Ali. Bidhuri called him a 'Bharwa' (pimp), 'Katwa' (circumcised), and 'Mullah Atankwadi' & 'Mullah Ugrawadi' (Muslim terrorist). The comments were made on record and were recorded on video, a clip of which went viral.
The BJP issued a notice to Bidhuri and sought a response from Bidhuri as to why disciplinary action should not be initiated against him for using unparliamentary language. While that is a proforma response, the party should demonstrate it in a more forthright manner by expelling Bidhuri while it investigates the incident. The Opposition has also demanded that the House Privileges Committee should investigate Bidhuri's remarks and take action against him.
It is important for the BJP to take quick action against one of its party members and parliamentarians because it sets an example that could demonstrate the party's intolerance of such behaviour.
Bidhuri appears to be a serial offender when it comes to hate speech. A long-time member of the Rashtriya Swayamsevak Sangh (RSS), he has spewed venom on many occasions. In tweets and speeches, he has targeted Opposition leaders such as the Aam Aadmi Party's Arvind Kejrival, and Congress' Sonia Gandhi.
Many of India's elected legislators, at the Centre as well as the state level, often openly make comments and remarks that are motivated by hate, religious discrimination, sexism, and casteism. Often they go unpunished. This should stop. There should be no tolerance for intolerance.
Will A Quota for Women Foster Gender Equality?
The Indian Parliament recently passed the Women's Reservation Bill, which aims to increase the representation of women in the lower house of Parliament and in state legislatures. The bill proposes to reserve 33% of all seats for women, including those from scheduled castes and tribes, for a period of 15 years. The bill was first introduced in 1996, but faced several obstacles and opposition until it was finally approved by both houses of parliament this month.
It is hoped that the bill will have a positive impact for gender equality and women's empowerment in India. Gender equality is the state of having equal rights, opportunities and status for both men and women. But although it is a fundamental human right and a necessary condition for social and economic development, it is not fully achieved in India, as there are many issues and problems faced by women in various aspects of their lives.
There are several reasons for tha. Violence against women is, sadly, a common and widespread phenomenon and it includes physical, sexual, psychological and economic abuse by intimate partners, family members, strangers or the state. It also includes harmful practices such as female foeticide, female infanticide, child marriage, dowry deaths, honour killings, rape, acid attacks, trafficking and sexual harassment. Women in India face discrimination and inequality and are subjected to stereotyping in most spheres of life, such as education, employment, health, politics and social norms. They have less access to quality education and health care than men, and face barriers to enter or advance in the job market.
Moreover, many women in India lack awareness of their rights and entitlements and are caught in a vicious cycle of low self-esteem, lack of confidence, and social pressure to conform to stereotypical roles.
Therefore, while laws that reserve positions for women in, say, Parliament, or in corporations, may help, fostering and building a culture of gender equality requires much more. A more determined role of the media, religious leaders, community leaders, parents, teachers, and youth, will be needed to create such a culture in India.
I.N.D.I.A.'s Silly Decision to Boycott News TV Hosts
The rag-tag bunch of opposition parties that have got together to form an alliance called I.N.D.I.A. recently decided to boycott some TV news channel hosts. It means that the alliance, which comprises 28 parties, will not send its representatives to participate in shows or debates that are hosted by those anchors because the alliance feels that they are biased and spread hate towards the Opposition and minorities.
In fact, the alliance released a list of 14 anchors that it has decided to boycott. It is an ill-conceived move bordering on idiocy.
Everybody, besides those who have been in a deep stupor or have been residing under a heavy rock, knows how polarised India's media has become today. The majority of media outlets refrain from ruffling the feathers of those in power. Some, among them, go to extra lengths to actually align themselves to the ruling regime. A few display dissent but also risk becoming targets of its retribution.
It is a fact that many TV news channels have become hate-driven vehicles that spew ultra nationalism and target those who oppose the regime as being anti-national.
In such a scenario, it is understandable that opposition alliances such as I.N.D.I.A. is unwilling to field their representatives at TV debates or discussions (many of which have become one-sided shouting forums). But is a formal list of boycotted TV anchors a solution?
The decision has sparked controversy and it is easy to see why.
Such a boycott could affect the credibility and viewership of the boycotted channels and anchors, as they will lose access to a large segment of the political spectrum and the public opinion. It could also create a vacuum for alternative and independent media platforms to fill in.
Moreover, it could backfire on the opposition alliance as it can be perceived as an act of intolerance and censorship, which goes against the principles of democracy and press freedom. It can also play to the advantage of the ruling party or regime by giving its supporters more fuel to attack the opposition. Already, some channels that have been boycotted are labeling the action as a form of Emergency, invoking similarities to the period when, during the rule of Indira Gandhi, a period of press censorship and control was imposed.
This can intensify the polarisation and divisiveness that is already plaguing Indian media. Some analysts have observed that even if the opposition alliance does want to avoid facing biased anchors they could simply practice it rather than profess or announce it publicly. The ruling regime's representatives often avoid "non-friendly" media entities but do not publicly list out the ones that they refuse to grant interviews or interact with. That is probably a smarter way of dealing with biased media outlets.
I.N.D.I.A. (it stands for the verbose phrase, Indian National Developmental Inclusive Alliance–as an aside, try explaining that to the average non-English speaking voter!) could learn smart tricks such as those instead of issuing a list of mediapersons it wants to boycott.
Will News Corp. Turn More Right as Rupert Murdoch Steps Down?
Few have had a bigger impact on American media and politics than Rupert Murdoch, 92. The powerful media baron stepped down last week from the Fox News board, handing over charge to his son, Lachlan, 52.
Murdoch launched Fox News in 1996 to fill what he saw as an unaddressed need for a conservative TV network. ¨He felt that existing news outlets leaned left without acknowledging the alternative views and beliefs in politics. Fox News began modestly but soon its influence grew meteorically. A study in 2007 established what became known as the Fox News Effect: The introduction of the network on a particular cable system typically pushed local voters to the right.
Fox TV's hosts shaped the realities of its viewers, fostering a suspicion of Democratic politicians and policies and of the mainstream media. In the process, the network became the only news source that many American conservatives trusted.
Murdoch, a canny businessman, focused on ratings as a driver for programming. In the runup to the elections before Donald Trump became President of the US, Fox's goal was always to find what resonated most with Fox viewers — a group that was part of the Republican base.
Murdoch owned media properties on multiple continents, but he took a special interest in Fox News. Its influence gave him political clout. During Barack Obama's presidency, Fox News provided endless hours of coverage of raucous Tea Party rallies and of the "birther" campaign — a false story claiming that Obama wasn't born in the U.S. — to delegitimise the nation's first Black president.
Fox's role in Donald Trump's political rise was critical. Murdoch had initially opposed Trump's 2016 candidacy, but eventually backed him.
Now, with Murdoch turning control over to his eldest son, Lachlan, many wonder what will happen to the News Corp empire, which includes some of the most prominent newspapers, TV stations and online platforms in the US, UK, Australia and beyond.
Lachlan Murdoch's leadership is likely to change the company in some ways, but also maintain its core values and vision. Lachlan, who has emerged a winner from various internecine feuds with his siblings, notably his younger brother, James, has been involved in various aspects of the company, such as newspapers, TV, digital media and entertainment. He has also shown a willingness to challenge and innovate, as well as a loyalty to his father's legacy.
He is also perceived to be more aggressive and conservative than his father. A staunch supporter of Trump, his views could shape the sort of editorial strategy that might emerge at Fox and the other outlets that the group owns. His strategy for the media empire he inherits on the eve of the 2024 US Presidential elections will be watched keenly.