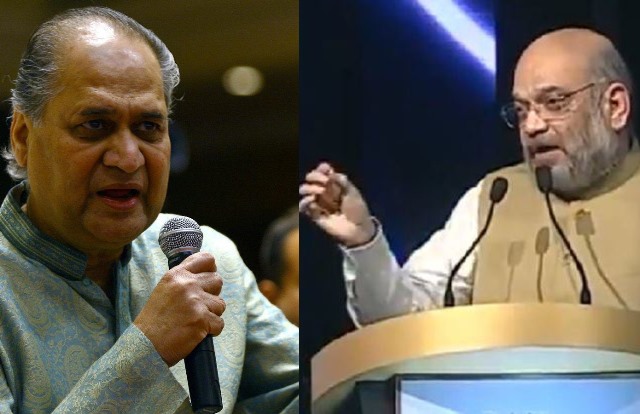 OPINION
OPINION
When Economics Nibbles At Politics
Two of India's most credible voices spoke as if in unison on November 29 and 30 at events organized by major media houses. Their well-meant, well-timed warnings are that the economy is in bad shape, something the government of the day is doggedly denying.
The oft-repeated phrase, "it's the economy, stupid!" comes to mind, but it will not suffice. Bad economic management has combined with widespread perceptions of fear in political and social arenas.
The TINA (there is no alternative) factor that had emerged only six months ago after Prime Minister Narendra Modi and the alliance he leads won a bigger mandate than 2014 is sliding.
Both, former premier Manmohan Singh and veteran industrialist Rahul Bajaj linked economic governance to a vitiated social climate. Fear, they said, was generated, not by those in power alone, but also by those who draw inspiration and support from them and act with impunity.
Singh's warning was confirmed the very next day, doubly more than he had expressed last year. India's gross domestic product (GDP) has fallen to 4.5 percent, the lowest in over six years, when Singh and his government, accused of policy paralysis, were in office. The GDP growth then was 8.5 percent. It had crossed ten at one time during his tenure.
When Singh had last year darkly predicted a two percent GDP fall, then Finance Minister, late Arun Jaitley, had hinted at Singh's going senile. Lawmakers and leaders of the ruling Bharatiya Janata Party (BJP) had been more direct in using harsh words.
Singh has been spared abuses this time – not that anybody in the government is taking his words kindly. The counter-response is only more resolute since the government apparently sees Singh straying into political arena by alleging that a "toxic combination of deep distrust, pervasive fear" is "stifling economic activity and hence economic growth".
More ire has been reserved for Bajaj, who has pierced through the bubble of India Inc.'s silence. To be fair, he was in the past critical of Singh's economic management as well. And Singh, braving doubting Thomas all around in those early years, had been dismissive of that criticism. India's entrepreneurial class is grateful to Singh, the reforms' pioneer, whether or not they would admit it.
With formidable ministers Amit Shah (who is also the BJP chief), Nirmala Sitharaman and Piyush Goyal on stage, Bajaj spoke of corporates afraid to criticize government, of an environment of impunity for phenomena like lynching and of terror-accused Pragya Thakur's political journey to Parliament with the BJP's full backing and support.
The ministers, particularly Shah, denied or defended it all. He compared his government's record with that of the Singh Government, of all things, on cases of lynching of Muslims and Dalits by vigilantes belonging to his party or its affiliates. Official figures prove his claim hollow. Shah has got to deny this since RSS Chief Mohan Bhagwat who guides his party has decried the very term 'lynching' as something alien to Indian culture.
While building its industrial base, the Bajaj family has a history of speaking up against the government of the day, especially that of the Congress. Rahul B. dared fellow-captains of trade and industry at the conclave to speak up, but none responded. Only leading woman entrepreneur Kiran Shaw Majumdar has taken the cue from Bajaj.
Come to think of it, India Inc. hails most Budgets and praises most finance ministers, as long as its purpose is swerved. It has always moved cautiously, sensing the political climate before speaking out on economic issues. In recent memory, the year 2013 was one such time when the Singh Government was besieged with political protests.
Behind this new churning, unmistakably, there is the Maharashtra factor. Sharad Pawar has sewn together government of an unlikely alliance of known ideological adversaries united to keep the BJP out of the richest state. His emergence, like Bajaj (incidentally, both have their respective bases in Pune) has confounded many calculations and put some life into a beleaguered Opposition.
New Maharashtra Chief Minister Uddhav Thackeray has taken some decisions responding to public concerns like environmentalists' pleas against felling trees in Mumbai's wooded area and has announced withdrawal of cases against the Maoists imprisoned under stringent anti-terror laws. The controversial Indo-Japanese Bullet train project, half-way through, is slated to slow down, if not ended. The latter two issues are bound to cause friction with New Delhi.
But he has compulsions. By reinforcing continued adherence to Hindutva that he shares with the BJP, Thackeray has had to keep future political options open. He cannot afford to shed his ideological moorings strengthened along with the BJP over the last three decades. Friction with secular allies is in store.
Significantly, the BJP slide in recent elections is not because of, but despite, a weak Opposition. It remains divided and has nothing to offer to the people. The recent months have witnessed the rise of regional forces, Pawar being the best and the most promising of the lot.
The Congress remains in deep slumber, as if running on autopilot. It merely reacts to events, unsure at times about its stand, only to be bashed back by the BJP and its voluble social media supporters. The Gandhis are seen as doing a holding operation, ineffective in office and indecisive about their own role, even as the party gets reduced to third or fourth position.
There are other fears surrounding enforcement of law to detect 'outsiders' or 'infiltrators'. Everyone but the die-hard BJP supporters (read Shah supporters) think this would open the Pandora's Box. Potentially, just about anyone among the millions who migrate for work or due to a natural calamity can come under suspicion for lack of documents that prove his/her domicile status.
The Modi Government faces long-term decline in economic growth. The latest GDP numbers merely certify what has been experienced on the ground for a long time now. What is striking about the slowdown this time is that it hits the most vulnerable sections of the population. Agricultural distress combined with the disastrous demonetization experiment, has hurt those that serve as the real economic engine.
How far the Singh-Bajaj-Majumdar observations reflect and impact the public mood remains uncertain. It would be premature, if not naïve, to expect anything radical. It is a long grind.
Truth be told, Modi remains popular among large sections and his government/party wield greater money and muscle power than all opponents combined.
But message is clear: National pride and religion certainly have their own place. But people want jobs and basic necessities first, over everything else. To revive the economy, Modi will have to review the social and political ethos and philosophy. Nothing less will help him and the country.
The writer can be reached at mahendraved07@gmail.com