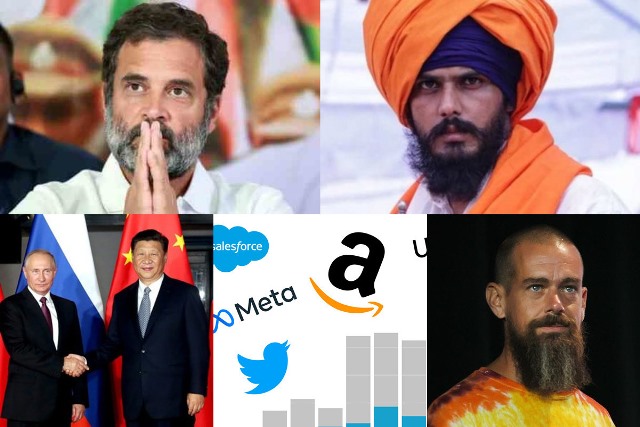 THEBUZZ
THEBUZZ
Whichever Way His Appeal Goes, Rahul Gandhi Must Apologise
Whether he wins an appeal or not, Rahul must apologise
Four years ago, on the campaign trail before the 2019 Lok Sabha elections, Rahul Gandhi, Congress leader and scion of the party's first family, is believed to have stated: "Why do all the thieves, be it Nirav Modi, Lalit Modi, or Narendra Modi, have 'Modi' in their names?" Now,that alleged utterance earned him a jail sentence, a fine, and more. Last week, a court in the Gujarat city of Surat sentenced Gandhi to two years imprisonment and a fine of ₹15,000 for defamation against Prime Minister Narendra Modi. A day after the court verdict, Gandhi, an elected MP from Wayanad in Kerala, was suspended from Parliament and disqualified from the House.
To be sure, Gandhi was given bail for 30 days to appeal against the court's verdict but if that fails and the suspension stands, Gandhi could face disqualification from the House for six years. For a heated, spur-of-the-moment outburst during campaigning, the price he might have to pay could be high. Legal experts of various hues have weighed in on the court's verdict, debating whether Gandhi's alleged statement, referring to the surname, lowers the reputation of everyone who has that surname and, specifically, that of India's Prime Minister. Incidentally, the court's verdict came after it heard a complaint filed by a BJP MLA from Gujarat named Purnesh Modi who accused Gandhi of defaming 130 million people living in India having the surname 'Modi'.
We will have to wait to see how Gandhi's appeal in the case pans out. The bigger issue, however, is whether he has been needlessly reckless with his comments. It is true that electioneering in India is commonly marked by politicians trading charges, sometimes even baseless ones, targeting rivals. It is not uncommon in the high-decibel circus that accompanies campaigning in India to hear politicians hurl abuse and potentially defamatory allegations against each other.
That is, like it or not, the nature of campaigning in a country where the number of people eligible to vote in 2019 was more than 912 million (the population of the European Union is around 447 million; the population of the US is 332 million; and that of Russia is 144 million). Laws are routinely tested during electioneering: enticements with money or other material benefits to induce people to vote for a particular candidate are common; and, in addition, politicians often resort to threats, coercion, and violence to get votes.
Then there are the campaign speeches in which, often, political leaders push the boundaries of decency and etiquette when they allude to their rivals. Slander, abuse, and baseless allegations are not rare when it comes to speeches and statements that politicians make on the campaign trail. If, however, Rahul Gandhi did say what he has been accused of, did he cross the line?
Gandhi has a history of making public statements that are often embarrassing gaffes. In 2015, at an election rally in rural Bihar, one of India's poorest states, Gandhi who was then vice-president of his party said: "Look around and see; people here are not wearing suit-boot but torn clothes and kurtas." The statement was intended to be a jibe at the Modi government for what he thought was a bias towards big business and richer Indians but to an audience of poor and underprivileged villagers, it was highly insensitive.
In 2013, while talking at an Indian industry forum for the first time, he made the bewildering statement that India was a "beehive" and not an "elephant" to China's "dragon". On another occasion, he profoundly said that "politics is in your shirt, in your pants; it's everywhere". And, at a Congress party convention in 2013, he made the assertion that India's Dalit community needed "Jupiter's escape velocity".
More recently, he went on tour to the UK and in speeches and public interactions, criticized the Indian foreign minister's comments about China as being "cowardly", accused the government of stifling democracy, and was quoted as saying that the Indian government was intolerant of criticism and accused it of trying to silence the Opposition. This was interpreted by his opponents as being undiplomatic and "anti-Indian".
Many of his senior colleagues in Congress, a party where nearly everybody pays obeisance that borders on servility to the Gandhi family, defend Rahul Gandhi, by saying that he is young and still developing as a politician. For someone who will turn 53 this year, he surely is taking a lot of time to do that.
His 2019 comments referring to the Modi surname were unwarranted and egregious and, obviously, targeted at the Prime Minister. The issue is that Gandhi had no basis for his insinuation and, while legal experts will debate and differ on the interpretation of what he said, and no matter what the courts finally decide, at the least, he owes an apology to all Modis, including, of course, the Prime Minister. That would be a decent thing to do.
Pro-Khalistan Preacher on the Run
For several days now, there has been an all-India manhunt for Amritpal Singh, a pro-Khalistani Sikh leader from Punjab who supports the creation of a separate state for Sikhs. Singh, 30, who has a sizable following, has been on the run since March 18 and although thousands of police and security forces have been mobilized, he still remains at large.
Amritpal Singh is the leader of a group known as Waris De Punjab (translated, it means the 'heirs of Punjab'). Last month, his supporters, armed with guns and swords, attacked a police station to seek the release of a member of the group. Although the police arrested hundreds of supporters connected to the attack, Singh remains free and untraceable.
Singh rose to the forefront during the farmers' protests in 2020 against the Indian government's new farm laws. Singh joined the protests by aligning with the Waris De Punjab group that was founded by Deep Sandhu, an activist and actor. After Sandhu died in a car accident, Singh took over at the helm of the group and his speeches directed against the "Hindu nationalist" government and other Punjab-related issues garnered substantial support in the state.
Many compare Singh to Jarnail Singh Bhindranwale, a separatist leader who was killed in 1984, when under the then Prime Minister Indira Gandhi, the Indian army stormed the Golden Temple, the holiest shrine of the Sikhs. That incident led to anger and strong resentment in the Sikh community and resulted in further communal tensions. Indira Gandhi was killed by her Sikh bodyguards and a horrendous period of riots engulfed the country.
Amritpal Singh may not have attained the stature that Bhindranwale had but he has been making provocative statements against many, including the Union home minister, Amit Shah.
In Punjab where the ruling government is led by the Aam Aadmi Party, there has been a crackdown on communication, including the internet and social media. Meanwhile, there have been international protests against the action of the government against Singh and his followers, including anti-India protests in Australia, Canada, the UK, and the US.
What to Make of Xi Jinping's Visit to Russia?
Speculation over what the all-powerful Chinese president Xi Jinping's visit to Russia and his meeting with the Russian president Vladimir Putin would achieve swirled in the western media last week. It was Xi's first visit to Russia after the latter attacked Ukraine more than a year back. While China proclaimed that Xi's was a peace brokering trip, it didn't really turn out that way. Instead, it appeared that the visit cemented further the ties between the two countries. China has been defending Russia diplomatically for a long time and has supported the latter's views on the sanctions that the west has imposed on Russia. With the sanctions that it faces, Russia needs China as a trading partner. China buys oil from Russia and the latter imports manufactured goods as well as crucial weapons from China.
Good ties with Russia also fit in well with China's overall Belt and Road Initiative, one of Xi's most ambitious plans of strengthening Beijing's leadership through a programme of infrastructure building throughout China's neighbouring regions.
In fact, Russia can count on China as being its biggest ally in a scenario where it has become increasingly isolated from much of the world. Observers feel the body language of the two leaders amply demonstrated that China was the more powerful "Big Brother" that Russia could count on.
The meetings between Xi and Putin did not lead to any meaningful breakthrough in the conflict with Ukraine although China had positioned itself as a peace broker. According to a joint statement released by China, both Xi and Putin said they wanted a stop to the actions that led to "increased tensions" and prolonged the war in Ukraine, but the statement did not acknowledge that Russia's invasion and military assault were the cause of the growing and continuing crisis in Ukraine.
The two leaders also called on NATO to respect the sovereignty, security, and interests of other countries, which reflected the rhetoric that it was the western security alliance's fault that had provoked the Russian attack on Ukraine. In short, the stalemate continues. Western analysts view Xi's visit and its impact as the rising superpower's continuing threat to the west.
Tech Sector Layoffs Continue…
Is the tech balloon losing steam? Since late last year, many tech giants have been revising their revenue targets downwards and slashing their workforce. The trend is continuing.
Last weekend, Amazon, the biggest e-tailer, began slashing jobs as part of its latest move to downsize by 9,000 employees. The biggest cuts are in Amazon's web services, advertising, human resources, and its streaming site, Twitch. In January the company had announced cutting 19,000 jobs.
Amazon's decision comes soon after Meta, the parent company of Facebook, Instagram, and Whatsapp, announced in mid-March that it wants to cut 10,000 jobs, which follows last November's sacking of 11,000 employees at the company.
Tech sector downsizing is now a trend. Last Thursday, Accenture, the Irish-American IT services and consulting giant, announced that it would cut 19,000 jobs.
Once a lucrative destination for job-seekers, the tech sector seems like it is caught in a meltdown.
Hindenburg Strikes Again
After targeting India's Adani group, now the short-seller activist, Hindenburg Research, has taken aim at Twitter's co-founder Jack Dorsey's company, Block.
The stocks of Block, a payment company founded by Dorsey, crashed after a Hindenburg report announced that the company had allowed criminal activity to operate with lax controls and "highly" inflated Block's Cash App's transacting user base, a key metric of performance.
Hindenburg alleged that Cash App's user base had large numbers of unbanked entities. Block's shares plunged nearly 20% shortly after Hindenburg's claims.
Financial circles are apprehensive about the activist research firm and whether it will make further investigative revelations that could impact the value of other companies.
Read More Article: https://lokmarg.com/