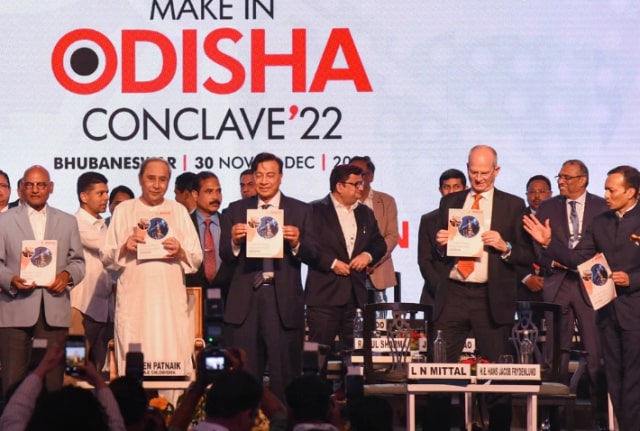 OPINION
OPINION
Why Business Houses Are Betting Big on Odisha
It could not be in anybody's imagination that West Bengal will ever be challenged on its claim as the gateway to the east and south east Asia. But much to a combination of surprise and shock to the powers that be in West Bengal, this is precisely what happened at the recent 'Make in Odisha Conclave 2022.' At the hugely successful meeting inviting investments, chief minister (CM) Naveen Patnaik, armed with two major all-season deep draught sea ports and a few smaller ones plus a robust road infrastructure projected Odisha as the preferred centre for manufacturing and trade in goods and services with other Indian states and beyond extending to "east and southeast Asia." Come winter, many Indian states will be hosting similar investor meetings to be unfailingly marked by announcements of huge investments, much of that to remain unrealised though.
As it would happen, two marquee projects in West Bengal – a highly affordable small car named Nano by Tata Motors and a 10 million tonne steel plant by JSW Group – that attracted global attention and launched with great fanfare were abandoned. Nano project was a victim of Trinamool Congress's unrelenting campaign, degenerating into obstructions and violence. JSW gave up plans for making steel in West Bengal because the two neighbouring iron ore owning states were not inclined to make the raw material available for value addition outside. This is how sub-nationalism works. Earlier, compelled to call it a day for making Nano car at Singur in West Bengal, Ratan Tata told the Press: "If somebody puts a gun to my head, you would either have to remove the gun or pull the trigger. I would not move my head. I think Ms Mamata Banerjee pulled the trigger."
What was West Bengal's loss proved to be a major gain for Sanand in Gujarat where over 1,100 acres, including a park for vendors, Tata Motors is making new generation cars, including EVs. In her desperation to make it to Writers Building – the seat of power has since moved to Nabanna – she overlooked the possibility of all the industrial investment that could have followed in case Tatas Singur project had taken off. Jobs created in vendor units are many times more than direct employment generated in the mother car assembly plant.
What a loss Singur was for Bengal which remains desperate to break the drought in new jobs in industry. Ratan Tata does not hide the fact that his respect for the affable, erudite and honest CM of the day Buddhhadeb Bhattacharjee was one principal reason for him to commit Singur investment. Yes as the country is seeing, major investment commitments in Odisha from major groups such as ArcelorMittal Nippon Steel India, Vedanta and JSW Steel are happening because of its emergence as an "industry friendly destination" under the urbane leadership of Naveen Patnaik, chief minister since 2000.
It is, however, not that Odisha had not had its share of problems relating to land acquisition to accommodate very large industrial ventures. The South Korean steel major Posco, which wanted to build this country's largest single location steel plant in that eastern state with freshly invented technology had to beat a retreat in the face of agitation against land acquisition and also mines linkages issue. Some others too experienced the same kind of pain as Posco. All this happened when Patnaik was in charge of the state. The challenge for him was to quickly identify the reasons for resistance to part with land by Adivasis and others, often with support from outside agencies.
Adivasis have owned the land sought for building industries since time immemorial. The people who want their land are outsiders and the Adivasis are not to be blamed if they stay suspicious about them. What certainly was not appreciated by Adivasi leadership was the kind of hard bargain industry groups would drive on compensation for land and total rehabilitation package. Negotiations would break down leading to agitations against the outsiders. There would be incidences of violence and police interventions. Projects that were to usher in industrialisation to strike a balance between the economy's farm and industry sectors would either be stalled or abandoned as was the case with Posco.
ALSO READ: Naveen Patnaik – The Accidental Chief Minister
Odisha has seen all that, ArcelorMittal sans its now Japanese partner in its first attempted outing in the mineral rich coastal state drew a blank and Tata Steel had to weather many a protest over land acquisition before it could start building a 3 million tonne (mt) mill at Kalinganagar in Odisha. Now the facility is being expanded to 8 mt from where capacity is to be further doubled in course of time. Peace and local communities' favourable disposition to industrial development, besides consideration of raw materials availability and logistical advantage are prevailing upon Tata Steel CEO & managing director TV Narendran to double down on Odisha in particular for Group capacity expansion to over 40 mt.
A few years ago it acquired a 5.6 mt mill at Dhenkanal under the Insolvency & Bankruptcy Code as a stressed asset and more recently the government owned Neelachal Ispat, which is to become a robust 10 mt unit from a doddering 1 mt. But why has such a large section of corporate India from Lakshmi Mittal to Sajjan Jindal to Anil Agarwal to Kumar Mangalam Birla to Narendran is of late seeking a place in the sun of Odisha? Resources under Odisha's earth have always been there. But the urgency to extract all that for local processing and value addition is felt more recently. What is the trigger for this change in corporate attitude to Odisha?
Self-introspection and deliberations with stakeholders, including the Adivasis and industry officials convinced Patnaik that the only way to cut the Gordian knot for acquiring large parcels of land for building steel plants and aluminium smelters is to convince land owning families that industrialisation will create for them many economic opportunities, besides fair compensation for parting with land and decent rehabilitation. At the same time, his message to industrialists was simple: be generous in compensating land givers and invest in comprehensive betterment of communities around factory areas. Tata Steel's CSR (corporate social responsibility) work covering education, health, supply of clean water and skills development has set the benchmark for others.
For all this to happen, Patnaik had to conduct interlocution patiently and silently over a long time, without seeking any credit for the result unlike some of his counterparts in other states. That is not all. As we learnt at the conclave, the CM has made it a routine to check with investors in the state if there are uncalled for delays in delivery of promised services. Officers found to be slothful and corrupt are not spared at the instance of Patnaik.
In any case, by way of course correction following unsavoury experiences in acquiring land during 2004 to 2008, the principal sufferers being Posco and Tata Steel, which, however, didn't waver from its goal of building the mill at Kalinganagar, the state government now boasts of having at its disposal around 160,000 acres of industry-ready land. Principal Secretary of industries department Hemant Sarin says the government's "pro-people resettlement and rehabilitation policy" and development that has come in places such as Kalinganagar and Paradip have encouraged people to part with their land. Besides easy access to land, what investors want is political stability, a favourable industrial policy, quick dispersal of incentives and a pro-active administration facilitating seamless project implementation.
No wonder more than one industry captain was in agreement with Patnaik that "Odisha is destined to become a trillion-dollar economy in the near future." What is encouraging is that investment intent received at the conclave at ₹10,48,830 crore far exceeded the state's expectation by a long margin. All eastern states have a major unemployment problem and Odisha is no exception. An industry department official says that the announced investments going beyond minerals and metals into "22 diversified sectors including petrochemicals" should create well over 10 million direct and indirect employment.
As major industry groups made large investment commitments at the investor meet, Patnaik used the occasion to underline the importance of creation of large number of small and medium units (SMUs) in the downstream of metal producing units. At the conclave itself, he along with Jindal Stainless managing director Abhyuday Jindal virtually laid the foundation of an industrial park where using stainless steel from the mother plant at Jajpur, potentially about 100 SMUs will fabricate a host of industrial, architectural, kitchenware and lifestyle goods. In the meantime, by this financial year ending March 2023, Jindal Stainless melt capacity will be up to 2.1 mt from 1.1 mt, to figure among the world's largest single location special steel mills, according to Jindal.
The proposed park to be built in two phases over six years will need an investment of over ₹1,500 crore. How does an industrial park of this kind work? Downstream factories get the metal from the mother unit directly. Their workers are trained and products mostly cobranded by the mother unit. The park also has the benefit of a good infrastructure and efficient logistics, thanks to promoter mother industry intervention. Patnaik also wants NALCO and Vedanta Group to commission their aluminium parks as quickly as possible.
Acutely aware that large-scale industrialisation will leave an adverse impact on the climate because of the use of energy based on fossil fuels, principally coal, Patnaik want industries, specially the big ones to create sustainable energy production capacity. Responding to the call and also in its pursuit of zero emission target by 2050, Jindal Stainless is partnering with ReNew Power to build 300 MW capacity using the wind-solar hybrid route. This energy will be used to power its new stainless steel melt capacity to soon come on stream. In fact many other companies – standalone energy groups and manufacturing units – are readying plans to produce sustainable clean energy in Odisha blessed hugely with sun and wind.
Not only through mines development and manufacturing industry, Patnaik is also to seek redemption for his state by way of building high class educational institutions and hospitals to attract students and patients from all over the country. IT and ITES sectors are growing at a rapid clip. The state is now inviting investment in food processing, textiles, pharma, chemicals and biotechnology. Odisha economy is, however, principally dependent on agriculture. The challenges of the farm sector will be the subject of a separate article.