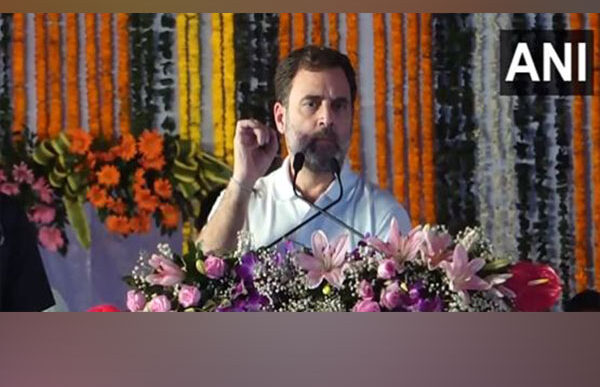 LM NEWS 24
LM NEWS 24
Why Is Modi Scared Of Caste Census?: Rahul
Repeating what he said in the Lok Sabha during his intervention on the Women's Reservation Bill that there are only three OBC bureaucrats working for the government of India, Congress leader Rahul Gandhi on Monday asked Prime Minister Narendra Modi why is he scared of the caste census. 
"The Government of India is being run by secretaries and cabinet secretaries. Only 3 out of 90 secretaries in the government of India are OBCs. The caste census will be an x-ray of India. With it, we will be able to find how many people belong to SC, ST, Dalit, and general categories," Congress leader Rahul Gandhi at a public meeting in Chhattisgarh's Bilaspur
Asking why PM Modi is scared of the caste census, he said that I asked PM Modi to publically share the data from the Census conducted by Congress.
"Why is PM Modi scared of caste census? Why did they not release the caste census report conducted by Congress? Rahul Gandhi in Chhattisgarh," he said.
Hitting out at Prime Minister Narendra Modi over the Adani issue, he said that the PM has a remote control, but he presses it 'secretly'.
"When we press the remote (during launching events of schemes), the poor get the benefit of the schemes while when the BJP does it, Adani gets ports, airports, railways contracts, and infrastructure projects, and the public sector gets privatised. There are two remotes we press the remote in front of you but when BJP presses the public sector becomes secretly," he added.
He further said that in previous elections, we made promises regarding strengthening the foundation of Chhattisgarh which were fulfilled by us.
"We fulfilled all our promises including farmers' loan waiver, half of the electricity bill on which PM Modi said Congress party cannot fulfil these promises and we have witnessed that we fulfilled all those promises," he added.
The 2023 Chhattisgarh Legislative Assembly election is scheduled to be held later this year to elect all 90 members of the House. Congress managed to win 68 seats while BJP was able to ensure victory on 15 seats in the 2018 Assembly elections.
Earlier in the day speaking at a rally in Bhopal, the Prime Minister Narendra Modi hit out at the Congress and former President Rahul Gandhi by taking a jibe at Rahul's interactions with selective groups.
"There is no value for the life of the poor for the Congress leaders born with silver spoons in their mouth. For them, the poor's life is adventure tourism. For them, the houses and colonies of poor people have become the locations for video shootings. They have done this in the past too. BJP government is showing the developed and grand face of the country to the world" the Prime Minister said.
Madhya Pradesh and Chhattisgarh will go to the polls along with Rajasthan, Telangana and Mizoram later this year. In both central Indian states there is a clear fight between the Congress and the BJP. (ANI)
Read More: https://lokmarg.com/