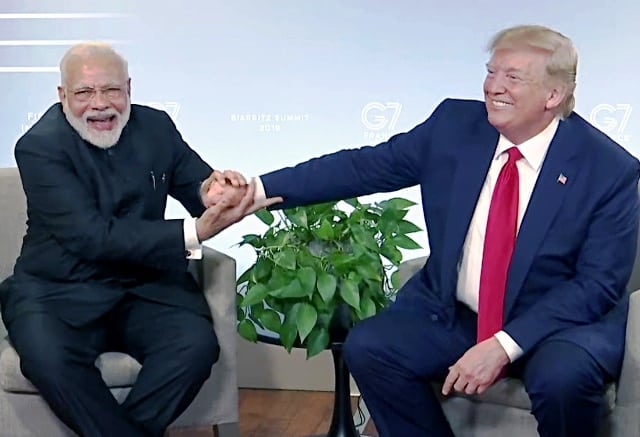 OPINION
OPINION
Will Modi's Gamble In Kashmir Pay Off?
<![CDATA[
Indian Prime Minister may have stalled the US for the moment but the world's eyes are focused on Kashmir as India and Pakistan are on the edge. Meanwhile, a lock-down in the Valley only hurts our democratic credentials
The mood in India is celebratory. The general consensus after Prime Minister Narendra Modi's meeting with US President Donald Trump in France (the first since scrapping of Kashmir's special status) is that this round has gone to India. Modi has drawn the line on third party mediation and told Trump where to get off.  Neither the US President nor any other nation needs to intervene in what is a purely bilateral matter between India and Pakistan. This has been the traditional Indian stand on Kashmir but in the context of Trumps recent statements, it had to be reiterated.
Considering that Trump had since his July 22 meeting with Prime Minister Imran Khan spoken several times of his wish to play peace maker, there was concern in South Block at what to expect from the mercurial Trump. There was a collective sigh of relief in India at the way the conversation panned out, on the sidelines of the G7 summit in Biarritz.
Prime Minister Modi may have stalled the US President for the moment but the world's eyes are focused on Kashmir as India and Pakistan are on the edge. With the peace talks between US and the Taliban about to be clinched in Doha, and Pakistan's importance in the process, Imran Khan's hands have been strengthened.
In recent years, Kashmir had been pushed out of the global narrative. Modi's decision to abrogate article 370 and the consequent lockdown of the Valley has given Islamabad just the opportunity it wanted.
Pakistan is mobilizing all resources to bring Kashmir back to centre stage. Initially the response from the global community was muted, but gradually that graph is changing. The reason for this shift is not due to scrapping of the special status but the complete communication embargo. Bringing back a semblance of normal life to the Valley thus is the need of the hour. That is a big ask, considering the mood of the majority of Kashmiris.
Pakistan claims that it has "succeeded in internationalising the issue of Kashmir". Prime Minister Imran Khan claimed in an address to his people, hours after the Modi-Trump meeting, "We talked to world leaders and embassies. UN for the first time since 1965, convened a meeting on Kashmir issue. Even international media has picked it up."
Playing on the US and the rest of the world's fears about a nuclear fallout between the two South Asian foes, Imran Khan emphasised: "If the [Kashmir] conflict moves towards war then remember both nations have nuclear weapons and no one is a winner in a nuclear war. It will have global ramifications. The superpowers of the world have a huge responsibility…whether they support us or not, Pakistan will do everything possible."
Modi on its end has made it clear that third party mediation was not welcome. At a news conference, with Trump sitting beside him, he made it clear: "All issues between India and Pakistan are bilateral in nature and that is why we don't bother any other country regarding them." Modi also added that India and Pakistan were one country before Independence and that he was "confident that we can discuss our problems and solve them, together".
How did the conversation on Kashmir go behind closed doors, is not known. The Americans team had briefed reporters ahead of the meeting that the situation in Kashmir and concerns about the communication blockade would be raised during the President's meeting with Modi. But the Indian Prime Minister seems to have convinced Trump that the situation would not go out of hand or lead to regional instability.
Trump made this known at the joint news conference when he said: "We spoke last night about Kashmir, Prime Minister really feels that he has it under control, and now when they speak with Pakistan I'm sure that they will be able to do something that will be very good." He also added that he was available if anyone needed his help. Does this mean that Modi had given the green signal for talks with Pakistan?
For Pakistan, Kashmir is the core issue. By scrapping Article 370, the government's contention is that Kashmir is just another state in India. Thus, Pakistan's claim that it is a party to the Kashmir dispute becomes redundant. New Delhi will possibly be ready to talk about Siachen, Sir Creek and other issues, but not Kashmir. From that position any kind of dialogue with Pakistan appears impossible, whatever Modi has said to Trump about talks.
Imran Khan has said in a recent interview to the New York Times, that he is no longer willing to talk to India. He had tried in earlier but New Delhi possibly regarded his attempt to mend ties as a sign of weakness. India's response has been that terror and talks cannot go together.
Talks may be out, but the Modi government has to work at lifting restrictions in the valley. Restoring communication lines is a must as a blanket ban cannot continue indefinitely in a nation which proudly flaunts its democratic credentials.    
After all, Kashmiris are Indian citizens. They were not consulted when government decided to scrap Kashmir's special status and are angry. The BJP has singularly failed at reaching out to the ordinary Kashmiri. Considering that opposition leaders were sent back from the airport on Saturday just proves how difficult the situation is.
It is also true that the moment restrictions are lifted, the Valley will erupt in protests which could lead to violence. Handling protests and stone-pelters would be a major challenge considering that Indian police and para military forces are ill equipped to deal with such a situation.  
A new intifada is likely to take shape in Kashmir. Separatists and jihadi groups will naturally try to exploit the situation. Besides, well known anti-India groups like Jaish-e-Mohammed, Lashkar-e-Taiba, Hizbul Mujahideen will again become active. These are the usual suspects but the ISIS and Al Qaeda sub-groups will also fish in troubled waters. The Ansar Ghazwat-ul-Hind, linked with Al Qaeda, is working at forming a loose jihadi alliance against India, according to reports from Pakistan.
New Delhi has a tough task ahead and the next few months will show whether Modi's gamble in Kashmir has paid off.