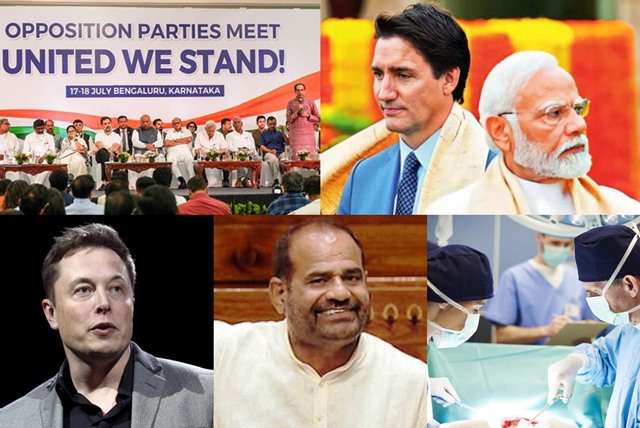 THEBUZZ
THEBUZZ
Without a Clear Leader, I.N.D.I.A. is Doomed to Fail
I'll start with a promise to readers. In this column I shall use the full form of India's less-than-three-month-old alliance of opposition parties only once. The alliance, comprising 26 opposition parties, national and regional, calls itself the Indian National Developmental Inclusive Alliance. If you have time you can waste some of it on figuring out the clumsy grammar, syntax, or meaning of that phrase and decide whether or how you would like to translate it to mean anything for 70% of India's 1.4 billion people who do not have even a nodding acquaintance with English. Now that we're done with that, we'll stick with the acronym to which that inelegant phrase reduces, I.N.D.I.A.
Nowadays, it's fashionable and, indeed, de rigueur even, to bash Opposition leaders in India. Have a gander: Rahul Gandhi of the Congress, who is in his mid-fifties and is considered young by his benign party colleagues, is seen to be someone who is a continuous work-in-progress, apparently taking far greater time to mature than an average high school student; Bengal's Mamata Banerjee, the firebrand leader of the Trinamool Congress (TMC) is unpredictable to the point of often being shrill and silly, but providing moments of ironic or slapstick humour like recently when she was seen jogging in slippers and a sari in Madrid, accompanied by her aides; Bihar's veteran Nitish Kumar of the Janata Dal (U), who at 72 wants as his last hurrah to be Prime Minister of India; or Delhi's Arvind Kejriwal of the Aam Aadmi Party (AAP), whose national ambitions are at odds with the yet-to-mature party that he leads.
There are a host of other leaders of parties that make up I.N.D.I.A., ranging from the old, such as Nationalist Congress party's Sharad Pawar, 82, to the young, such as Rashtriya Janata Dal's Tejashwi Yadav, 33. There are schisms and differences as well within the motley alliance. It has to deal with ideological differences between member parties (some are left-leaning, others are not; some are secular, others are not; and so on). Most glaringly, there is an absence of consensus between them on who should be the leader or the prime ministerial candidate when they contest the parliamentary elections due in eight months, which is not a very long time.
The ruling Bharatiya Janata Party (BJP) regime has quite clearly changed the rules of the election game. It has projected a powerful candidate, Narendra Modi, who has been successful in driving it to victory in 2014 and again in 2019. In 2024, it will project Modi, whose approval ratings (according to Morning Consult, the US business intelligence company) is 76%, higher than that of any leader in the world.
If I.N.D.I.A. intends to take him on, it will have to project a head-to-head rival and not a bunch of ragtag leaders, some of whom are still maturing, a few who aren't sure whether they are in a sitcom or in politics, and yet others who are really pretty irrelevant, and well past their "best before" dates.
So who can I.N.D.I.A. project against Modi in the coming elections? Let's look at a few.
Could it be Mamata Banerjee. The West Bengal chief minister and TMC supremo has emerged as a strong leader of the Opposition after her landslide victory in the state assembly elections in 2021. On the flipside, her state is wracked by divisiveness. Her ostensibly secular policies are viewed by some as pandering to the minority community of Muslims (for the record, Muslims make up more than 27% of the state's population). And while Bengal during her regime's rule has improved its fiscal health and economic growth, many see it as a tinderbox with violence simmering beneath the surface–its elections and by elections are marked by horrific incidents of murders, arson and other forms of violent aggression. Moreover, Banerjee's clout in national politics is insignificant–for instance, she hardly matters in the Hindi belt.
What about Rahul Gandhi? The former Congress president and MP from Wayanad has been a vocal critic of the Modi government and its policies. He has also led several campaigns and rallies across the country to mobilise support for the Congress and its allies. However, his leadership and popularity have been questioned by some in the Opposition and the public. And while the Congress' electoral fortunes have shown a glimmer of hope (notably, its win in Karnataka in May this year), Gandhi is not seen as a dependable "election winner". His diffidence in taking up positions of responsibility and often fickle views on policy does not evoke confidence among many Indians.
Is Delhi's Arvind Kejriwal a dark horse who could challenge Modi? The AAP chief and Delhi chief minister has won accolades for his governance model and his initiatives in education, health, and environment in Delhi. He has also expanded his party's presence in other states like Punjab, Goa, and Gujarat. But realistically speaking, his achievements have mostly been on a relatively small scale. Delhi is a tiny state, much of it urban, and its government has limited jurisdiction over it. For instance, law and order is an area where it is the Centre and not the state government that has jurisdiction in Delhi. Also, Kejriwal's party, formed in 2012, doesn't yet have a national footprint and is perceived by many to be still in its formative stages.
Then there are the oldies, veterans such as Bihar chief minister Nitish Kumar who has been a key ally of the BJP-led NDA government at the Centre. However, he has also maintained cordial relations with some of the Opposition parties and leaders. A poster by RJD showed him as the PM candidate in 2024 and I.N.D.I.A. was convened by him. Or could it be the seasoned octogenarian, Sharad Pawar? The NCP leader and veteran politician has been a prominent figure in Indian politics for decades. He has also been instrumental in forming and sustaining the Maha Vikas Aghadi government in Maharashtra, which comprises Shiv Sena, NCP, and Congress. He is seen by some as a potential consensus candidate from I.N.D.I.A.
The question is whether the alliance's 26 parties can agree on who they will project as a prime ministerial candidate. The alliance also faces the challenge of how to share seats. I.N.D.I.A. 's objective is to jointly field one candidate in each of the Lok Sabha's 543 constituencies to take on the BJP's candidate. That is the theory.
In practice, it could lead to squabbles. I.N.D.I.A. will have to accommodate the interests and wishes of disparate regional parties that have strong bases in their home states. For instance, the DMK in the southern state of Tamil Nadu; the Samajwadi Party in Uttar Pradesh, India's most populous state that has 80 seats; and the NCP and Shiv Sena in Maharashtra.
That said, the alliance also has some strengths and opportunities. It has a diverse and inclusive representation of various regions, religions, castes, and communities. Its common agenda is to restore democracy, secularism, and development in India. It also has a chance to build on some of the disappointment that voters have with the Modi regime over issues such as the unemployment and economic crises, agricultural laws, and insecurity among minority communities.
Shrill, with not much time left for the elections and campaigning already underway, in the absence of a consensus Opposition candidate, the Modi regime with its resources, clout, and popularity of its leader, will pose a formidable challenge to I.N.D.I.A.
Canada's spat with India now a whimper
The ripples created by Canada's prime minister Justin Trudeau when he publicly alleged that the Indian government may have had a hand in the killing of a Sikh Canadian national who India accused of being a pro-Khalistan separatist seemed to have died down last week. India may have actually gained the upper hand in the spat. With none of Canada's allies in the "Five Eyes" pact (between the intelligence authorities of Canada, the US, the UK, Australia, and New Zealand) supporting it in any major way, Trudeau appeared to have painted himself into a corner.
India, on the other hand, while steadfastly denying his accusations, has intensified its counter charges against Canada, which it believes is harbouring anti-Indian elements and separatists who have been agitating for the establishment of an independent state in Punjab. Last week, India's foreign minister S. Jaishankar accused Canada of giving "operating space" to terrorists and extremists.
Long before the dispute over this summer's killing of the Sikh Canadian, India has been accusing Canada of inaction against anti-Indian elements who reside in that country and are believed by the Indian authorities to foment sentiment against India's sovereignty.
It is widely known that the West, particularly the US, has been trying to get India's support and alliance as its relations with China (which is closely aligned with Russia) hit rock bottom. China is believed to be trying to evolve a new "world order" to counter the West's influence and India can be a key friend for the West in its move to counter China.
Unsurprisingly, therefore, the US reaction to Trudeau's charges have been muted, non-committal even. In the high stakes of the geopolitical face-off it has with China, Canada's beef with India could be of little consequence.
Elon Musk dives into the immigration issue
As the debate over illegal immigration through the US' border with Mexico gets bigger, the richest man in the world, Elon Musk, has thrown his hat into the ring. Last weekend, Musk, 52, who owns businesses that include electric vehicle manufacture, rocket launching, brain-computer interfacing, artificial intelligence, and the popular social media platform X (previously known as X), landed up at the Eagle Pass border in Texas to stream live video of what was going on.
The video, which had 94 million views till Saturday, shows how thousands of immigrants, from several countries in Latin America as well as Africa, were using loopholes in US immigration laws to illegally enter the country, spread to other cities in the US, and stay back without being deported. Musk said he wanted to give an "unfiltered view" of what was going on as he interviewed elected representatives and local law information officers.
Illegal immigration through the US-Mexico border is of serious concern: The number of migrants crossing the border is growing and there has been a steep rise in Venezuelans crossing the Darien Gap, a treacherous jungle route between Panama and Colombia, fleeing from their country's socio economic crisis.
Many of the migrants are not Mexican although they cross into the Us from that country and the phenomenon has become a challenge for border security, public health, human rights, foreign relations, and domestic politics. With the US presidential elections due in November 2024, it has become a hot button issue.
Musk's eager involvement is significant. The entrepreneur (estimated net worth: $250 billion) has enormous clout in many spheres, including the US government as well as in international politics. His Starlink satellite internet constellation is used by Ukraine's armed forces that are fighting against Russia. His rocket company, SpaceX, fills a void after the US government has retreated from spending on space exploration. In addition, Musk has a direct line and rapport with world leaders that include India's Narendra Modi, Russia's Vladimir Putin, Israel's Benjamin Netanyahu, and Turkey's Recep Tayyip Erdogan.
Musk's importance is growing constantly. X (previously known as Twitter) is estimated to have 370 million active monthly users, and it is globally impactful. Many believe his involvement in issues such as illegal migration is just the beginning of more things to come. It would be a good idea to keep our eyes on him.
A prize not punishment for hate monger Bidhuri
Ramesh Bidhuri, a BJP MP was recently in the news when he attacked a fellow parliamentarian, who happened to be Muslim, with a despicable hate speech, making allegations and insults for which he was pulled up and an investigation was started.
Bidhuri, captured on a video clip that went viral, made his venom-spewing speech in Parliament against another MP, shouting abusive language that was patently anti-Muslim, and derogatory. He was condemned by all. Yet, instead of taking prompt action such as expelling him, his party has appointed him as a district in-charge in Rajasthan, which will hold its assembly elections soon. Bidhuri will be in charge of the Tonk district. Politics trumps principles.
What message does this send out to India's citizens? You decide.
A small shot of good news…
In the last six years, Indian surgeons performed more than 35,000 organ transplants, according to India's health minister Mansukh Mandaviya. That makes India third in the world in number of organ transplants after the US and China. According to the minister, more than 15,000 organ donations are now made annually in the country as compared to around 5,000 in 2013.