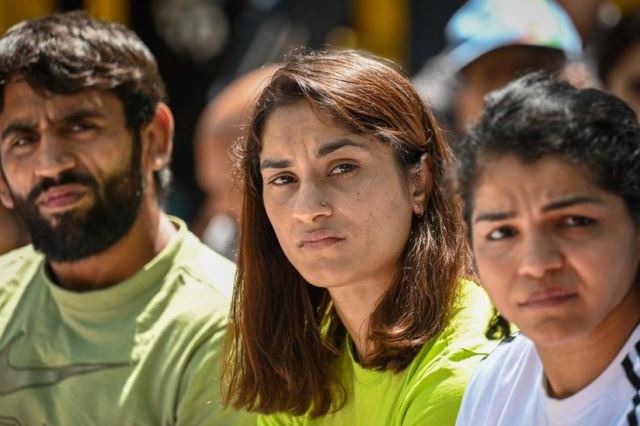 OPINION
OPINION
Women Wrestlers – Betrayed By Their Own
Great Australian opener Mathew Hayden was on the dot when he said something like this: "I have seen God. He walks in at two down."
No point in guessing the name of the God, with a Number 10 shirt, like football legend, Diego Maradona. Of course, he was talking about Sachin Tendulkar, whose 50th birth anniversary is being celebrated with full-page spreads and cover stories in the Indian media, and rightfully so. He deserves all the applause for an outstanding and brilliant cricketing career. The only hassle is that 'His Greatness' chooses to be so stunningly mum when it comes to burning issues affecting the moral and social fabric of our society, including when it comes to cricket and other sports! Such as wrestling!
In crude contrast, remember his 'patriotic' tweet defending the Narendra Modi regime's obstinate and arrogant disregard of the peaceful and protracted farmers' struggle against the pro-corporate, pro-Adani farm bills, even while thousands of farmers were braving freezing cold, storms and rain, out in the open, especially when scores of them were dying or dead on the non-violent battlefield at the borders of the Indian capital.
Here is what God tweeted at that time, reacting to an outburst of outrage from the global community, including climate activist Greta Thunberg, on how the Indian government was treating the farmers: "India's sovereignty cannot be compromised. External forces can be spectators but not participants. Indians know India and should decide for India. Let's remain united as a nation."
At that time, the farmers, who loved him as always, were terribly upset and hurt. So were millions of his fans. Surprisingly, hundreds of Keralites flooded tennis star Maria Sharapova's social media page with apology messages – they had trolled her in 2015 when she had said in an interview that she had no clue about who Sachin Tendulkar is.
Some of them sent an invite welcoming her to 'God's Own Country'. "Sharapova, you were right about Sachin, that he is not a person of quality that you should know," a social media-user said in Malayalam.
So, has the cat got his tongue this time yet again, even while he reads the glowing tributes being paid to his genius on the field, and ignores the saturation coverage on our brave women wrestlers, who have been out in this heat, often, without water, toilets, mattresses, table fans and basic facilities, blocked by the current regime, with such cruel disdain and insensitivity!
Is this how you treat our great sportspersons, especially women world champions? If this is how they treat world champions, then what is the fate of the ordinary, the invisible, the marginal and the obscure, the common citizen, especially women? So whatever happened to the 'beti bachao and beti padhao' slogan in this acche din of contemporary India!
ALSO READ: 'There is Pressure on Star Sportsperson to Keep Quiet'
The complainants include a wrestler who was a minor, among others. The accused is a BJP MP, top boss of the Wrestling Federation of India, an alleged history-sheeter, an infamous bahubali from UP, who is refusing to relent, knowing fully well that he is brazenly backed by the top brass of the current BJP establishment in Delhi.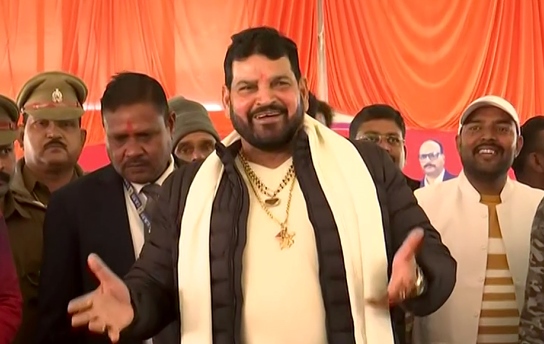 The PM, who never misses a chance to showcase himself with winning sportspersons, has chosen to look the other way, even as he cracks morbid jokes on suicide, and once again plays the 'victim' card in Karnataka, where he and his party might face a solid drubbing! Besides, his entire government and party, as usual, seem to care two hoots – including his Union sports minister, infamous for his – Goli maaro… call to the nation, even while our mothers and sisters sat on a peaceful and prolonged protest at Shaheen Bagh in Delhi and elsewhere in the country against the communal and anti-constitutional CAA bill.
These protesters, including a stoic Bajrang Punia, are world champions and Olympic medalists – they are no less in terms of their great and glorious contribution to Indian sports and athletics, often rising from the muddy grassroots of obscurity and hard labour in the arid Hindi hinterland, to reach the pinnacles of competitive success against the best in the world!
And whatever happened to superstar-millionaires like MS Dhoni, and the impeccable idealist of infinite integrity — Rahul Dravid, and badminton stars Saina Nehwal and PS Sindhu, among other greats! If Sania Mirza, a gutsy legend in international women's tennis with several grand slams as victories, who dared to marry a Pakistani cricketer despite vicious trolls, can speak up so openly, or, if Abhinav Bindra, Kapil Dev, Virender Sehwag, Neeraj Chopra, among others, can stand up for our brilliant women wrestlers, what stops the God at Two Down, or Mr Wall, or Mr Helicopter Shot, to stand up? Or, take their knee in support!
In IPL, 2020, all-rounder Hardik Pandya became the first player in the IPL to take the knee in solidarity with the Black Lives Matter (BLM) movement in America, against the murder of George Floyd on the streets by white cops, choking him to death, while he screamed in pain: "Let me breathe!"
And even while Pandya hit a six to reach his half-century, he pointed towards the Mumbai Indians dugout where captain Kieron Pollard (of the West Indies) instantly responded with a raised right fist. That was the spirit!
Even the West Indies' cricketers took the knee in support of the Black Lives Matter movement in their match against England at the Ageas Bowl in Southampton, southwest England, on July 8, 2020. So what stops the Indian cricketers now, former and current? Will the talented ODI captain from Gujarat take the knee and raise his right fist in support of our women wrestlers – once again?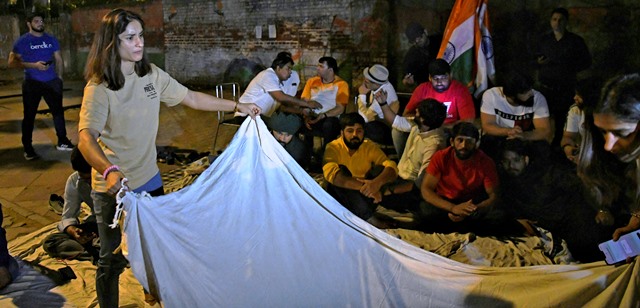 It is a dark irony that most Indian celebrities have their lips stitched tight, with their eyes wide-open and wide-shut, ostrich-like, when it comes to burning social and political issues. Unlike in the West. Tennis ace Naomi Osaka openly backed the BLM; during one particular US Open, every round she won was followed by a symbolic gesture to honour the Black people who had been murdered by the cops in the US. Significantly, she won that Grand Slam.
Another tennis great, Serena Williams, posted an Instagram video, and what did it show? A young African-American girl overwhelmed by emotion, in a public gathering: "We are Black people, and we shouldn't have to feel like this," she said.
NBA legend Michael Jordan condemned the "ingrained racism" in the US. "I am deeply saddened, truly pained and plain angry," he said. "I stand with those who are calling out the ingrained racism and violence toward people of colour in our country."
Among other celebrities, actors Tyler Cameron, Kate Beckingsale, Jennifer Lopez, and a host of others, came out openly in support of the BLM movement. At other times, George Clooney, Susan Sarandon, Robert Redford, Sean Penn, among others, have stood for justice against the system, as did others against the brazenly unjust Vietnam War. In the past, Brazilian captain, philosopher and soccer star, Socrates, would take the field with messages against the army dictatorship then ruling the country — in total defiance. So much so, he chose to go to Italy and play there so that he could study the great Italian thinker, Antonio Gramsci, who was imprisoned for years by the fascists – because they were afraid of his genius and his ideas.
And Number Ten jersey holder of Argentina, Maradona! Did the world not see the face of Che Guevara tattooed on his body, and with such pride?
Unlike most Indian celebrities, the cat did not get their tongue when the nation and the world wanted to hear their voices — steadfast, loud and clear, in support of justice — as is the case now with India, with the nation standing up for the cause of the women wrestlers.
Barring, of course, the fanatic bhakts, and their thick-skinned leaders at the helm in the Sangh Parivar and in the Central government!