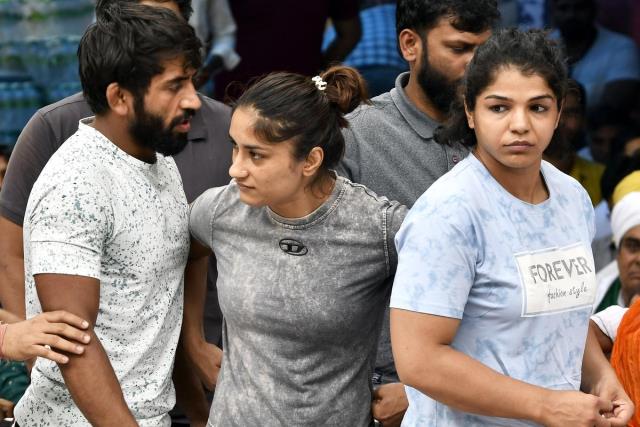 OPINION
OPINION
Women Wrestlers: Grappling For Justice
Respecting and ensuring the well-being of its athletes, from grassroots level to Olympic podiums, is an important aspect of encouraging sports and the sporting spirit for a nation. It is crucial to create an environment that promotes fair competition, equal opportunity and a nurturing environment for the physical and mental health of the sports fraternity. There have been occasions, when athletes, including sportswomen, have been vocal about their rights and have utilized public platforms to raise awareness and demand change when they encounter mistreatment or unfair conditions. Such voicing of concern and activism play a significant role in highlighting grave issues and pushing for reforms within sports organizations and federations.
Unfortunately, the current protests by women wrestlers to raise serious irregularities and injustices that plague the Wrestling Federation of India – allegations of sexual harassment (in many cases assault), unfair selection procedure, and prejudices – have been met with a patriarchal stonewall. These are no ordinary sportspersons; some of them have graced Commonwealth and Olympic podiums, others have World Championship titles to boot; they brought glory and recognition to the National Tricolor on global forums. Today, they are forced to spend nights on pavements at Jantar Mantar under an open sky.
At the center of the controversy is Brij Bhushan Sharan Singh, a Member of Parliament from the ruling BJP who heads the WFI. The defendant has denied all the charges against him and called the protests a conspiracy to remove him from the WFI helm. However, the nature of allegations demand a high-level investigation and scrutiny which has been missing. Such allegations can have significant consequences for the individuals involved, as well as for the reputation and integrity of the sports organizations. When allegations arise, it is important for appropriate investigations to take place to determine the facts and ensure justice is served. This can involve legal processes, disciplinary actions, and the implementation of preventive measures to create a safe and supportive environment for athletes.
The treatment of Olympians varies across different countries and contexts. Olympians are celebrated and honored for their dedication, talent, and achievements in their respective sports. They are often seen as ambassadors for their countries and receive support from their national Olympic committees, sponsors, and fans.
However in India, the mere allegations have disrupted and single-handedly unfolded the bleak nature of the Government of India, which has yet not taken any kind of action against the defendant. The athletes were very vocal about the nature of harassment they had to experience. They spoke about "atrocities and the tyrant-like behavior" of Brij Bhushan that often left female athletes depressed and distressed, angry and frustrated.
The issues surrounding sports management and performance in India are complex and multifaceted. While it is true that there have been instances of corruption and the presence of patriarchal attitudes within sports administration, it would be an oversimplification to attribute the lack of gold medals in the Olympics solely to these factors.
ALSO READ: Women Wrestlers – Betrayed By Their Own
Several factors contribute to a country's success in international sporting events like the Olympics. These include the overall infrastructure and facilities for sports, grassroots development programs, training and coaching standards, funding and support for athletes, and the cultural and societal attitudes towards sports. It's essential to address all these factors to enhance India's performance in the Olympics.
Corruption within sports management can indeed hinder progress and impede the fair selection and development of talented athletes. When decision-making processes are influenced by personal gain or bias, it can undermine the integrity of sports and deprive deserving individuals of opportunities.
Patriarchal attitudes can also limit the participation and development of women athletes. Gender inequality in sports is a global issue, and India is no exception. Encouraging equal opportunities for women in sports, providing support, and breaking down societal barriers are crucial steps toward promoting gender parity and improving performance.
To address these challenges, it is important to implement systemic reforms in sports management, enhance transparency, and establish stringent measures against corruption. Promoting inclusivity, gender equality, and providing equal opportunities for athletes from all backgrounds can help harness the talent and potential of Indian sports.
Moreover, investing in grassroots development programs, modernizing infrastructure, and focusing on athlete-centric training methods are vital for nurturing talent from a young age. Collaboration between government bodies, sports federations, private sector entities, and the civil society can create a conducive environment for sports development and success.
India has produced some accomplished women wrestlers who have achieved success at both national and international levels. Wrestlers like Geeta Phogat, Sakshi Malik, and Vinesh Phogat have brought pride to the nation by winning medals in various international competitions, including the Olympics and it is important for the government of India to listen to their voice and support them at every step. This recent event has however shown the brutal and delay in the action taken by the government of India regarding this crucial issue. A country should treat Olympians with respect, recognition, and support. Olympians dedicate years of their lives to rigorous training and represent their country on world stage.
It's important to acknowledge that progress takes time, and building a robust sports ecosystem requires sustained efforts and investment. By addressing the issues within sports management, promoting transparency, inclusivity, and talent development, India can strive towards better performances in future Olympic Games.