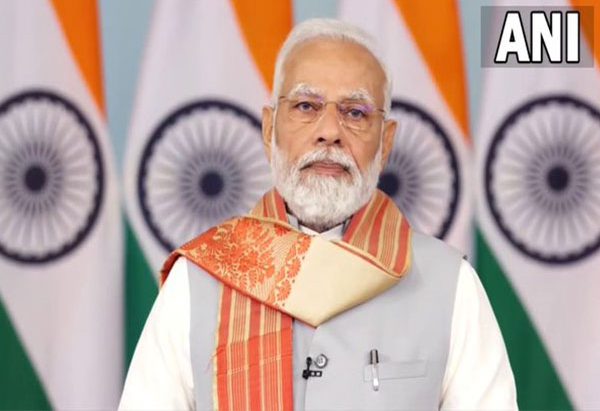 LM NEWS 24
LM NEWS 24
Worked Keeping Future Generations In Mind: Modi
Taking an apparent jibe at the previous Congress-led UPA government, Prime Minister Narendra Modi on Friday said that during the past nine years, the BJP at the Centre has formulated policies keeping the coming generations in the mind and not worked just for one family and one generation.
The Prime Minister was addressing a gathering after laying the foundation stone of multiple development projects worth Rs 12,100 crore in his home constituency, Varanasi.
During his address, he said, "In the last nine years, we have not made policies for just one family and one generation, but have worked keeping in mind that the future of the coming generations should also improve."
He said that today Uttar Pradesh including Kashi (Varanasi) has been gifted with projects worth about Rs 12,000 crore. "Among these, there are projects related to rail, road, water, education, tourism, there are projects related to ghats, many congratulations to all of you for these development works," PM Modi said.
Asserting that government's flagship scheme, Mudra Yojana, helped crores of beneficiaries to start their work, the Prime Minister said, "In UP also crores of beneficiaries have started their work by taking advantage of Mudra Yojana. In this, the poor, Dalit, backward, tribal and minority family members and women entrepreneurs have benefited the most." "This is the social justice, which is being guaranteed by the BJP government," he added.
PM Modi said that in the last nine years, phenomenal work has been done to improve the connectivity of his parliamentary constituency. "The development works that are being done here (Varanasi) are also creating many new employment opportunities," he said.
The Prime Minister is on a two-day visit to four states, which kicked off today.
Earlier in the day he flagged off two Vande Bharat Express trains– Gorakhpur-Lucknow (at Gorakhpur Railway Station) and Jodhpur-Sabarmati (via video conference).
He was accompanied by Uttar Pradesh Chief Minister Yogi Adityanath and state Governor Anandiben Patel.
Earlier, in Chhattisgarh's Raipur, he inaugurated and laid the foundation stone of eight projects over Rs 7,000 crore.
The Prime Minister dedicated and laid the foundation stone for five National Highway projects worth around Rs 6,400 crores.
PM Modi's hectic tour of four states including Chhattisgarh, Uttar Pradesh, Telangana, and Rajasthan will conclude on Saturday, in which he will dedicate multiple projects worth Rs 50,000 crores to the nation. (ANI)
Read More: http://13.232.95.176/