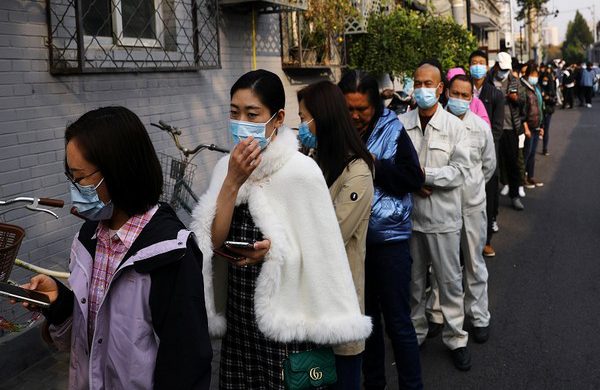 LM NEWS 24
LM NEWS 24
World Has No Faith In Chinese Covid Figures: Report
There is great skepticism about the COVID data released by China and the World Health Organization (WHO) recently accused it of underplaying the seriousness of the pandemic by concealing the true nature of the situation in the country, the Hong Kong Post reported.
A senior WHO official, as quoted by The Hong Kong Post, had said: "China's COVID data is not giving an accurate picture of the situation there and it under-represents the number of hospitalizations and deaths from the disease."
Emergencies Director of WHO Mike Ryan said: "We believe the current numbers being published from China under-represent the true impact of the disease in terms of hospital admissions, in terms of ICU admissions, particularly in terms of death."
The WHO believes that the definition of death by the Chinese government is "too narrow".
After Beijing authorities changed their definition of COVID deaths, there is a discrepancy in the death figures claimed by the government and reports from ground. Based on the new definition, the authorities have claimed five or fewer deaths in a day. But funeral homes and hospitals in China say they are overwhelmed.
This definition has met with the scepticism of experts around the world. The WHO has defined COVID-related deaths as those resulting from a clinically compatible illness in a patient with a probable or confirmed infection when no other unrelated cause of death is involved, according to a report in The Hong Kong Post.
The report said that it is not surprising that the rest of the world is not taking the claims of the Chinese authorities at face value and have clamped strict restrictions on people travelling into different countries from China, including suspension of flights and strict Covid-19 testing requirements.
The USA, the U.K., several other European countries, among them Germany, France and Sweden, and Australia, Canada, Japan, India and South Korea, have imposed tough COVID measures on travellers from China.
Israel, Malaysia, Morocco, Qatar, and Taiwan are also among the countries that have imposed restrictions on travellers from China.
Instead of appreciating the justified apprehensions of these countries, Beijing has described these measures as politically motivated and threatened countermeasures against the countries involved.
Chinese health authorities recently said that more than 12,000 hospitalized people infected with COVID died in seven days through January 19, NHK World-Japan reported.
The Chinese Centre for Disease Control and Prevention said that 12,658 patients died in medical institutions between January 13 and 19.
According to officials, 681 people died of respiratory failure and 11,977 others died of complications, according to NHK World-Japan report. It is the first time that the Chinese government has updated official death counts in seven days. (ANI)
Read more: http://13.232.95.176/