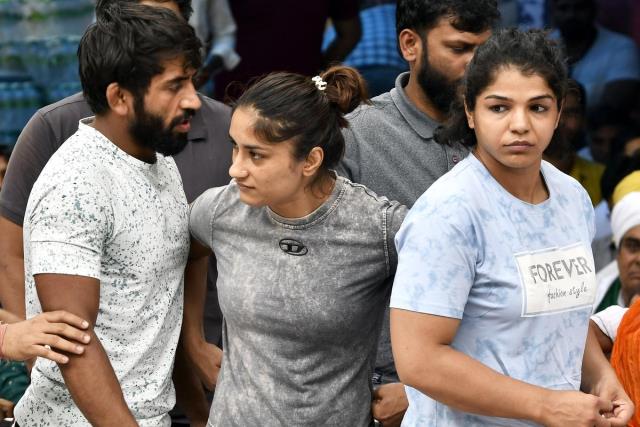 LM NEWS 24
LM NEWS 24
Wrestlers Accept Brij Bhushan's Challenge, Ready For Narco Test
Olympic medalist Bajrang Punia said on Monday that all wrestlers protesting against the Wrestling Federation of India (WFI) and its chief Brij Bhushan Sharan Singh are ready to undergo a narco test and the test should be done on both the wrestlers and WFI chief under supervision of Supreme Court and the whole country should get to see it live.
Wrestling Federation of India (WFI) chief and Bharatiya Janata Party (BJP) MP Brij Bhushan Sharan Singh, who is facing sexual harassment allegations, on Sunday, said he is ready to undergo a polygraph test if the same is conducted on star wrestlers Vinesh Phogat and Bajrang Punia.
"I am ready for a narco test, polygraph test or lie detector test if the same test of wrestlers Vinesh Phogat and Bajrang Punia is also conducted along with his test," Brij Bhushan had tweeted.
While speaking to media, Punia said, Brij Bhushan said that he is ready for a narco test. We had already said that players are ready for the narco test as well. The test should be done under the supervision of the Supreme court and the whole country be able to see it live so that they know what questions are being posed to the WFI chief and wrestlers who complained against him. In fact, the seven wrestlers who had registered a complaint against him are ready for the test. We appeal to Supreme Court that the whole country should be able to see it."
Commonwealth Games medalist Vinesh Phogat also said, "I would like to tell Brij Bhushan that not only Vinesh, all the girls who have given the complaint, are ready to undergo the Narco test. It should be done live so that the entire country knows about his cruelty to the country's daughters."
Punia also accused the WFI chief of running away from the law and misguiding the public.
"He should not be made a star on social media because he has done a crime. He should not be turned into a trend," added Punia.
Wrestler Sakshi Malik also urged people to support their candle march at India Gate on Tuesday.
"We are doing a candle march tomorrow at India Gate from 5:00 pm. We urge people to support it. This protest is being carried out peacefully since day one," said Sakshi.
Several ace grapplers including Bajrang Punia, Vinesh Phogat and Sakshee Mallik have been protesting at the Jantar Mantar accusing the Wrestling Federation of India (WFI) chief Brij Bhushan Sharan Singh of sexual harassment and demanding his arrest.
On May 19, the wrestlers marched from Jantar Mantar to Bangla Sahib Gurudwara in New Delhi on their 25th day of protest against Brij Bhushan.
Grapplers including Punia, Sakshi, Vinesh and others joined the march demanding the arrest of the WFI chief charged with sexual harassment of athletes.
The protestors have been demanding the registration of an FIR against the WFI chief and his arrest into the allegations of sexual harassment. Two separate FIRs were registered on April 28 following the Supreme Court's notice to Delhi Police into the plea filed by the wrestlers.
Earlier on April 24, The Union Ministry of Youth Affairs and Sports announced that the Indian Olympic Association (IOA) will be forming an ad-hoc committee to conduct the elections for the Executive Committee of the Wrestling Federation of India (WFI) within 45 days of its formation, to manage day-to-day affairs of the body, including the selection of athletes and making entries for the participation of players in international events. This committee will be functioning for an interim period till a new Executive Committee takes charge.
Delhi Police has filed a status report on the application moved by woman wrestlers in an alleged offence of sexual offence levelled against WFI chief and BJP MP Brij Bhushan Sharan Singh.
The court was also informed that a Special Investigation Team (SIT) has been formed to investigate the matter.
Earlier this year, prominent wrestlers came forward to lead a protest against the WFI chief, following which the Union Minister for Youth Affairs and Sports, Anurag Thakur, announced the formation of an 'oversight committee' to probe allegations against the WFI, Brij Bhushan Sharan Singh and some coaches. Wrestling Federation of India Assistant Secretary Vinod Tomar is also named as an accused in the FIR. (ANI)
Read More: lokmarg.com