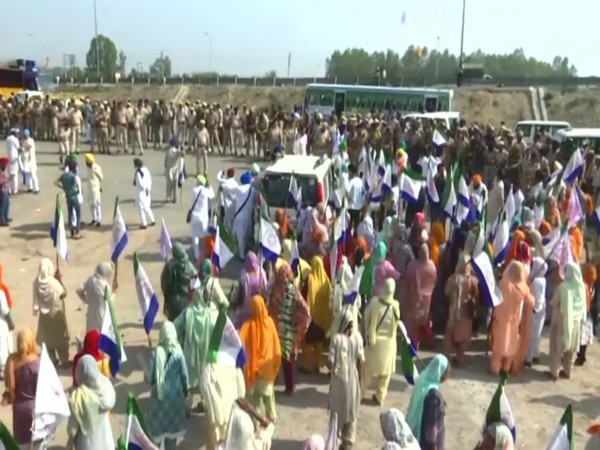 LM NEWS 24
LM NEWS 24
Wrestlers' March: PKMC Members Stopped At Ambala Border
In view of protesting wrestlers' call for women Maha Panchayat in front of the new Parliament building in the national capital, the members of the Punjab Kisan Mazdoor Sangharsh Committee were stopped at Ambala border by police on Sunday.
The Punjab Kisan Mazdoor Sangharsh Committee members had come out from Amritsar on Saturday to participate in women wrestlers' Maha Panchayat in front of the new Parliament.
Delhi Police have increased the security in the national capital, including on its borders ahead of a march by wrestlers towards the newly-built Parliament building.
Khap Panchayats called for a Mahila maha panchayat in support of wrestlers who have been protesting against Wrestling Federation of India (WFI) president Brij Bhushan Sharan Singh, a Bharatiya Janata Party (BJP) MP accusing him of sexual harassment. Seven women wrestlers have filed a police complaint against him.
Delhi Police barricaded all the borders of the national capital in order to prevent any protest or gathering.
"Delhi Police are prepared for such situations. We have enough force to deploy. Last time the border was closed for months because of the protesters (farmers' protests). We have prepared our forces so that such situations do not arise again. We will convince the protesters to return," Deputy Commissioner of Police (East) Delhi Amrutha Gugulot told ANI.
Barricades have come up near ITO road, the Tikri border, Badarpur border, Ghazipur border and the Singhu border area as Khap Panchayat leaders and farmers have said they will join the march to the new Parliament building by the protesting wrestlers.
Delhi Police Special CP Deepender Pathak told ANI that adequate police deployment would be made for maintaining the law and order situation during today's event.
"Our focus is to maintain law and order situation and carry out the programme (inauguration ceremony of the new Parliament building). We will ensure enough police deployment for tomorrow's event," he said.
Notably, Delhi Police has received inputs that on the day of the inauguration, some miscreants may put up "anti-national and anti-PM" slogans on the walls of the campus.
Regarding this, Delhi Police deployed heavy security around the new Parliament building throughout the 24 hours.
According to Delhi Police's top sources, no permission has been given for this panchayat. The protestors will not be allowed to hold Khap Panchayat.
Prime Minister Narendra Modi inaugurated the new Parliament building, which is part of the Central Vista redevelopment project. (ANI)
Read More: lokmarg.com