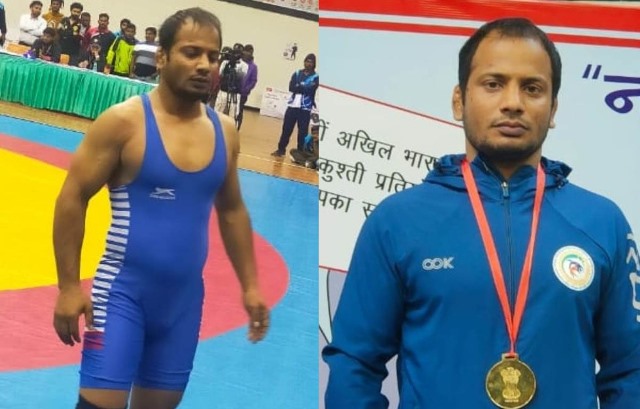 LOK ISSUES
LOK ISSUES
'Wrestlers Protest is Tamasha; Haryana Wants Its Dominance Back in WFI'
Sanjay Rai, an international grappler from Gorakhpur, UP, says Brij Bhushan Sharan Singh is being targeted for bringing transparency in Wrestling Federation. His views:
I am a wrestler myself and I believe in plainspeak. So I will not mince any words in sharing my opinion on the current protest at Jantar Mantar which is organised by a select few champion wrestlers. The real reason behind the protest is that many wrestlers from Haryana did not like the reforms and transparency brought into the sport by existing Wrestling Federation president Brij Bhushan Sharan Singh, who belongs to Uttar Pradesh.
So the real issue is regional dominance in wrestling. About 10 years ago, the WFI was in complete control of Haryana, be they officer bearers or wrestlers. After Brij Bhushan took charge of the Federation, all the budding and established wrestlers were given a fair chance to prove their mettle on the mat. However, this angered a clique of politicians and senior wrestlers from Haryana who until then had a free run and felt their sense of entitlement was being challenged.
Allow me to explain it more clearly. Every wrestler has a golden period in term of his or her sporting career where he or she gives peak performance. This period is also short–lived and one's body and performance begins to ebb away after taking the rough and tumble. Ideally, every player must realise this decline and make way for the younger batch to take over. But many find it difficult to digest this truth and wish to cling on to their position on the back of their past achievements.
This is what has happened here too. Prior to Brij Bhushan's regime in WFI, all the star wrestlers from Haryana were given a 'wild card' entry to participate in international tournaments. This practice was challenged by Brij Bhushan and all wrestlers were asked to prove their fitness and skills by competing with the new crop of wrestlers in the Nationals. This much-needed reform caused much heartburn among Haryana's wrestler community and triggered the 'revolt' at Jantar Mantar to unseat Brij Bhushan from WFI helm.
ALSO READ: 'There is Pressure on Star Sportsperson to Keep Quiet'
Earlier too some of these 'disgruntled' player had chosen to protest at Jantar Mantar, at a time when the WFI was organising National Ranking Series in Gonda district of Uttar Pradesh. The Series was a first in the country to allow all wrestlers a fair representation and ranking for benefits like government jobs or official positions in sports bodies.
Ageing is a biological phenomenon and no one can remain young and agile forever. As a wrestler's body ages, one must step aside for the new generation and look for other options such as coaching, commentary, or a promotional role in the sport. And this is true of all forms of competition as this will help infuse fresh blood and life in the sports. A sportsperson must set aside one's ego for the sake of the sports and the country.
As told to Rajat Rai