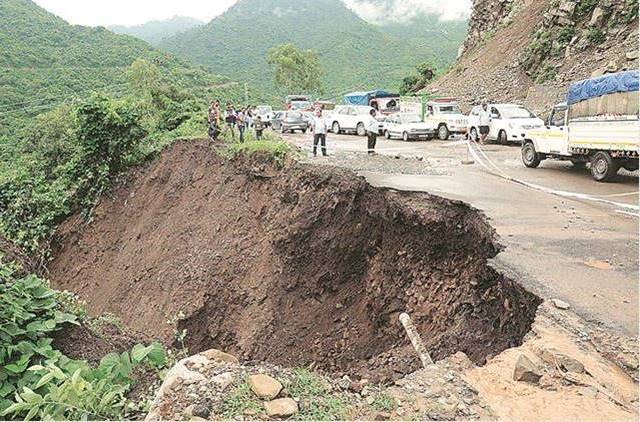 LM NEWS 24
LM NEWS 24
Yamunotri Highway In Uttarakhand Blocked Due To Debris
The traffic on the Yamunotri National Highway has been suspended due to the continuous debris falling at five places of Uttarkashi including Dabarkot and Jhar Jhar Gad.
"Efforts are on to open the highway by the National Highway Authority Barkot. Passengers are stranded at various places on the highway due to the closure of the highway," according to District Disaster ManagementoOfficer, Uttarkashi.
Apart from this, the Chamiala-Budhakedar Motor road has been also closed due to excessive water and debris in Chail Gadere in Lata village in Himachal Pradesh.
The District Disaster Management Officer of Tehri District, Brijesh Bhatt informed that due to the surge in the water level of Gadere, water and debris have entered 5-6 houses.
He told that about 0.250 hectares of agricultural land of about 15-16 families has been damaged, but there has been no loss of life or animal. PWD Ghansali and the revenue team are on the spot engaged in relief work.
Earlier, Traffic was suspended because of debris continuing to fall at many places on the Gangotri-Yamunotri National Highway, as persistent rains continue to wreak havoc in the Uttarkashi district of Uttarakhand, officials said on Wednesday.
According to the Uttarkashi District Administration, the Gangotri-Yamunotri National Highway was closed to traffic as boulders continue to fall at many places following persistent downpours in the region.
"The Gangotri Highway has reached a standstill for movement at four places including Bandarkot. Yamunotri Highway is blocked at Silkyara and other areas. JCB machines on the routes are trying to open the highway," the Uttarkashi District Administration added.
Traffic and pilgrimage stopped on Monday as boulders continued to fall at many places on the Yamunotri Highway as torrential rains continued in Uttarkashi district, officials said. District disaster management official of Uttarkashi, Devendra Patwal, said that due to the boulders falling continuously for the last three days, the traffic on both sides of the road has come to a complete standstill.
"Significantly, due to this, there has been a break on the Yamunotri pilgrimage, leaving many commuters including pilgrims and locals passenger stranded," the official said.
"Big boulders fell from mountains on Monday morning further exacerbating the woes of commuters," the official said. According to the Chamoli police, a stretch of 60-70 metres of the Badrinath Highway, Kameda was washed out due to intermittent rains, following that the Highway was blocked for traffic. The police added that scores of commuters including tourists and locals were stranded on both sides of the highway.
Uttarkashi District Magistrate (DM) Abhishek Rohila told ANI on July 23 that torrential downpours in the region have caused severe damage to several areas of the Uttarkashi district. (ANI)
Read More: http://13.232.95.176/